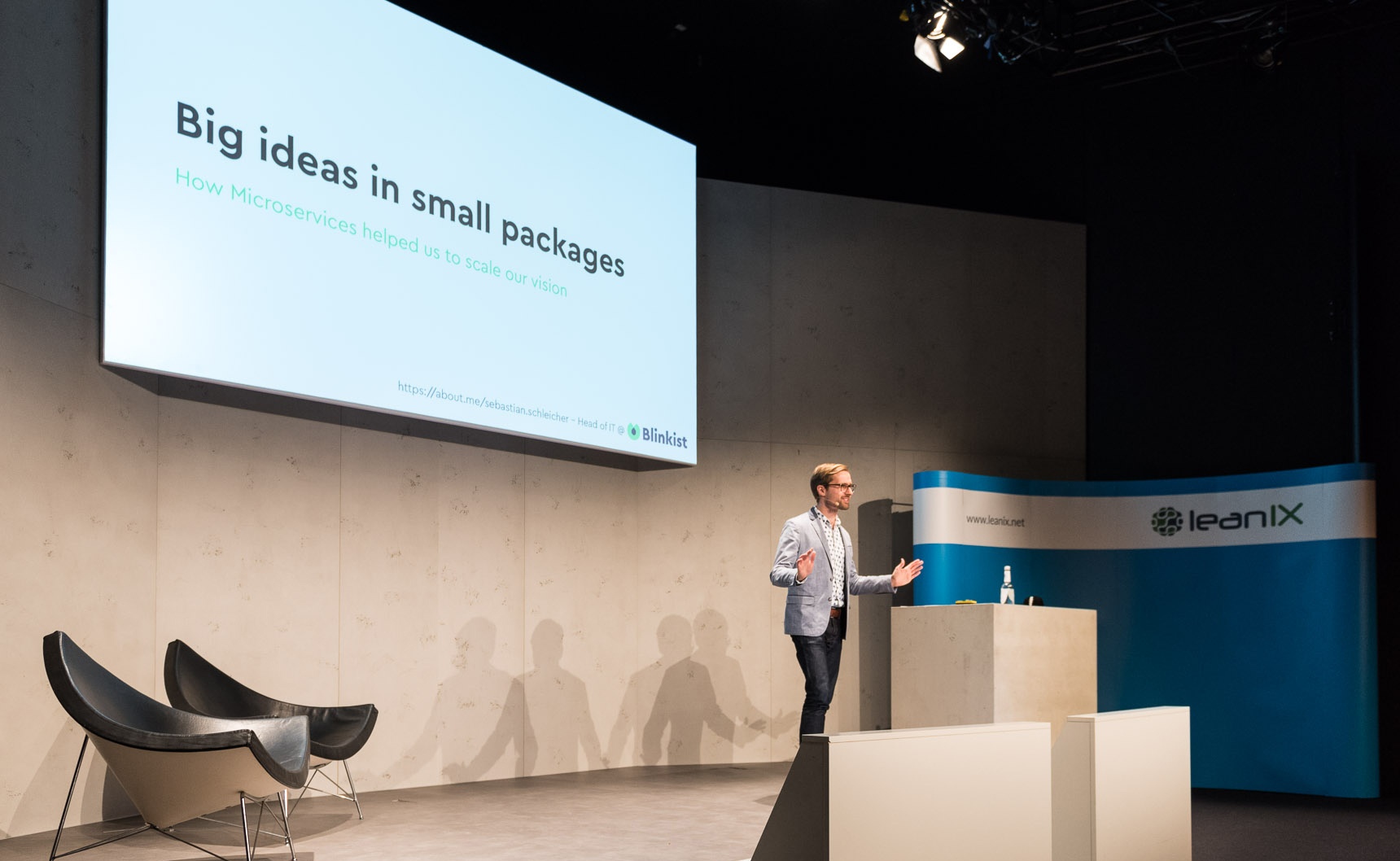 When speaking of microservices, it is common to speak about long-standing institutions finally making a change after taking a hard look at their monolithic code base. This situation is very different. At EA Connect Day 2017, we learned about businesses at every stage benefitting from microservices.
Sebastian Schleicher, Head of IT at Blinkist, shared the story of how microservices helped to catapult Blinkist to one of the fastest growing startups in Europe.
What is Blinkist?
Blinkist is the answer to the prayers of all book lovers with more memory space on their phones than time on their hands. Blinkist allows you to read the key lessons from 2000+ nonfiction books in 15 min or less. Kind of like CliffsNotes, but for books that one actually wants to read, and is not forced to read by a curriculum.
How does it work?
One of their highly trained readers digests a book, jots down the key highlights, and explains the book in an easy-to-digest 15-minute summary. The takeaways are called 'blinks,' and they fit nicely on one page.
The free version of the app gives you access to the pick of the day, while the paid version grants you access to their full library of close to 2,000 summaries. Their healthy collection is growing at 40 books per month and the exciting updates continually add new features. Blinkist is a strong leader in the list of quickly growing startups of Europe. To what do they attribute their hockey-stick growth?
Microservices.

In his informative talk, Sebastian Schleicher gave a tech-focused review of how startup Blinkist scaled so quickly. As a lean, VC-based startup, Blinkist employs 70 people from 30 nations with a unique 50/50 male to female ratio. There are very minimal techies – about 15 developers and engineers that support over one million users worldwide.
From a startup's point of view, the entry to market went from quickly validating the product and gathering funding to finding a way to scale the business.
From the birth of the company, the founders presented the small 2-person dev team with a lofty requirement catalog filled with 70 features. This meant that the IT department needed to be able to adopt to a high change rate in the product.
As their MVP was on the market, notable publications including iTunes were eager to highlight the functional and purposeful application on their "hottest apps" list. The usage increased by 1,000% overnight.
At the time, Blinkist was running a tightly coupled system architecture. Their databases were too tightly coupled to each other and entire systems ran the risk of going offline with any minor hiccup. When Blinkist went offline, Blinkist realized that their current system architecture was not suitable to scale.


It was time to ditch the monolith.



All of a sudden, the stakeholders increased. The CRM girl turned into the CRM team. The product owner turned into the product team. As the team doubled each year, tools popped up. The product didn't change, but they needed more tools.
Blinkist decided on a few key changes:

All new features will be built into a suitable microservice.
The IT department decided to keep the monolith separate, and to build all new features into microservices.


Standards governance
Blinkist decided to standardize certain aspects of their IT infrastructure. They set communication standards, as some terms were semantically the same but named differently e.g., URL and link. After standardizing language and processes, it became easier to organize and speed up delivery times.
JSON API as a standard
JSON API is a specification for how a client should request that resources be fetched or modified, and how a server should respond to those requests. JSON enabled specific flows, including:
How do you create a resource?

How are they set up?

Do they have relationships?

If so, how are they exposed?


Only migrate existing features that bring business value
Blinkist realized that certain features increased retention to their products. They decided to optimize their time to only focusing on migrating the features that created demand.
From these new standards, Blinkist now releases up to 20 times a day. Microservices has allowed them to keep a lean IT architecture, easily onboard new team members, provide the top tools for their team. The strategic migration from monolith to microservices supports Blinkist on their journey of inspiring millions of people to read across the globe.