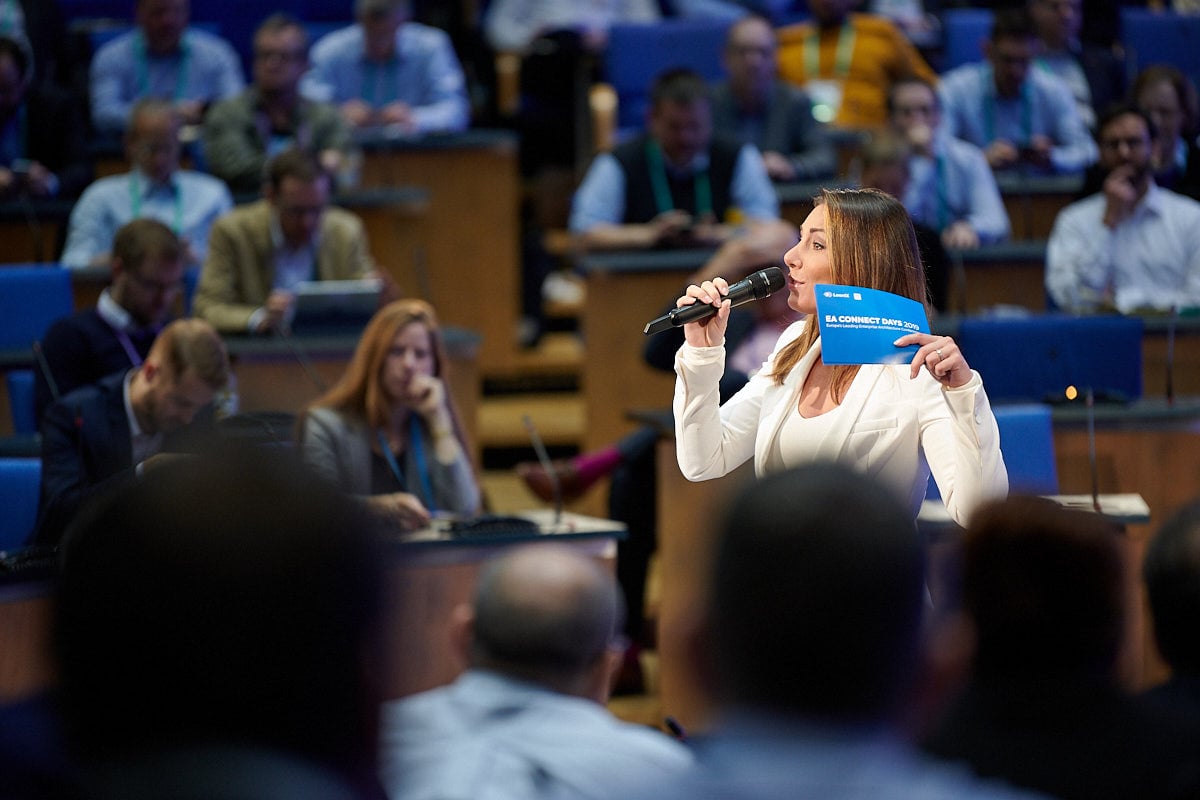 This year's Gartner Enterprise Architecture & Technology Innovation Summit in London was all about how to master the increasing complexities of digital business. With tracks focusing on Disruptive Technologies, Architecting Digital Business Platforms and Becoming an Innovative Leader as well as of course Mastering Enterprise Architecture, the summit was THE key event for EA leaders.
Summit attendees meet new arrival "Pathfinder"
Last year, LeanIX introduced the EA community to its new iPhone app. This year, LeanIX presented its newest innovation, the new 4.0 release "Pathfinder". Pathfinder, which is based on graph technologies created by Facebook, is setting new standards in the industry by enabling new Enterprise Architecture use cases. The Gartner Summit was exactly the right environment to launch the new product version to the many clients and experts who had travelled to London as well as the wider EA community.
Visitors to the LeanIX booth were impressed by the performance of the new LeanIX version that supports the adoption of microservices by enabling the planning and design as well at the automation of their documentation. Clients migrating their SAP landscape to SAP S/4 Hana are often motivated by wanting to avoid an additional maintenance fee imposed by SAP. Pathfinder makes it easy to plan this migration with roadmap reports that visualize the relations between projects, application and technical components. Heatmaps that show the IT landscape at different points in time help to track the adoption status. Pathfinder ensures that full transparency on all data flows from and to SAP modules is available at all times.
Meanwhile, Pathfinder also keeps track of outdated technology and helps organizations understand the ripple effect obsolete technology can have in the IT landscape. By automatically tracking technology lifecycles, clients can not only save millions by avoiding costly IT incidents but also have information always available for regulatory demands.
This year's Gartner Summit agenda covered many topics that are close to LeanIX's heart. From Business Capabilities to managing technical debt to DevOps – they matched the issues LeanIX and its clients are dealing with and show that we are in tune with what is going on in the Enterprise Architecture world at the moment.
How do you re-invent your IT architecture?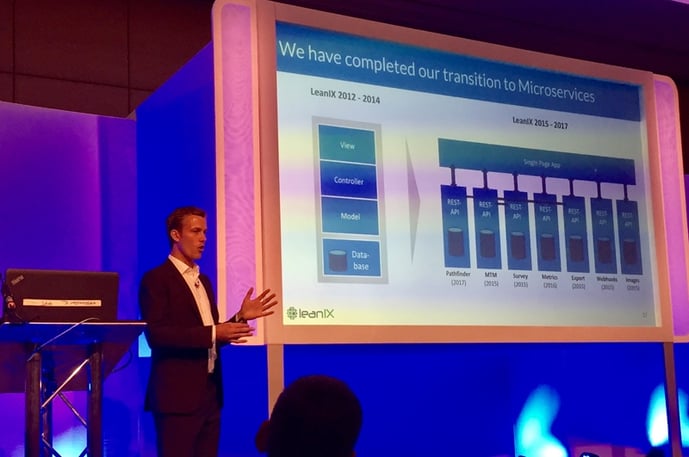 One of the highlights of the packed agenda was the session by LeanIX Co-CEO André Christ on "How to re-invent your IT architecture". The presentation covered the reasons why LeanIX decided to completely change all their code after five years in the market and which technologies and methods were key in making this monumental change a success. André touched on the introduction of microservices and how LeanIX went about transforming from a monolithic architecture to microservices over the course of the last three years.
He elaborated on the changes in team structure to make this transformation possible, the introduction of DevOps and Agile Teams as well as how automation enables efficient operations at LeanIX. The interest in the session that was extremely well attended shows that IT transformation and especially microservices are a topic that is at the top of the agenda for most organizations. This is mirrored by a survey conducted recently by LeanIX, in which respondents stated that for 80% of them microservices are on the roadmap. Nevertheless, only 9% of them are currently using microservices, although organizations who use this technology deploy on average 5 times faster than those who do not. So, it obviously pays off to invest in microservices.
Did you enjoy the summit?
More than 200 attendees visited the LeanIX booth over the course of the two days of the Gartner Summit. We really enjoyed exchanging ideas with so many people, listened to some inspiring speakers and got some great feedback on our session by André Christ. Did you attend the Gartner EA Summit? We would love to hear from you what your impression was of the event! Which one was your favorite session? We hope to see you again in 2018. If you want to find out more about our presentation, you can download the slides below.