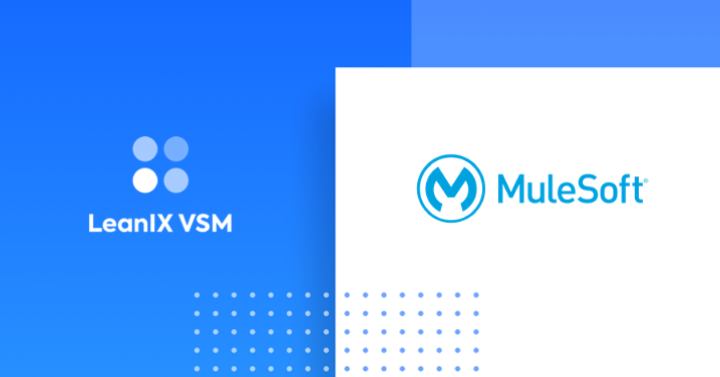 API management is integral to the success of modern digital businesses. Since internal and external stakeholders rely on the technology to interact with an organization's products, it's critical for software engineering leaders to monitor and improve API security, governance, lifecycle management, and developer enablement.
Two common priorities when doing so include promoting API standardization and reuse.
To support engineering leaders with this process, LeanIX Value Stream Management (VSM) is now integrated with MuleSoft's Anypoint Platform and has joined the company's Technology Partner Program. The VSM-Anypoint integration connects LeanIX's SaaS-based tool, which provides end-to-end visibility into and management of software artifacts and delivery activities, with MuleSoft's unified solution for API management, design, and publishing.
VSM users can link to MuleSoft's Anypoint to pull extensive details on API catalogs and data objects into their workspaces. This includes information on API design, implementation, deployment, and operation – all of which greatly extend the user's inventory of critical data.
Of note, metadata around API ownership, lifecycles, and dependencies arrives from Anypoint into LeanIX inventories within newly-created API Fact Sheets. Direct links are available inside each API Fact Sheet to the corresponding API page in Anypoint, from which users can also navigate to the Mulesoft Exchange API catalog.
This gives users the opportunity to do the following:
To automatically create API and Data Object Fact Sheets as well as map their relations with information pulled from MuleSoft (coming soon)
To create a relation between API and Software Artifact Fact Sheets
To increase API reuse by sharing the API catalog with DevOps teams
To provide API access to non-technical stakeholders
MuleSoft + LeanIX VSM
The VSM-Anypoint integration is available to all joint users of the products.
Anypoint and VSM provide complementary features to integrate data and applications in a secure yet scalable manner. According to the Connectivity Benchmark Report, 87% of IT organizations struggle with managing API connections during digital initiatives. As continuous transformations increase integration demands, IT and business teams can use these combined tools to efficiently design, build, and test API connections.
For MuleSoft Anypoint customers, VSM adds holistic overviews into Product IT portfolios that contextualize APIs within application and business landscapes. Engineering teams and non-technical stakeholders alike can use these overviews for faster access and reuse of APIs.
Below is a quick summary of the benefits of the two products:
Develop and operate standardized and reliable API connections (MuleSoft)
Publish API definitions, inside and outside the organization, with consistency (MuleSoft)
Support the modernization of legacy applications (MuleSoft)
Holistic overviews of CI/CD pipelines, source code repositories, and PaaS offerings with Kubernetes (VSM)
Central repositories on microservices tied to ownership and business context (VSM)
Streamlined access to APIs for technical and non-technical stakeholders (VSM)
Intuitive, context-based diagramming options (VSM)
Configurable visualizations to analyze APIs and promote reuse and consolidation (VSM)
---
More information on the VSM-Anypoint integration is on the LeanIX Technical Docs page here. As well, if you'd like to get immediate access to a trial LeanIX VSM workspace, this is the link.