It is a requirement for today's organizations to deliver software in a fast, reliable, and efficient manner. Agile practices, microservices, and continuous integration and continuous deployment (CI/CD) processes are rapidly adopted and used to decompose monolithic architectures. However, as companies increase the number of microservices in their development organizations, complexity grows, and tracking which microservices belong to which product can become a nightmare for DevOps teams.
In fact, research shows the global microservices architecture market is forecasted to grow to over $8 billion by 2026, with a CAGR of 18.6% from 2019 to 2026, according to Allied Market Research. This growth is fueled by a number of factors including IT digital transformation, the proliferation of IoT devices, and the adoption of cloud-based products.
Increasing the number of microservices in any organization calls for DevOps teams to manage them across the landscape to achieve development efficiency. It also means companies need to invest in new tools to manage their microservice landscape. At a minimum, these tools must provide visibility across the microservice landscape with automatic discovery and cataloging capabilities, as well as provide insights to measure development KPIs such as deployment frequency.
Managing the microservice landscape
Value Stream Management is the latest addition to LeanIX's Continuous Transformation Platform. Now available, the product automates the discovery and cataloging of microservices. It connects metadata from across the DevOps toolchain to give engineering leaders, CTOs, and developers more visibility into their decentralized IT landscapes. This transparency is necessary to quickly identify where microservices are running, who deployed them, and how they support a business — all of which is key to ensuring reliable software.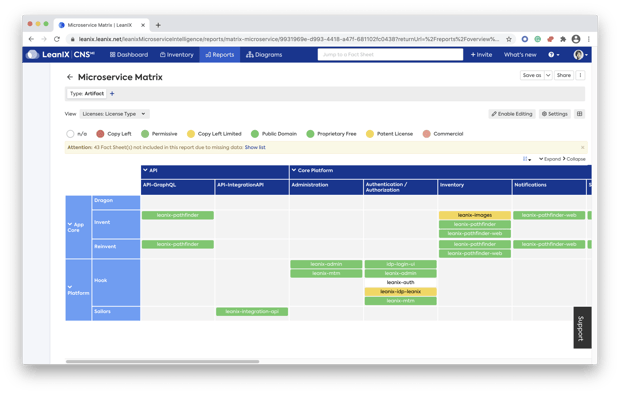 Competitive business landscapes make it necessary to decouple monolithic IT infrastructures into individual services that can be frequently modified and deployed. To provide a holistic overview of these fast-changing environments, Value Stream Management uses out-of-the-box plugins to sync deployment and dependency information from Jenkins and GitHub Action and provides a Kubernetes connector to synchronize runtime and deployment information. This information is stored within a central repository and can be contextualized to user-defined requirements via reports and matrices.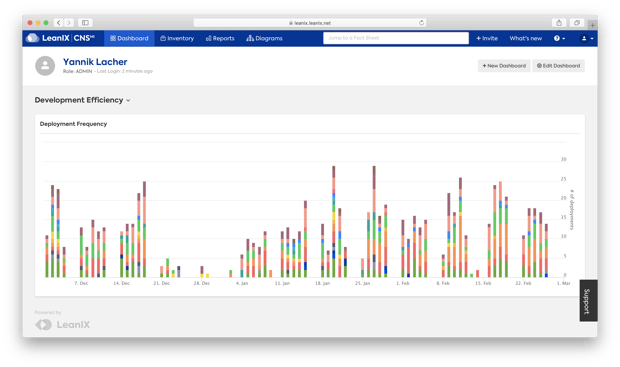 Included is a central microservice catalog where CTOs and engineering leadership can monitor KPIs such as deployment frequency and mean time to resolution (MTTR). This catalog presents a clear line of sight into the ownership and performance of self-developed software and gives business stakeholders a way to share and discuss SLAs and SLOs. Of note, the LeanIX Integration API makes it easy to automate the intake of SLIs (e.g., from systems like Pingdom) and show their development over time. Microservices are immediately added to this catalog upon creation.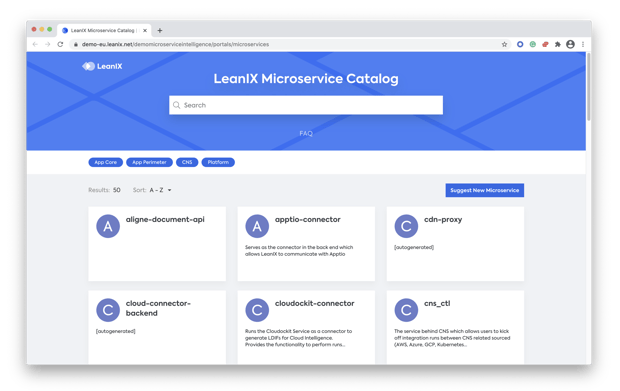 "With LeanIX Value Stream Management, microservices are added to the catalog upon creation and we now have one central place where we see all microservices and their responsible teams," said Niklas Heinrich, Director of Engineering at LeanIX. "LeanIX itself uses this product, and as a result, we no longer waste time asking around in Slack who can help with a problem but rather start fixing it right away. The microservice catalog helps us to shorten the ramp-up time of new developers by weeks which is very important to us given the fast growth of our team."
Value Stream Management can be used in conjunction with the LeanIX Enterprise Architecture Management (EAM) to enable complete views of an IT infrastructure, business, and software architecture. This visibility is especially beneficial for Cloud Centers of Excellence (CCoE) when determining the costs of services, how they are interlinked, and how they support a business.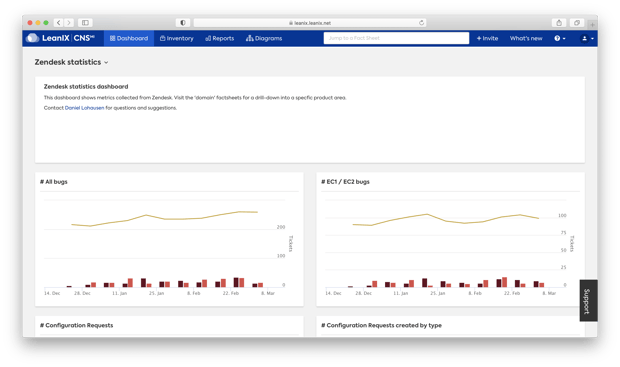 For more information on managing microservice landscapes, here is a poster with examples of how a microservice catalog answers key stakeholder questions.