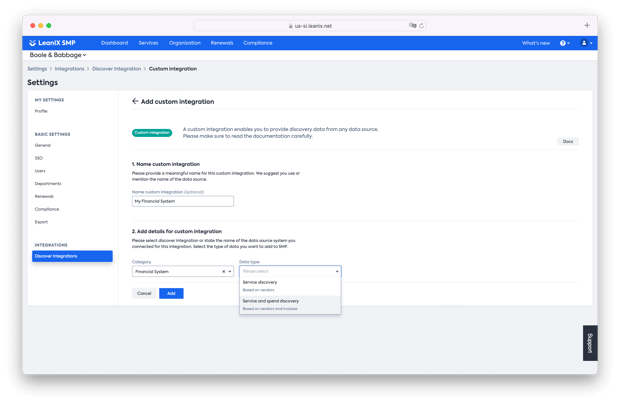 Companies are rapidly adopting SaaS applications to optimize spend and accelerate business transformation, often as part of the shift towards a cloud-first strategy. Increased SaaS adoption has brought with it increasingly decentralized SaaS purchasing. This often leads to SaaS sprawl, where companies lose track of what SaaS they pay for or "own." Without a comprehensive understanding of what SaaS a company owns and who uses it, companies face uncontrolled spend and, worse, countless security risks.
The ability to discover all your SaaS applications is crucial to managing and securing your entire portfolio. For SaaS discovery, data is key. And that means being able to access every relevant source of data for a complete overview of everything you got.
LeanIX SMP supports out-of-the-box integrations with a wide array of enterprise systems including:
CASB (e.g., Zscaler, Azure AD)
SSO (e.g., Okta, OneLogin)
Financial systems (e.g., Netsuite, Coupa)
Expense Management (e.g., Concur, Expensify)
HRIS Systems (e.g., ADP, BambooHR)
These integrations make it possible for companies to discover and track the SaaS they own, even SaaS purchased by someone outside of IT. By maintaining integrations with these most enterprise data systems, we allow you to find and manage thousands of SaaS applications.
Driving SaaS discovery with Import API
The ability to access any potential data source is essential for comprehensive SaaS discovery. That's why we are introducing Import API – a data ingestion technology that enables customers to drive discovery by pushing a variety of different data types to SMP, be that data services, spend, contracts, user accounts or anything you seek to discover and track.
Import API enables companies to:
Easily bring all your SaaS data into one place from any data source
Continuously discover your SaaS more efficiently
Help IT teams monitor and evaluate SaaS with confidence
Provide finance and procurement teams with deeper, more accurate insights into spend to support better decision making
Import API can be applied to a range of use cases, such as gaining total SaaS visibility and driving SaaS spend optimization.
Total SaaS Visibility
By importing all data related to SaaS across the company, LeanIX SMP becomes a single source of truth SaaS. As a result, IT teams can build a complete, up-to-date, and unified single view of the entire SaaS portfolio.
SaaS Spend Optimization
The endpoint helps you ingest all spend data and automatically attribute it to each SaaS application. Customers can use these accurate insights to negotiate better contracts, right-size their license portfolio, and eliminate duplicate applications. As a result, you can continuously rationalize and optimize SaaS spend.
"Import API is the simplest, fastest, most secure method to discover SaaS, for a non-ootb automated integration. We used the API to ingest service and spend data from Deltek which is our financial data system. The analysis and reporting capabilities that the API provided were a game changer and will enable our IT and procurement teams to stay on top of budgets and contracts functions."
- Lamis Eddin, Senior Integration Developer, FHI 360
From now on when importing data into SMP, you can either:
Use an existing ootb discovery integration to connect your enterprise system
Leverage the Import API to add custom integrations
Import your files containing SaaS application data
In this initial rollout, we support the custom integrations via the Import API for SSOs and Financial Management Systems, while extending the footprint for other data source categories: Contract Management, HRIS, Credit Card, and Expense Management.
For more information on the capabilities of Import API, please refer to LeanIX SMP user documentation.
Want to try Import API today?
If you are a LeanIX customer, please reach out to your customer success manager to see Import API in action.
Not yet a customer but want to try LeanIX?
Schedule a demo to see how LeanIX can help you discover and manage your SaaS portfolio with ease.