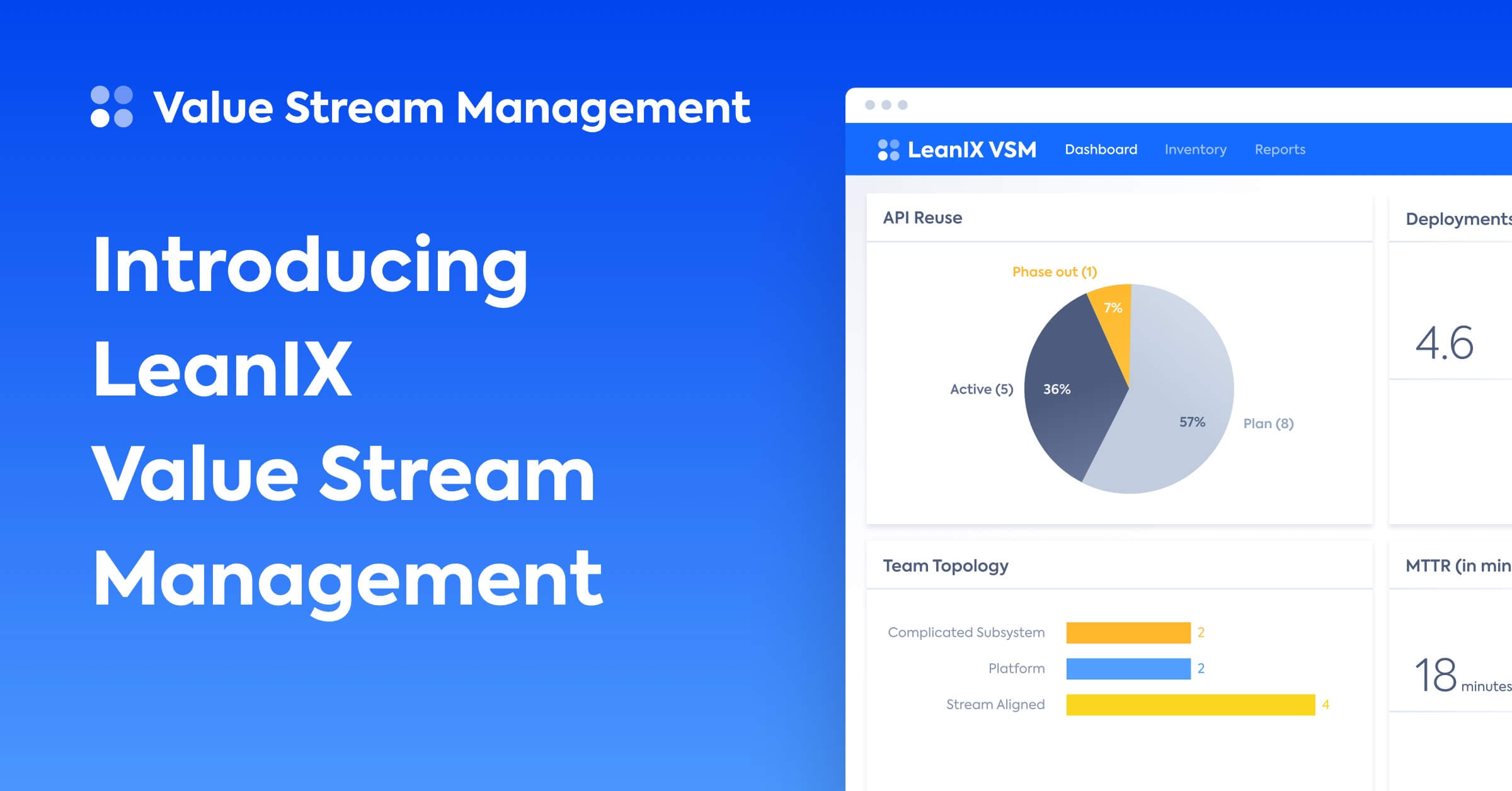 Leading software development organizations continuously improve digital products in efficient, reliable ways. For engineering teams faced with endless bug fixes and feature requests, this means prioritizing tasks that clearly generate business value. It also means pro-actively eliminating risks, bottlenecks, and inefficiencies in software delivery pipelines.
Tracking business value while streamlining fast-moving development processes remains a challenge for cloud-native and traditional companies alike. This is especially true in large-scale, decentralized environments with IT landscapes that can't be visualized and managed through microservice catalogs alone (though such a catalog can be a good first step!). To continuously improve digitally-enabled services and software products, all elements of software delivery — including integrations to and from development toolkits — need to become observable and tied to business outcomes.
When DevOps and product-oriented ways of working replace project-centric models, however, engineering teams and IT/business groups can often have little common ground for discussion. Making matters worse, engineers rarely use one centralized platform to connect data across heterogeneous software development tools. Engineers can also find it difficult to contextualize priorities in a transparent manner for the business. Instead, they often prioritize development tasks based on a self-assembled mixture of data and gut feeling. At the same time, non-technical stakeholders can find it difficult to translate development work into company-wide and customer-relevant value.
To address these challenges, many business and technology leaders optimize software delivery through concepts associated with value stream management (VSM) — a method for tying digital product and digital services improvements to specific organizational performance indicators. VSM practitioners measure product or service excellence in terms of the value delivered to customers (internal and external) and use these value streams to guide innovation efforts.
Managing value in software delivery pipelines takes a high degree of interconnectivity between company-wide teams, technology, and processes. However, despite the fact that Gartner foresees 70% of organizations using VSM to improve DevOps pipeline flow by 2023, there are few solutions on the market designed specifically to support these efforts. This is especially the case when you are looking for solutions that are vendor-agnostic, SaaS-based, and pre-connected to architectural transformation toolsets.
Visibility into software delivery and value streams
LeanIX Value Stream Management (LeanIX VSM), the latest addition to the LeanIX Continuous Transformation Platform, is a purpose-built solution that helps engineering leaders improve the flow of software delivery across value streams. LeanIX VSM is SaaS-based with out-of-the-box features, capabilities, and integrations providing actionable visibility into software delivery performance.
Utilizing KPIs, dashboards, reports, and a configurable policy engine, the solution drives increased knowledge sharing, collaboration, and the reduction of waste in software development practices. A "big picture" tool that extends the architectural clarity of LeanIX's Enterprise Architecture Management Suite and SaaS Management Platform, LeanIX VSM gives technical and non-technical stakeholders the insight they need to build reliable digital products faster.
To reconcile the needs of engineering leadership and DevOps teams, LeanIX VSM can be used to:
Establish end-to-end visibility across the software development stack to break down knowledge silos
Aggregate insights plus DORA and flow metrics to uncover bottlenecks and improve delivery performance
Assess security and compliance vulnerabilities while prioritizing work items to increase quality without disrupting productivity
Set principles and standards to track deviations, ensure governance, and implement compliance guardrails
Provide data-driven insights to efficiently allocate resources and balance innovation velocity with product reliability
The corresponding features can be grouped into three areas, all supporting key aspects of the software development cycle:
Discovery
Ready-to-use DevOps integrations and public cloud discovery for instant setup
Low-code custom integrations based on a declarative API to automate documentation
Software, APIs, and technology catalogs to capture tribal knowledge, track service ownership, and highlight dependencies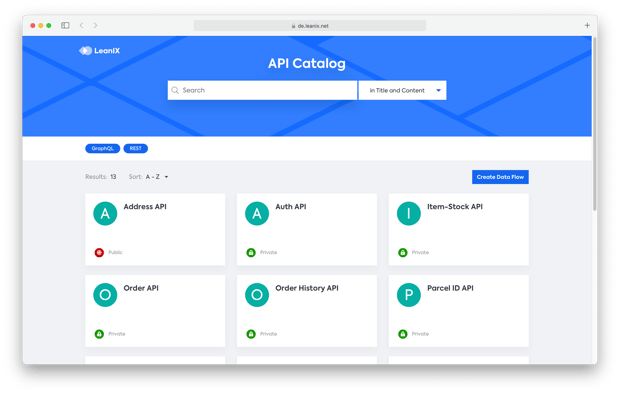 Enablement
Dashboards and reports based on a flexible data model
Streamlined governance based on built-in rule engine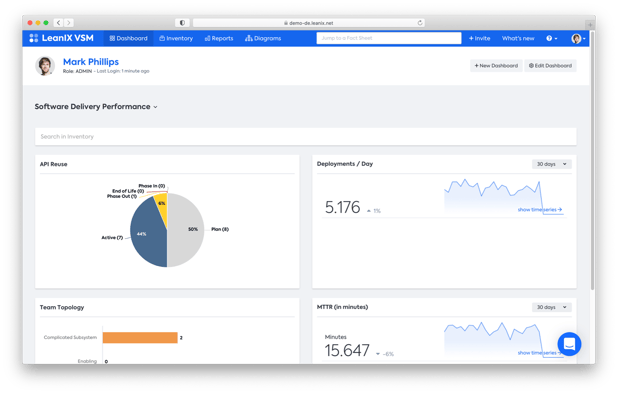 Measurement and Improvement
Map to products, domains, and teams to understand impacts and dependencies
Flow metrics linked to business impact (release early Q1/2022)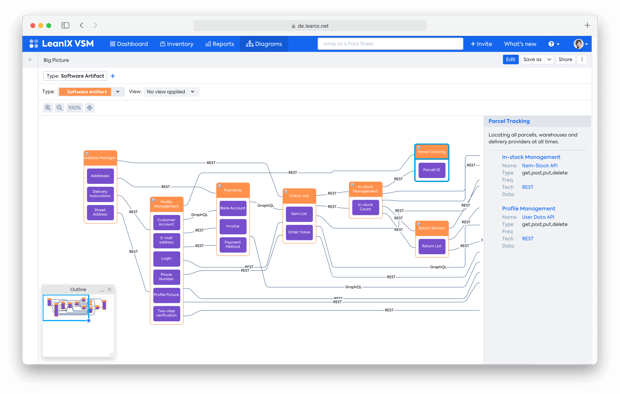 The holistic insights provided by these features make LeanIX VSM a nexus point connecting service catalogs, enterprise agile planning, delivery platforms, and value stream management. The product represents an evolution of LeanIX's cloud and microservice intelligence solutions. It not only features expanded cataloging capabilities but also finally makes it possible to consolidate source data from disconnected teams, tools, and environments so that you can streamline product delivery and predictably improve product performance.
---
If you and your colleagues would like to try LeanIX VSM yourself, start a free trial today.