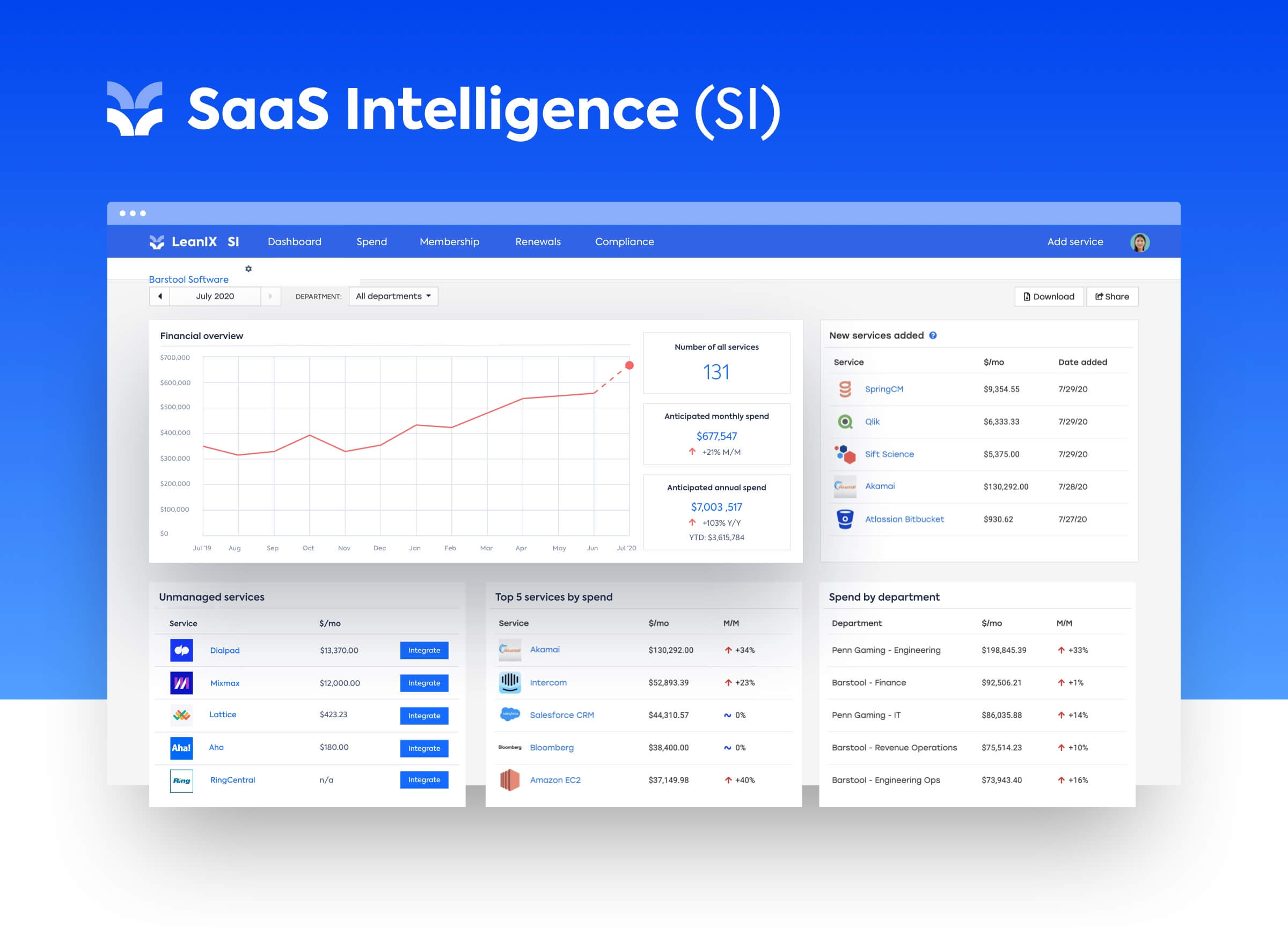 Software-as-a-Service (SaaS) has fundamentally changed IT landscapes and is an integral part of today's application portfolios. The technology has overtaken on-premise software installations and has a role in nearly every enterprise operation, process, workflow, and function. However, as SaaS portfolios grow, it becomes harder to manage these applications and evaluate their costs and risks.

Many companies rely on manually-updated spreadsheets for insights into SaaS utilization, security, compliance, and spend. Others repurpose old IT asset management tools or use nothing at all. These legacy approaches are no longer sustainable given that SaaS spend per employee has increased 280% over the past five years. They are especially untenable given the following statistics:
30% of SaaS spend, on average, is wasted because of under-used. unused, redundant, or excess licenses as well as overpriced vendor contracts.

21% of companies who have been audited have paid more than $1 million in audit true-up costs and penalties.

77% of organizations that have adopted SaaS have experienced security incidents directly related to those applications.
89% of employees still have access to company tools after leaving a company (45% of which had access to sensitive or confidential data).
Up to 50% of an organization's SaaS estate can operate unknown and be non-centrally managed.
But attempts to control SaaS shouldn't prevent teams from acquiring or accessing superior software. Productivity in modern enterprises is dependent on giving business units the freedom to purchase and access better technology. Indeed, today's SaaS companies use sales methods that make it easy to sign up for free or with a credit card, out of the oversight of IT and procurement. To mitigate over-running SaaS costs and security concerns, CIOs and CFOs now require automated and versatile solutions — the likes of which complement enterprise architecture (EA), DevOps, and cloud management tools.
For these reasons, LeanIX's Continuous Transformation Platform now includes SaaS Intelligence (SI), a dedicated product for generating visibility into SaaS portfolios. SI provides integrations to key enterprise systems for SSO, ERP, expense management, CASB, contract management, and a range of other platforms such as Concur, NetSuite, Coupa, Okta, Spring CM, and Zscaler. Also included is browser plug-in support and 3800+ direct integrations to leading SaaS vendors.
SI's capabilities make it possible to discover, optimize, and manage SaaS applications instantly. Features range from user engagement and renewal management to cost and subscription optimization. As well, since SaaS transparency is essential for today's EA, SI's discovery and cataloging mechanisms are included with LeanIX's Application Portfolio Management (APM) module within the EA Suite.

SaaS discovery and management

SI functions as a single pane of glass into customer SaaS portfolios. Advantages include completely automated, out-of-the-box connectors to complex enterprise systems to reveal services in use or not easily identifiable. These integrations give IT procurement, IT management, and information security teams full visibility into SaaS applications and can fast-track the building of systems of record.
Real-time and complete visibility into SaaS stacks to accelerate time-to-value with actionable insights
Identifying and eliminating shadow IT, duplicate licenses, and redundant SaaS contracts
Managing and viewing an organization's whole SaaS stack in a single pane of glass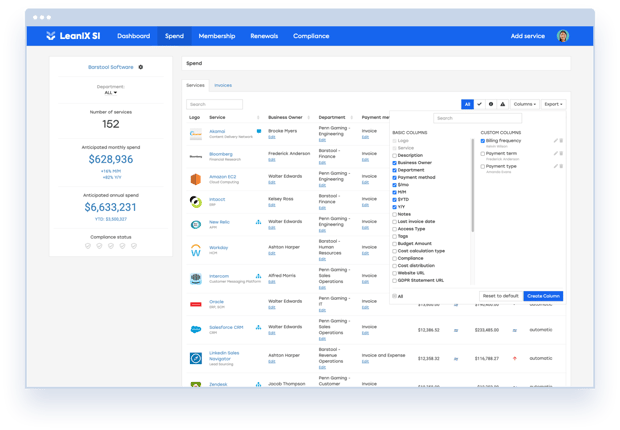 Usage and adoption tracking
With integrations across the enterprise SaaS ecosystem, SI tracks application usage and adoption rates. Analytics dashboards show which employees use any given product (e.g., Microsoft 365), outlines their specific usage levels and product licenses, and reveals inactive subscriptions. To ensure applications are correctly utilized, employee licenses can be changed (e.g., E5 to E3) or directly messaged via the tool.
Detailed usage information for each SaaS application to measure software utilization by department
Insights to control SaaS spend, rightsize your SaaS subscriptions, and understand user adoption
Optimizing usage and allocating the right number of licenses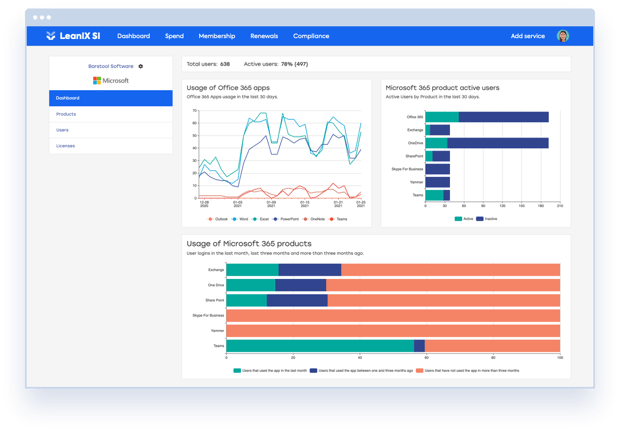 Cost savings and optimization
In addition to saving costs by rationalizing SaaS usage and licenses (e.g., downgrading or canceling subscriptions, consolidating overlapping capabilities), SI generates insights that are useful for assessing contracts with vendors. This includes monthly summary reports with actionable recommendations, contract timeline and customizable renewal alerts, and utilization rate metering and automated spend optimization. This technology also integrates to leading contract management systems such as SAP Ariba and Contract Works.
Driving accountability and assigning ownership to understand SaaS spend and eliminating waste
Negotiating contracts with vendor price benchmarks
Staying within budget via monthly reports and contract timeline renewal calendars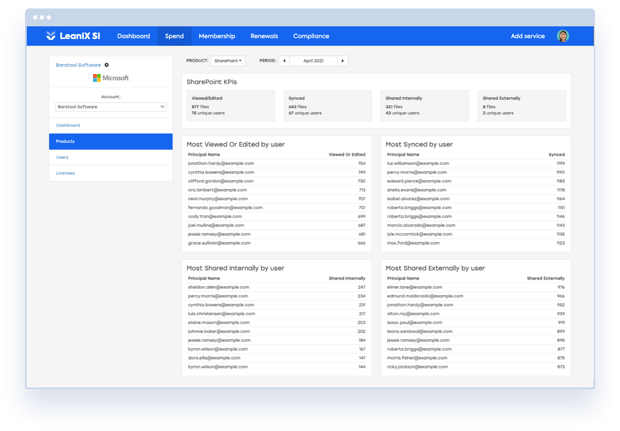 Compliance exposure and risk mitigation

SI streamlines data security and regulatory compliance reviews for sprawling SaaS portfolios. Thanks to SI's integrated platform, customers can perform holistic inspections of IT portfolios while managing SaaS access for distributed workforces. Security certifications from vendors are tracked in the tool to help with frameworks like GDPR and SOC 2.

Discovering and tracking services in an SaaS stack to ensure regulatory compliance
Removing security threats, securing access to data, and deprovisioning licenses to eliminate risk of unauthorized access
Identifying SaaS vendors that comply with your organization's policies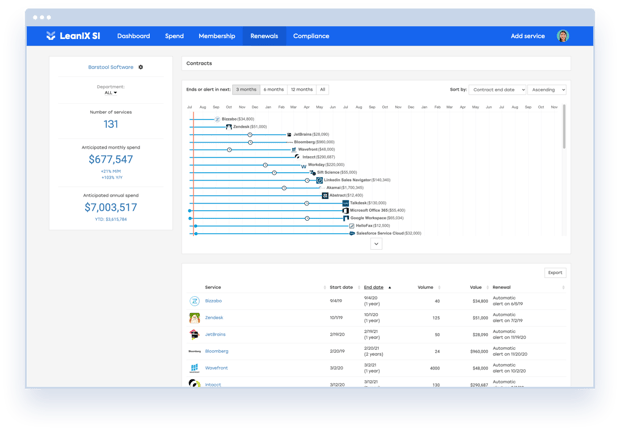 As one can see, it's not just IT who benefits from regaining control over SaaS portfolios using SI. Finance and InfoSec teams also receive insights on items such as wasted spend and up-to-date SaaS compliance tracking. This leads to more accurate budget forecasting and robust security enforcement, more efficient user lifecycle management and contract consolidation, and stronger overall security enforcement. Further, apart from use cases directly related to SaaS management, SI extends several of the core use cases related to APM — specifically, application rationalization.
As a result of using LeanIX to inventory on-premise, self-developed, and SaaS assets, the typical enterprise customer can expect to save $1.2M a year in application costs. This extended visibility is also key for accelerating post-M&A integrations to realize IT value by consolidating common technologies. In total, using application rationalization techniques combined with SI information capturing capabilities, 30% of redundant applications can be removed within six months by creating clear links to business value.
---
Learn more about LeanIX SaaS Intelligence in the video presentation, Why APM and SaaS Management are Better Together.