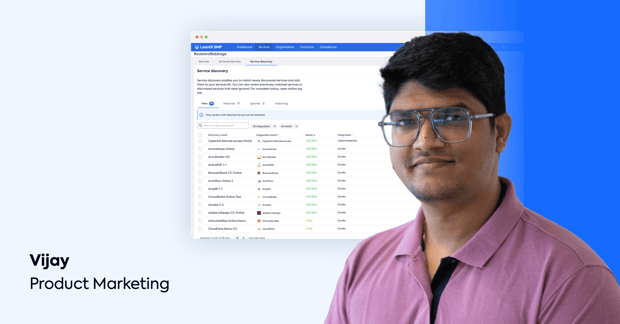 The LeanIX SaaS management platform has a new service discovery and management user interface (UI). Vijay Mandeep explains the benefits the new interface can have for your organization.
The SaaS management platform (SMP) is a vital tool for ensuring business agility and continuity by managing and optimizing the SaaS portfolio and reducing spend. That's why we've focused on making the user interface (UI) as simple and powerful as possible.
With this new UI, our customers can:
build an accurate map of their organization's SaaS applications
achieve complete transparency in the discovery process
deep dive and mitigate noise for a true picture
easily search and identify missing applications
continuously monitor the SaaS portfolio
In addition, the LeanIX SMP offers AI-powered filtering and matching that will automatically identify all the SaaS services your organization is being billed for.
This new UI makes our SMP more valuable than ever before, but why is SaaS discovery and management so important for optimizing your IT landscape?
The rise of "shadow" SaaS
The software-as-a-service (SaaS) market continues to grow rapidly, despite rising inflation and a coming recession. In fact, Gartner forecasts worldwide public cloud end-user spending is to reach nearly $600 billion in 2023, more than 17% growth.
One of the reasons for this growth is that SaaS applications are easy for anyone in an organization to implement and leverage. However, this means that controlling and tracking the use of SaaS services in your business can be difficult.
Well-meaning employees may open additional subscriptions to services you already have available, or ones that haven't been screened by your information security teams for potential phishing traps or unintentional vulnerabilities.
These 'shadow' SaaS subscriptions can cause a range of issues for enterprises:
Paying for under-utilized or outdated applications
Missing renewal payments
Security risks from unauthorized platforms
To avoid all this, organizations need a way to gather information on what SaaS services they are paying for and using. The obvious method is to survey your team, but this still won't give you the full picture.
Employees may have set up SaaS subscriptions and then left your organization, or simply forgotten they did so. This can be a drain on resources that may come into short supply as the economy comes under strain.
Download our free poster on the 9 Steps to SaaS Management Success:
For complete SaaS service discovery, you need to mine a range of unbiased sources to get a full view of your landscape. That's where the LeanIX SaaS management platform (SMP) with its improved user interface (UI) comes in.
The value of the LeanIX SaaS management platform
The LeanIX SaaS management platform (SMP) will connect with a range of sources, including:
single sign-on (SSO) platforms
expense management and financial systems
human resources information systems (HRIS)
cloud access security brokers (CASB)
Using these systems, our SMP platform will be able to find all the touchpoints that your organization has with providers. From there, our platform can automatically create a map of your SaaS portfolio and begin filling in information about each service and how your portfolio is interconnected.
We think of this as Google Maps for your SaaS portfolio, showing more than just a list of platforms, but providing full transparency in your portfolio. You can then confirm ownership for each service to ensure a responsible person controls the application.
For more-detailed technical information on the capabilities of the LeanIX SaaS management platform (SMP), review our LeanIX SMP user documentation.
Map your applications with the LeanIX SaaS management platform
The process of identifying the range of services utilized by your organization and how they relate to each other in the LeanIX SaaS management platform (SMP) is known as 'service discovery'.
Discovery usually works across two phases:
Initial setup
Continuous monitoring
Using the LeanIX SMP, this process is fully automated using AI-driven matching capabilities. Leveraging artificial intelligence, the range of services identified within your enterprise systems can be automatically categorized and screened.
This means the platform will provide you with a complete list of all the SaaS services your organization is paying for.
All of this will be logged in an archive to provide a full record of your SaaS portfolio. This includes full details of each service's details, along with an action log of your decisions.
Empower your organization to control its SaaS expenditure
Organizations across the globe are looking to manage and control their expenditure as recession approaches. The LeanIX SaaS management platform (SMP) is a powerful tool for streamlining and optimizing your service spend through SaaS service discovery.
To learn more about our newly updated SMP, book a full demo of this powerful tool today. If you're an existing LeanIX customer, contact your customer success manager, or if you're new to LeanIX, book a demo below: