What is Cloud Native?
The Cloud Native Computing Foundation (CNCF) defines Cloud Native as scalable applications running in modern dynamic environments. It's about how applications are created and deployed, not whether they sit on a public, private, or hybrid cloud. Cloud Native apps are designed to scale horizontally rather than vertically and rely on technologies such as containers, microservices, and APIs.
The scalability allows microservice modules to refine themselves individually without being dependent on other processes. The technology ensures that systems developed with a Cloud Native approach are resilient, scalable, and reusable.
In other words, using a Cloud Native Strategy enables services to be used across applications and other services.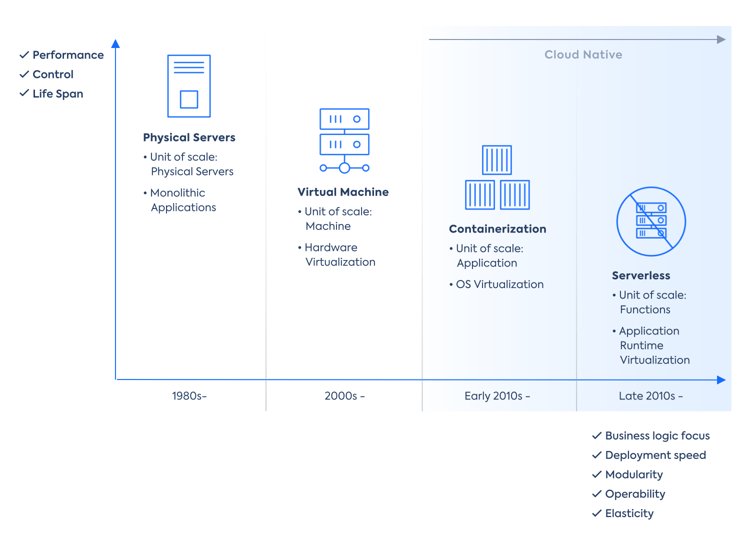 While Cloud Native is important in today's development world, it's important to also understand the evolution of Cloud Native technology.
Why is Cloud Native important?
Adopting Cloud Native technologies and practices enables companies to create software in-house, allows those in business departments such as finance to closely partner with IT, keep up with competitors, and deliver better services to their customers. CNCF technologies enable cloud portability without vendor lock-in.
In fact, being Cloud Native has clear advantages compared to traditional development and computing:
Faster code development and deployment
Higher turnaround of services
Adoption of serverless computing
More impetus to DevOps processes
Scalability
Resiliency
Reusable services
This fast software service delivery is due largely to the fact that it's much easier for organizations using either a single or multi-cloud strategy to commission and decommission IT assets on cloud platforms (e.g.,a new server commissioning takes less than 30 seconds on Amazon Web Services). A Cloud Native strategy enables operational overheads of IT to get passed on to the cloud vendors, allowing enterprises to focus their efforts on business innovation and the customer.