Partnership of BDNA and LeanIX will enable companies to discover and manage technology threats in time
BONN, Germany & MOUNTAIN VIEW, California, 20 April 2016. LeanIX and BDNA announced today that BDNA Technopedia will be integrated with Enterprise Architecture Management (EAM) tool LeanIX to allow clients to keep the information about their IT resources up-to-date and significantly reduce their technology risk.
Running technology carries substantial and often underestimated risks. Most organizations today rely heavily on technology to run their processes and provide their services. The damages resulting from IT outages can be staggering: One study estimates the average cost of on hour of IT outage at 140k EUR (Avaya 2015, Network Downtime results in Revenue and Job loss), another the average cost of a single data breach at 3.5 million USD (Ponemon Institute 2014, Cost of Data Breach Study).
The 20 largest vendors alone have over a million technology products. With 2,500 changes. Per day. (BDNA Technopedia)
BDNA Technopedia makes IT portfolio management faster and easier by providing consistent and accurate information about IT assets. Technopedia is the world's largest, most comprehensive repository of market intelligence on enterprise software and hardware. This constantly-updated library categorizes more than 1.2 million products from nearly 22,000 suppliers, providing important information such as compatibility, support levels, end-of life, migration plans, vendor mergers and acquisitions, and more.
"LeanIX helps companies to make the right decisions for their IT strategy and improve their performance," said Walker White, President of BDNA. "Integrating BDNA Technopedia will save considerable time and money for their customers, as it allows them to automate the process of updating information on technology resources."
One of LeanIX's clients, automotive company AMAG, has been testing the new Technopedia integration. "Always having current information available exactly where we need it means a significant reduction of our risk due to outdated technology," commented Andreas Puke, IT Architecture Manager at AMAG. "With the Technopedia information now available in LeanIX, we can evaluate technology information in the context of business impact."
"BDNA's data provides comprehensive, immediate and actionable information. Companies are able to increase transparency, improve efficiency and enable effective IT decision-making as well as lower costs and risks," noted André Christ, Co-CEO of LeanIX. "We are very pleased to enter into this partnership with BDNA, which will bring such a range of benefits to our clients."
The BDNA Technopedia integration will be available in LeanIX immediately. BDNA and LeanIX will be presenting a live demonstration of how easy it is to integrate Technopedia in LeanIX during a live webinar on 3 May 2016. Participants can register for the webinar at https://www.leanix.net/en/events.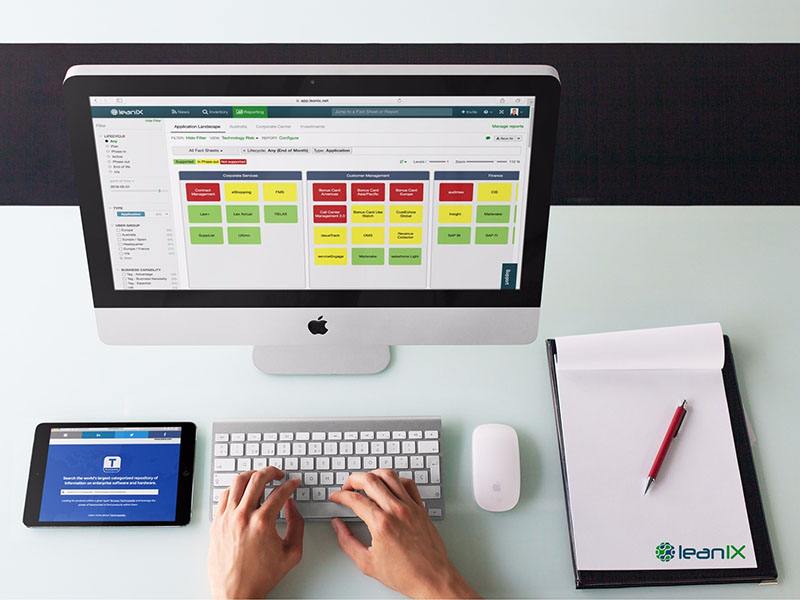 About LeanIX
LeanIX offers an innovative software-as-a-service solution for Enterprise Architecture Management (EAM), based either in a public cloud or the client's data center. The web-based platform has compelling advantages over traditional approaches, including an intuitive interface, flexible reporting and open APIs. This makes it possible to rapidly roll out LeanIX in an enterprise with minimal training required so as to start reaping added value within a short period of time. Both SMEs and large corporations from an array of industries are utilizing the solution – companies like Axel Springer, Helvetia, RWE, Merck, Zalando and Haworth. Businesses of all sizes are being acquired as customers, firms which used to be reluctant regarding EAM or had had frustrating experiences with cumbersome tools. LeanIX GmbH was formed in 2012 by Jörg G. Beyer and André Christ. With headquarters in Bonn and a subsidiary in the US, the company's large partner network extends throughout Europe and to Australia and the US. Additional information is available online at: https://www.leanix.net.
About BDNA
BDNA creates the most authoritative enterprise IT data. Armed with this invaluable information, enterprises will make the best decisions possible, lower costs and risks as well as accelerate the pace of their business. To produce the most relevant results, BDNA maintains Technopedia, the most complete, current and reliable content repository about hardware and software. This catalog is the foundation from which BDNA creates the highest quality enterprise IT data in the industry, which in turn results in visibility, insight and information enterprises can trust. Venture backed and based in Mountain View, California, BDNA operates globally with customers across all segments and vertical markets. For more information, please visit http://www.bdna.com.