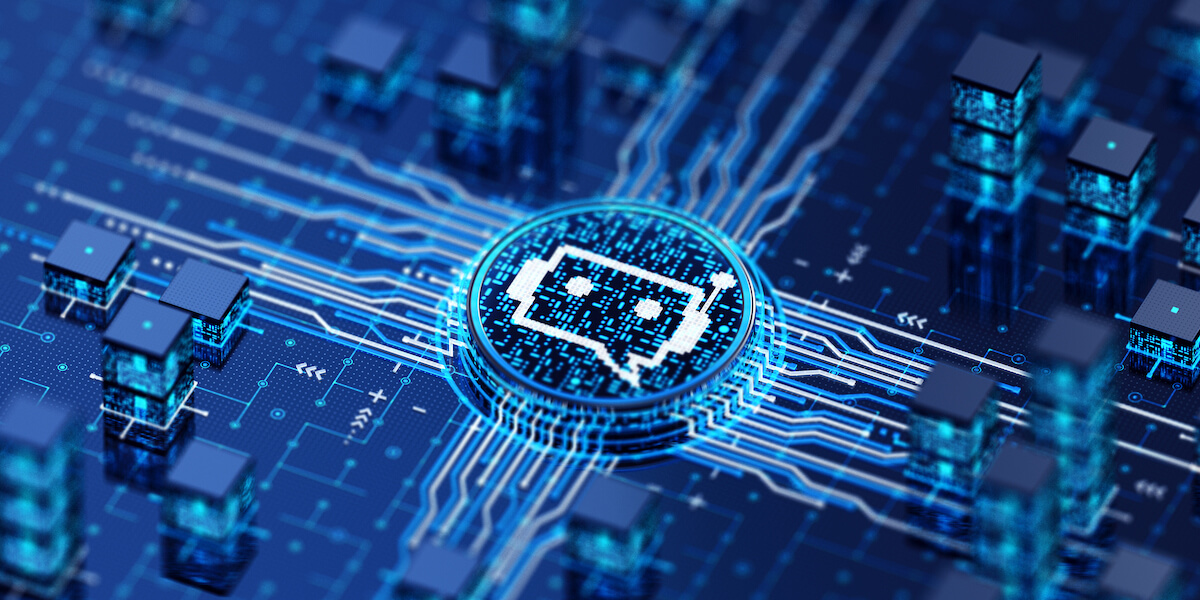 Generative AI has been the central theme of speaker presentations at conferences across all industries, and the LeanIX Connect summit was no different. Learn why we're launching our AI Assistant and how this will support the future of enterprise architecture management.
Generative artificial intelligence (AI) is the current tech industry buzzword, but it's being talked about for a reason. The potential of AI technology to support enterprise in matching the current pace of change in society can't be underestimated.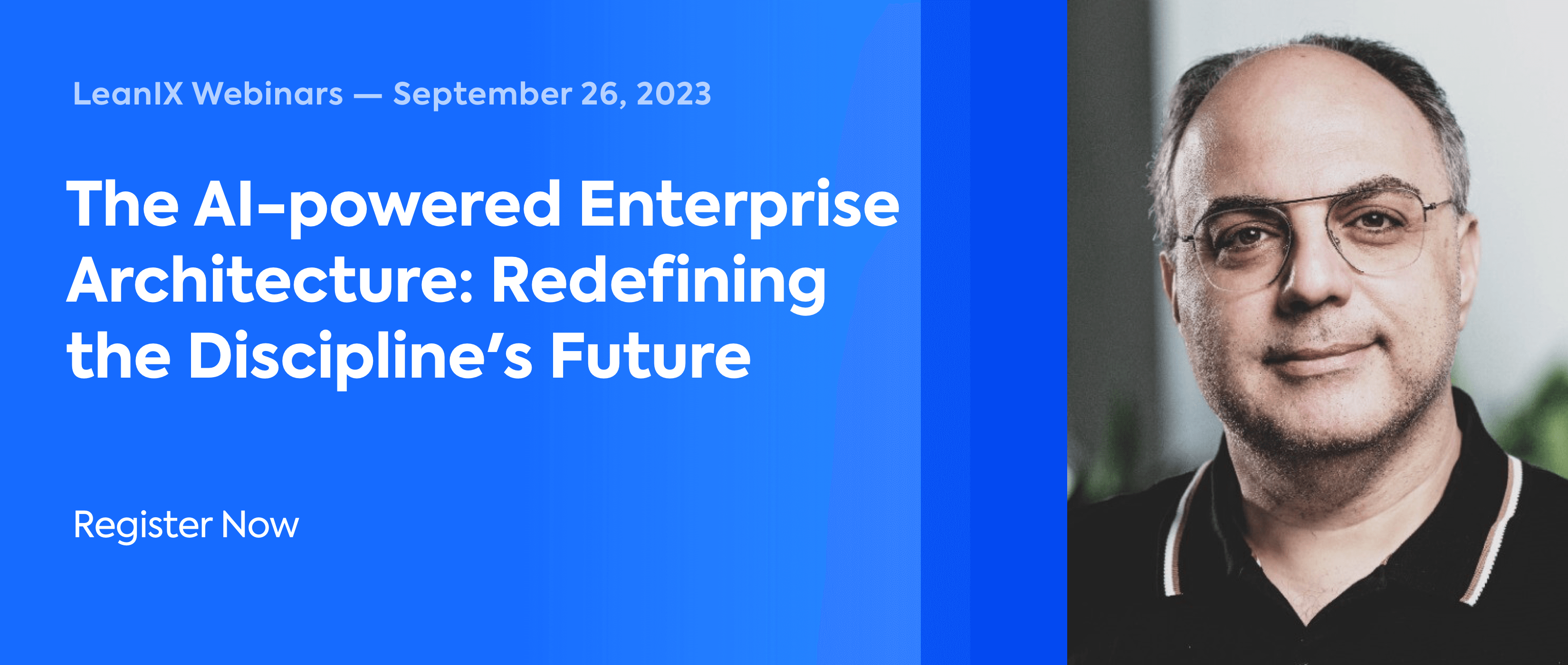 As technology advances at an ever-increasing pace and budgets are restricted by global economic turmoil, organizations are being asked to do more with less. AI tools could solve this issue by carrying out simple tasks and freeing human resource for creative and strategic endeavors.
This is particularly the case with enterprise architecture management. Enterprise architects need to manage an organization's entire IT landscape, with a strategic eye to budget, future needs, and change management, so freeing up time wasted on simple tasks could be key.
Imagine being able to ask an AI to research five alternatives to a legacy application, including costing, and lists of pros and cons. You could then take that list to your leadership team and add your personal recommendation for the best choice.
Alternatively, we all know that feeling when a last-minute request for a report to the board comes in. A generative AI tool could create that report for you in minutes.
With the capabilities of generative AI already multiplying at a phenomenal pace, ignoring this revolutionary tool would be a critical mistake. This is why we're thrilled to tell you about the launch of our own AI Assistant.
Our CEO and founder, André Christ, first announced the LeanIX AI Assistant at our Connect Europe 2023 summit on May 9. To view his full announcement, along with all the presentations from industry experts at this year's Connect, register for free:
In the meantime, let's deep dive into what generative AI is and what it means for the future of enterprise architecture.
What Is Generative AI?
In 2015, OpenAI was launched as a billion-dollar non-profit venture from a range of investors, including Amazon Web Services and Elon Musk. The organization was founded to freely collaborate with researchers and other institutions to democratize artificial intelligence (AI) research.
The following year, OpenAI transitioned to a "capped" for-profit in order to attract investors, and also released its OpenAI Gym bot-training platform. Finally, in 2022, OpenAI finally announced the launch of its large language model (LLM) generative pre-trained transformer, ChatGPT, gaining widespread media coverage as the first generative AI tool.
Using the ChatGPT interface, you can type a question and the AI will use its experience of millions of text interactions on the internet to predict the most-likely answer to the question. You can also task ChatGPT to create text content in any style, format, or tone-of-voice.
The Potential Of Generative AI
ChatGPT has yielded a variety of use cases across multiple domains. Teachers are using it to generate lesson plans and reports, translators are using it to create native-sounding content in languages they don't speak, and business leaders are using it to write viral LinkedIn posts.
Yet, this is just the basic level of an extremely complex tool. One of the most impressive uses of the tool is in supporting developers in writing and debugging code, with the future potential to empower non-technical users to create any software application they need in minutes.
Major organizations were quick to jump on the generative AI bandwagon. Microsoft invested USD 29 billion into OpenAI, in order to add its capabilities to their Bing search engine, while Google responded by releasing their own generative AI competitor, Bard.
Microsoft also added ChatGPT to their Azure cloud platform. This allows enterprises to create a private and secure instance of ChatGPT, train it with their own proprietary data, and then use it as a knowledgeable content creator able to generate reports and marketing content instantly.
This overcomes the main challenge of ChatGPT: hallucination. With the huge variety of conflicting data available online, ChatGPT can occasionally make inaccurate claims, but trained on a single, consistent source of truth, your own instance of ChatGPT would be far more reliable.
There's incredible potential for the use of generative AI for business. This is particularly true of enterprise architecture management.
Why Does Generative AI Matter For The Future Of Enterprise Architecture?
"ChatGPT is a moment like the introduction of the iPhone. It's a seismic shift for our industry, and for businesses in general. While it might not be applicable to all use cases, at least it's crucial to explore it, to think about it, to deal with it, and this is what I'd like to do."

André Christ, CEO and founder, LeanIX
There are two facets to enterprise architecture. Enterprise architects must be tech-savvy analysts, exploring and researching complex data, and process mining minute details to arrive at hard facts.
On the other hand, enterprise architects must be both creative and strategic. With the ever-increasing pace of change, enterprise architects must, more than ever, be learning and developing their plans for the future.
With the increasing complexity of application portfolios, however, more and more of enterprise architects' time is being taken up by the day-to-day maintenance of their IT landscape, rather than crucial strategic thinking. This is where generative artificial intelligence (AI) can help.
Microsoft's AI add-on to Office 365 is called Copilot. This name is an indication as to how AI can be used in a business setting.
Essentially, your AI can function as your digital assistant. The AI can complete tasks, such as:
creating reports
conducting research
analyzing data
summarizing complex documents
debugging code
As André explained, generative AI is not intended for every use case, and it will never be able to replace the strategic thinking and creativity of enterprise architects. It will soon, however, become an essential resource and partner to enterprise architects in their work.
As Pascal Espinouse of Capgemini explained in his article The Augmented Architect Unleashing The Power Of ChatGPT:
"ChatGPT can become a valuable asset for IT architects in their daily work, offering numerous benefits. Whether it be assisting with architecture design, component selection, or technical documentation generation, ChatGPT has the potential to transform the way IT architects work. It can ultimately increase their productivity, efficiency, and effectiveness. I'm convinced that technologies such as ChatGPT have the potential to serve as virtual assistants for not only architects but also many other professionals in various industries."

Pascal Espinouse, Architecture Director, Capgemini
Introducing The LeanIX AI Assistant
Given the potential for generative artificial intelligence (AI) tools to become a supportive resource to increase the capacity of what enterprise architects can achieve, we believe it's vital for them to have access to generative AI.
To support you, we're excited to introduce the LeanIX AI Assistant. Leveraging a large language model (LLM) and a generative pre-trained transformer (GPT), our AI Assistant will accelerate your enterprise architecture management, and become a revolutionary tool for the future.
The LeanIX AI Assistant is also privately hosted on Microsoft Azure. This means there's no risk to your private data while training your instance of the LeanIX AI Assistant on your data.
We're busy working on a closed beta of the LeanIX AI Assistant that we will release in Q3 of this year. You can sign up for the beta by visiting our public roadmap page and looking under the AI Assistant section.
We're excited to show you what we've been working on and embracing the full potential of generative AI.