Shortcuts
Introduction to Enterprise Architecture
The only thing digitalization can't magically align is our individual preferences of how to work. We complete jobs in the ways we want—sometimes logically, sometimes irresponsibly—and by using whatever tools and resources are before us.
All of this despite working towards the same goal as everyone else in a company.
Modern and traditional enterprises alike employ Enterprise Architects to correct broken processes and augment new strategies by binding them to carefully chosen innovations. It is a strategically, technically high-level role that scales elements of the following IT Architecture subsets for use in enterprise environments.
What does Enterprise Architecture mean?
Enterprise Architecture (EA) is a discipline that manages conflicting approaches to success within large-scale organizations. A specialty devoted equally to the worlds of IT and Business, it introduces practical standards across departmental units and teams in order to streamline efforts with an intelligent sharing of resources.
What are the use cases for Enterprise Architecture?
Enterprise Architectures previously produced exhaustive 5-year plans consisting of excessive amounts of analysis, slow timelines, and rigid conceptual models. With the agility and DevOps movement on today's IT management best practice, these old Enterprise Architecture mentalities have been forced into obsolescence. As the Enterprise Architecture practice has evolved, their supporting tools have also evolved. Specialized Enterprise Architecture-focused tools are scalable, they support complex modeling, company-wide collaboration, useful integrations, ease of use, while enhancing data integrity and quality. Professional Enterprise Architecture Model tools cover a wide array of use cases, the 9 key oneslisted below.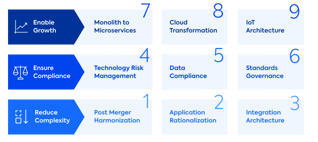 Image 1: The nine key use cases for Enterprise Architecture
Enterprise Architecture Frameworks and Methodologies
Elevating IT architectures to enable these benefits led to the rise of dominant working methodologies — most of which developed by consortiums or governments or prominent tech companies — that laid the groundwork to today's modern Enterprise Architecture practices.
The Zachman Framework for Enterprise Architecture
Enterprise Architecture went mainstream in the 1980s after John Zachman released "A Framework for Information Systems Architecture". Zachman saw that information systems were bringing about a complexity that needed to be mapped with clearer classifications and interfaces—a veritable blueprint, or "architecture", of IT components across an enterprise.
So he proposed a framework to accomplish the following:
Start meaningful dialogues within the information systems community;
Create tangible business value via architectural representations;
Evaluate operational tools and/or methodologies in relation to one another; and
Optimize prevailing approaches to building IT applications.
And then published in 1987 an early version of what would become popularly known as the "Zachman Framework" (below).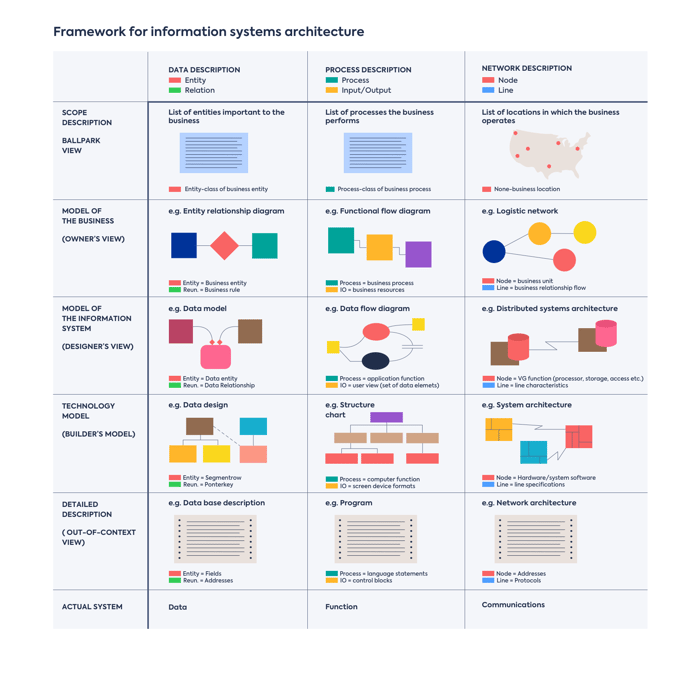 "A Framework for Information Systems Architecture" (1987), a conceptual precursor to the "Zachman Framework", as it appeared in Vol. 26., No. 3 of the IBM Systems Journal.
Data-, Process-, and Network-focused perspectives to measuring an operation. All courtesy of common-sense descriptions and models.
Perfect for describing a complicated enterprise; not so much for creating one from scratch.
The Open Group Architectural Framework (TOGAF)
TOGAF is a method of designing, implementing, guiding, and maintaining the construction of enterprises using controlled phases—or, as it is known, the "Architectural Development Method (ADM)". Its strategies have been iteratively improved upon for 25 years.
Federal Enterprise Architecture Framework (FEAF)
FEAF, an architectural framework designed initially for use by the U.S. Government to integrate its federal agencies, is a collaborative planning methodology that has become a popular EA model used in private enterprises.
Gartner's Enterprise Architecture Framework
Gartner, a global leader in IT research and insights, has put forward enough best practices for Enterprise Architecture solutions throughout the years during its consulting practices that it has built up its own methodology — one focusing more so on business outcomes than abstract phasing.
What are the goals of Enterprise Architecture?
The release of the Zachman Framework, though a watershed moment in the world of IT, failed to capture the hearts and minds of traditional business leaders who then held the keys to innovation strategies in enterprises. In fact, Zachman intentionally did not position his framework as a methodology for tactically collecting, managing, and deploying the information it describes to leverage broader operation strategies. Though writing in 1987 that the "development of a business strategy and its linkage to information systems strategies" was an "important subject to pursue", Zachman stopped short of doing so himself.
It was not until the age of digitalization came into full view that the disconnect between IT and Business became so obviously problematic and in need of repair. As more organizational divisions than ever before began pushing IT infrastructures to extreme limits to solve dynamic business challenges—demands hitherto brokered via indirect channels and tools — the need for a predictive, intelligent intermediary grew.
So Enterprise Architecture, a profession chiefly committed to navigating the intricacies of modern workspaces, was assigned the task. So what are the goals of Enterprise Architecture? The goals of Enterprise Architecture are to offer a holistic overview of an enterprise, one with every business capability mapped alongside its underpinning technologies, to lead rather than merely guide strategic transformations.
And to make it all configurable to different architectural targets.
Very configurable.
What are the benefits of Enterprise Architecture?
Enterprise Architecture's new remit meant that it had to re-define itself to the standards of a digital era. Once a deskbound pursuit accomplished in backrooms, it had to break free from theoretical concerns to bring the following tangible benefits to enterprises in applied manners. The main benefits of Enterprise Architecture are:
An ability to grasp, store, structure, and analyze varied sources of information to solve unplanned or foreseeable problems in enterprise landscapes.
An awareness of industry-relevant technologies and the competence to demonstrate, in clear terms, how a proposed service would impact a company.
The influence to implement enterprise-wide agile methodologies to accelerate product deployments and connect siloed organizational groups.
A clear survey of an enterprise to extend data-driven findings to business leaders in order to prioritize investments and transformation strategies.
Standardized processes that help enterprises not only change for the better but become better at change itself.
What are Enterprise Architecture Tools and Software?
Somehow none of the actual tools and software to facilitate these frameworks and Enterprise Architecture methodologies kept pace with the ambitious ideas they were intended to manifest. Excel, Visio and SharePoint — basic consumer items essentially re-purposed to approximate architectural visions — served for far too long as the de facto instruments to envision IT and Business designs.
All of this changed with the concept of Enterprise Architecture Management — a democratized re-imagining of Enterprise Architecture wherein the responsibilities of data mapping is dispersed throughout an enterprise and collaborated upon via accessible portals and automated visualizations.
Enterprise architecture tools aim to capture, store, structure, and analyze pertinent information pertaining to the architecture of an enterprise, and offer support for strategic decision making by capturing vital enterprise information, along with content development and analysis capabilities across the business, information, technology and solution architectures. Modern enterprises require tools that facilitate the implementation of a business strategy focused on business outcomes and risk mitigation.
Architectures observed by, accounted for, and fortified by an enterprise worth of personnel.
It was a dramatic shift that came out of a need to maximize resources to counter three use cases defining digitally-focused enterprises and incapable of being accomplished in scattered efforts:
Application Portfolio Management
Objective:
To reduce the costs and risks associated to applications while increasing operational manoeuvrability with a transparent overview of a technology portfolio
Expected Results:
Priorities of applications in need of investment—and those in need of divestment
A map of Business Capabilities and how well they are supported by applications
Knowledge of how an application portfolio will evolve over time
Technology & Risk Management
Objective:
To leverage transparency about important IT Components to reduce complexity and resolve security vulnerabilities, compliance issues, and the inability to support business
Expected Results:
A full list of all applications in use
A full assessment of all software versions, servers, and data centers in use
Direct analysis of how technology is affecting a business
Target Architecture
Objective:
To properly define the present state of an enterprise to tactically shift its structure to meet the business goals of a future state
Expected Results:
A supervised, seamless transition to a future architectural state
An architecture plotted with best practices and development strategies from all relevant methodologies
An architecture with a built-in flexibility, no matter how technically complex its structure, to adapt to new challenges
What are the new Enterprise Architecture models?
The imperatives of the above use cases plus the global push for agile business models has led to the rise of LeanIX's Modern Enterprise Architecture Management Tool—an SaaS specifically tailored to support the digital strategies of enterprises in collaborative and automated manners.
LeanIX elevates the EA principles established by John Zachman and TOGAF by connecting the definitions of all IT applications and Business processes within an integrated reporting network. It is structured upon three now-indispensable features of Enterprise Architecture:
IT Inventory Management, accomplished by:
"Fact Sheets", individual data repositories where the information and dependencies of applications can be stored
Mass data importing and exporting from Excel plus information connected through integrations like Technopedia
Descriptive "Tagging", to categorize application libraries to specific needs
Enterprise Architecture Collaboration, accomplished by:
"Subscriptions", which entrust parties to maintain the accuracy of applications, projects, and providers
Messaging services and conversation histories embedded to data objects
Custom surveys to help disperse data collection efforts
Enterprise Architecture Reporting, accomplished by:
Interactive heat maps, matrices, and metrics that can be adjusted to many views
Custom visualizations to model dependencies and the flow of data
PNG, PDF exporting options plus a Confluence integration to assist presentations
Enterprise Architecture and Digital Transformation
In our YouTube-Video, Oliver Schwarz, Head of Smart Customer Solutions at Vaillant shows how Vaillant transformed itself from a conventional lighting company to one of the leading innovators in its sector, being Enterprise Architecture Management the key enabler for innovation. He also gave some examples and visions for the future of Enterprise Architecture and explain why it is so important in the digital transformation.
Click here to view the presentation on Digital Transformation and Enterprise Architecture.
Enterprise Architecture Certificates
The inherent accessibility of modern Enterprise Architecture Management and its fundamental use cases in organizations has led to the popularity of dedicated training centers—many of which connected to improving EA proficiency in key topics like cloud transformation, data compliance, and risk management:
AWS Certified Solution Architect
EC Council Certified Network Defense Architect (CNDA)
CISSP Information Systems Security Architecture Professional (CISSP-ISSAP)
The Open Group Certified Architect (Open CA)
Dell EMC Proven Professional Cloud architect training and certification
Axelos ITIL Master Certification
Google Professional Cloud Architect
Red Hat Certified Architect
Salesforce Certified Technical Architect
Professional Cloud Solutions Architect Certification
Salesforce Certified Technical Architect
Professional Cloud Solutions Architect Certification
The Open Group TOGAF 9.2 Certification
The Virtualization Council Master Infrastructure Architect Certification
Additional Resources for Enterprise Architecture
For even more information about Modern Enterprise Architecture Management, read our free "In-Depth Guide to Succeeding with Enterprise Architecture".