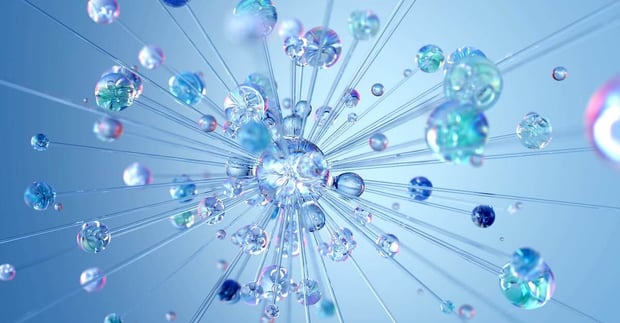 President Biden has issued an executive order calling for developers to collaborate to restrict the abuse of artificial intelligence tools. Let's explore the concerns and consider what steps you should take to keep your organization compliant.
The US government has made a statement of its intentions to crack down on the illicit use of generative artificial intelligence (AI) tools. An executive order by President Joe Biden called for voluntary measures to become compulsory and monitored by government.
The move both supports the widespread use of AI and also warns against the dangers, and introduces the potential for regulation. Do you know whether the usage of AI tools within your organization is compliant and, perhaps more importantly, is your IT landscape prepared to support an AI future?
Download the Gartner report below to find out more about using application modernization to prepare you for AI. Meanwhile, let's explore what the executive order means and how it will impact your organization.
Biden Executive Order Calls For AI Caution
On October 30, 2023, US President Biden issued an executive order calling for technology companies to do more to regulate the use of generative artificial intelligence (AI). The move serves to expand and make compulsory the voluntary safeguards that vendors agreed to in July.
Previously, AI developers like Google and OpenAI agreed to watermark all AI-generated content to ensure it wasn't misused. The new measures, however, call on vendors to submit security documentation to the US government to ensure responsible use.
In addition, the new order directs US law enforcement agencies to address the use of copyrighted materials to train AI tools. This seeks to resolve multiple lawsuits brought by content creators who argue that the use of their work goes beyond fair use and qualifies as plagiarism.
This firmer position President Biden is taking could be a response to criticisms that the USA is falling behind some European countries' strict stance on the use of AI. For example, Italy banned generative AI tool ChatGPT for a month in April this year until certain issues were addressed.
While executive orders like this are high-level documents that serve better as a statement of intent than detailed legislation, the message is clear that the US government intends to take criticisms of AI seriously. The question now is what this means for organizations making use of AI tools.
What Does The AI Executive Order Mean For You?
Thankfully, organizations leveraging generative artificial intelligence (AI) tools don't need to worry too much about the executive order. The US government was specific in its intention to prevent the misuse of AI in order to ensure it evolves properly.
As Biden himself explained:
One thing is clear: to realize the promise of AI and avoid the risk, we need to govern this technology. There's no other way around it.

Yesterday, I signed an executive order that is the most significant action any government has ever taken on AI safety, security, and trust. pic.twitter.com/9sRE8tcUne

— Joe Biden (@JoeBiden) October 31, 2023
This indicates that the US government not only has no intention of restricting AI use for lawful purposes, but is imposing regulations to prevent the need to restrict its use, and encouraging enterprise to collaborate on this. This leaves organizations free to continue to leverage the technology.
The only impact of the executive order on your organization may be a temporary pause on AI development while vendors work to expand safeguards. This could be a blessing in disguise, as it offers companies more time to devise an AI strategy and integrate the technology into IT landscapes before it evolves further.
Leveraging AI For Business
Generative artificial intelligence (AI) tools can be leveraged in the same way that any innovative technology can be added to your IT landscape. The key is to fully understand your application portfolio and how it connects to your processes, workflows, and larger strategy.
This is where enterprise architecture comes into play. The methodology is about ensuring your strategy, process, and technology are aligned, which makes it key for integrating innovative technology like AI.
Enterprise architects can also identify the innovations that need to be made in your organization in order to best leverage new tech like AI. This will usually involve an application modernization initiative to ensure your application portfolio is sufficiently mature for it to support the latest innovations.
Application Modernization For AI Innovation
Application modernization is a process of analyzing your IT landscape and ensuring that your application portfolio is sufficiently evolved to fulfill your strategic goals. Often, this will involve migrating all or part of your portfolio to the cloud.
This is crucial for taking advantage of cloud-based innovations like generative artificial intelligence (AI). That isn't to say complete cloud migration is right for every one of your applications, but simply that part of your portfolio will need cloud access to leverage AI.
The first stage of application modernization is assessing your application portfolio to determine what you need to move to the cloud and what you need to do to get it ready for AI. This is why you need a complete and detailed picture of your portfolio and a roadmap charting the course to get where you need to be.
LeanIX EAM enables this with detailed Fact Sheets for each of your applications and tools to help you model your desired state and plan for getting there. We believe an EAM-powered application modernization initiative is crucial for intelligent AI adoption and the temporary pause in AI innovation caused by the executive order makes now the perfect time to begin.
More importantly, regular application modernization initiatives will assess the performance and usage of your applications over time, including the ones leveraging AI. This means you can confirm the value, compliance, and security of your AI tools.
How LeanIX Is Using AI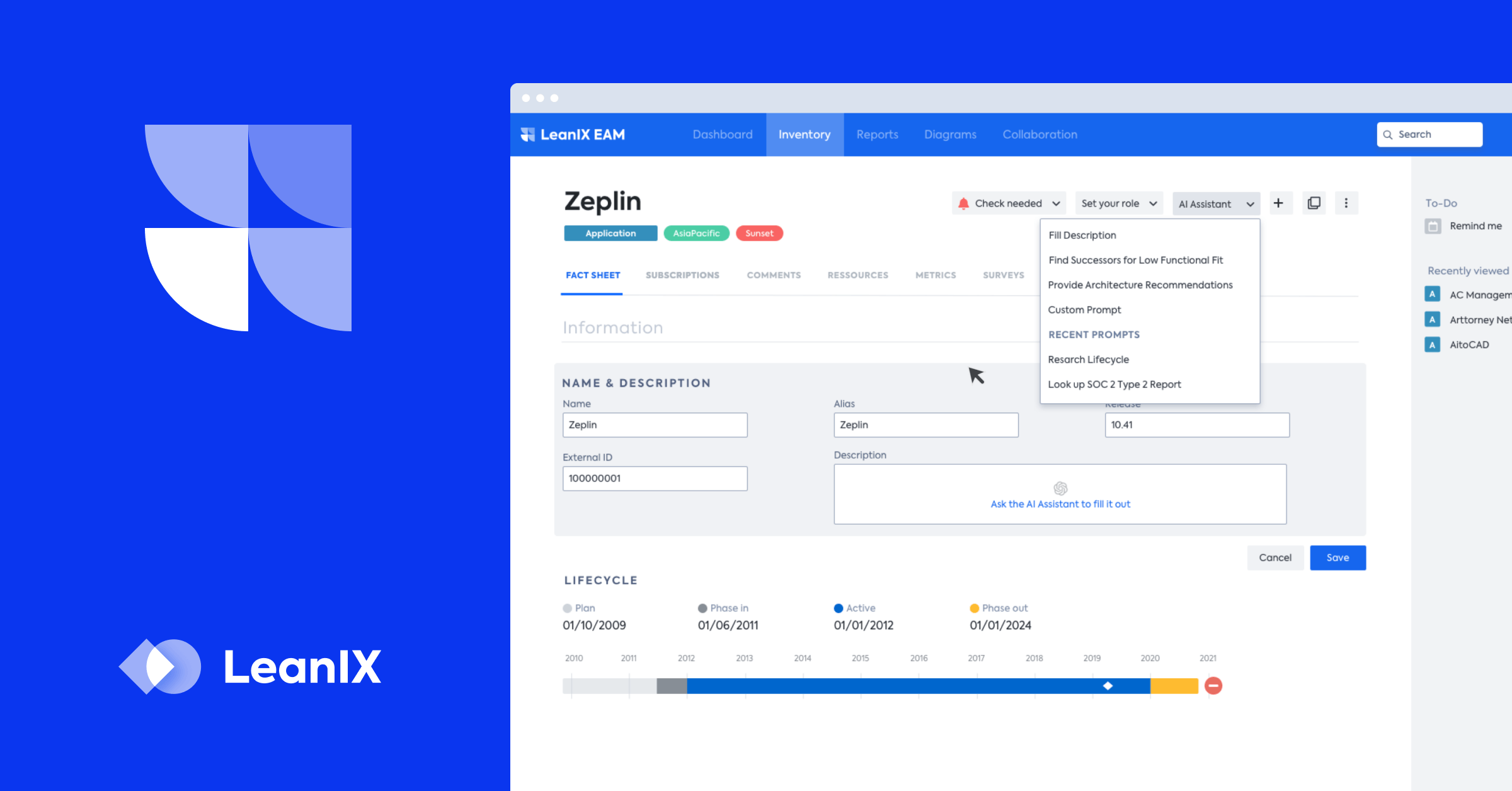 We believe in the power of generative artificial intelligence (AI) innovation so much that we've ensured AI is included within EAM itself. All LeanIX EAM users can now benefit from the AI Assistant built into the platform. LeanIX EAM users are already leveraging our AI Assistant to: automate documentation accelerate report creation research successor technologies provide architecture recommendations simplify access to enterprise architecture tools for business users.
To find out more about how our AI Assistant can support your application modernization efforts, book a demo of EAM: