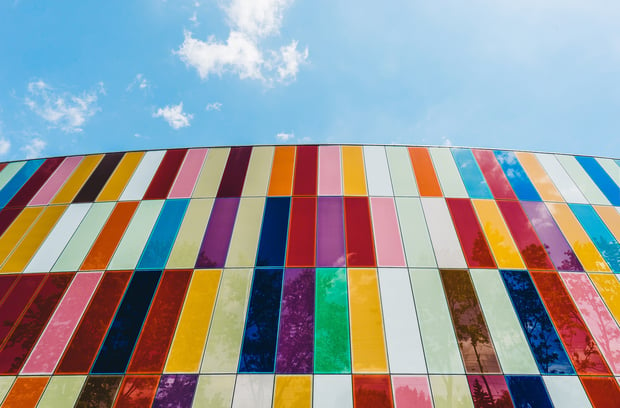 Meredith Courtemanche of TechTarget makes specific reference to LeanIX's ongoing role in helping Helvetia Group, a Swiss multi-national insurance group, manage the modernization of its application landscape during cloud migration.
In her May 21 piece, it is discussed how Helvetia mandates absolute visibility into Enterprise Architecture to shape competitive new IT and business processes—both of which are core proficiencies of the LeanIX Enterprise Architecture Management tool.
"Cloud-focused application modernization is neither easy nor a sure bet," writes Courtemanche. "Helvetia's extensive application portfolio must accommodate enormous data requirements and compliance rules and be tailored to meet specific business stakeholder goals."
Of these goals, it is noted that the long-established insurance group (founded in 1858!) prioritizes Cloud Application Services "where possible" to upgrade its extensive IT portfolio—and specifically, whenever in-house, custom developments can't turn a competitive advantage.
But as explained in the article by Sid Nag, Vice President of Research at Gartner, not every application can easily ride the "cloud wave" into modernity. IT upgrades must conform to best practices as defined by a company, he says, and many mission-critical and data sensitive assets have to be guided by incredibly specific migration approaches to accommodate precise technical needs.
[A look at Helvetia Group's IT Portfolio after a merger with Nationale Suisse]
And therein lies the rub when enterprises as massive as Helvetia ($7 Billion revenue; > 6,000 employees) embark to the cloud: how to actually identify and then evaluate the technical needs of hundreds of such "mission-critical" and "data sensitive" assets? As well, how to design bespoke migration solutions for each and then track, in real-time degrees of certainty, the progress of these transitions thereafter?
Writes Courtemanche: "Multitudinous data flows and stores exist through Helvetia's hundreds of applications in-house and on external cloud services." So to develop modernization roadmaps that take into account the individual data objects and dependencies within its tightly integrated network of technologies, the insurance company uses LeanIX's many automated and fact-driven architecture reporting mechanisms to base decisions—two of which in particular:
The LeanIX Data Flow Visualizer, a report to collaboratively model ad-hoc and interactive walkthroughs of integration strategies alongside Enterprise Architecture stakeholders.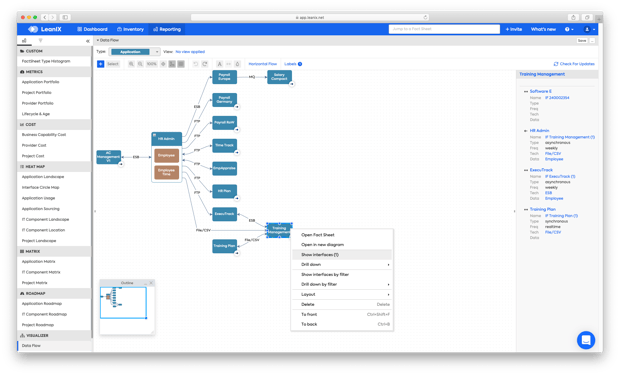 The LeanIX Application Matrix, a report to instantly generate overviews of IT application inventories according to Business Capabilities and their key User Groups.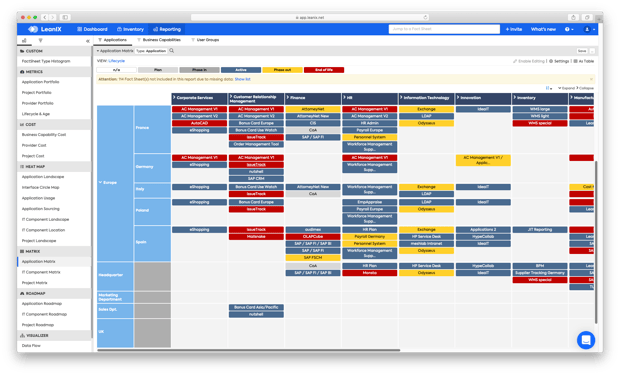 Both the LeanIX Data Flow Visualizer and Application Matrix are offered out-of-the-box to all LeanIX users, and in addition to the more than twenty other similarly built-in offerings within the tool, each is designed to provide IT and Business stakeholders with direct insights into all potential gaps and redundancies across their IT landscape. The article points out that these methods are poised to displace static models (Visio) and spreadsheet-based tools (Excel) for performing Enterprise Architecture—neither of which, LeanIX's CEO André Christ is quoted in the article as saying, are able to handle the complex number of business processes and IT technologies across modern enterprises.
[How to partner data-driven Enterprise Architecture with Business to drive real strategies]
Tracking Digital Transformations
Cloud-centric modernization efforts like Helvetia's own are part of a wider USD $214.3 billion trend (Gartner). But the costs of abandoning functioning yet legacy systems for decentralized IT environments is arguably secondary to the tremendous risk of betting entire operations on intangible and unproven future infrastructures. Using the insurance group's emphasis on accessible Enterprise Architecture as guidance, however, it is sensible to equip all enterprise personnel with a tool like LeanIX wherein digital transformations can be evaluated in clear terms. This is the precise type of actionable clarity that Helvetia's Enterprise Architect, Tobias Vogel, refers to in the article:
"The agile, lightweight and fast-to-implement approach of LeanIX fits the needs of the IT organization with distributed responsibilities while following a central governance. It allows my team to establish an increased IT transparency across country borders. We get insight faster and better than before. The information contained in LeanIX enables projects to start faster and decreases ramp-up costs."
For a much better understanding of what Vogel means by "governance" and "distributed responsibilities", take a look at one of our product guides (in particular, the sections on Collaborative Data Maintenance and Target Architecture).