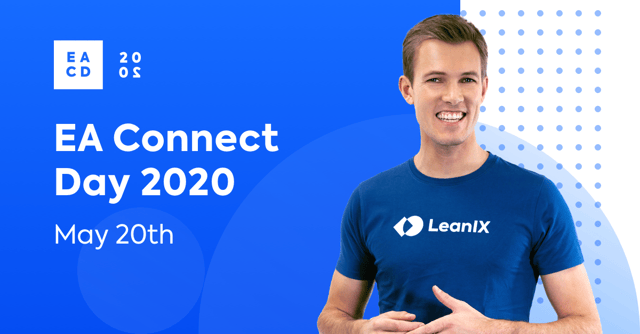 The leading enterprise architecture conference is going virtual!
EA Connect Day U.S. 2020, which had been scheduled to take place in Orlando, FL, will now take place digitally. This decision comes as a result of growing concerns about coronavirus (COVID-19) and keeping our speakers, attendees, and employees safe while supporting companies who have restricted employee travel. By holding the first of this year's conferences virtually, more enterprise architecture professionals will be able to join from the comfort of their own space, learning and networking without interrupting business as usual.
See what LeanIX CEO and co-Founder, André Christ, had to say in our recent press release.
Future-Proof Enterprise Architecture in a World of Rapid Change
On May 20th, the first EA Connect Day of 2020 will focus on sustaining business and IT alignment in a time of frenzied digitization. Attendees will learn how others have realized quick and sustainable value through their enterprise architecture practice, and how fellow technology leaders have paved the way for increased visibility within their organizations.
Insightful keynotes and practical advice will arm you with best practices to roll out at your organization, fast. Attendees will also have the chance to to network and ask questions of their peers across all industries. Watch the video below for some quick highlights from last year's conference in New York.
First Speakers Announced
Executives from diverse backgrounds are uniting to advance the agenda for the entirety of the enterprise architecture practice. Our first round of expert speakers come from fields including healthcare, casino-entertainment, industrial mining, government, and software development.
Phillip Ziegler, Enterprise Business Architect, Atlassian
Suzanne Vincent, Director Business Architecture, Caesars Entertainment
Mike Kowalsky, Enterprise Architect, Dana-Farber Cancer Institute
Amy Fenstermacher, Manager, Government and Public Sector, Ernst & Young, LLP
Marcelo Menard, Global Enterprise Architecture Manager, Vale
All of these confirmed speakers have overcome different challenges to achieve EA success at their respective organizations. LeanIX will continue adding to this distinguished roster of speakers.
Secure Your (Virtual) Seat
Since announcing the transition to a virtual delivery, registrations for EA Connect Day U.S. 2020 have skyrocketed. Hundreds of colleagues from organizations of all sizes and business models will be in attendance this year, and we can't wait to connect with everyone.
Get your free ticket today, and don't forget to invite your colleagues.