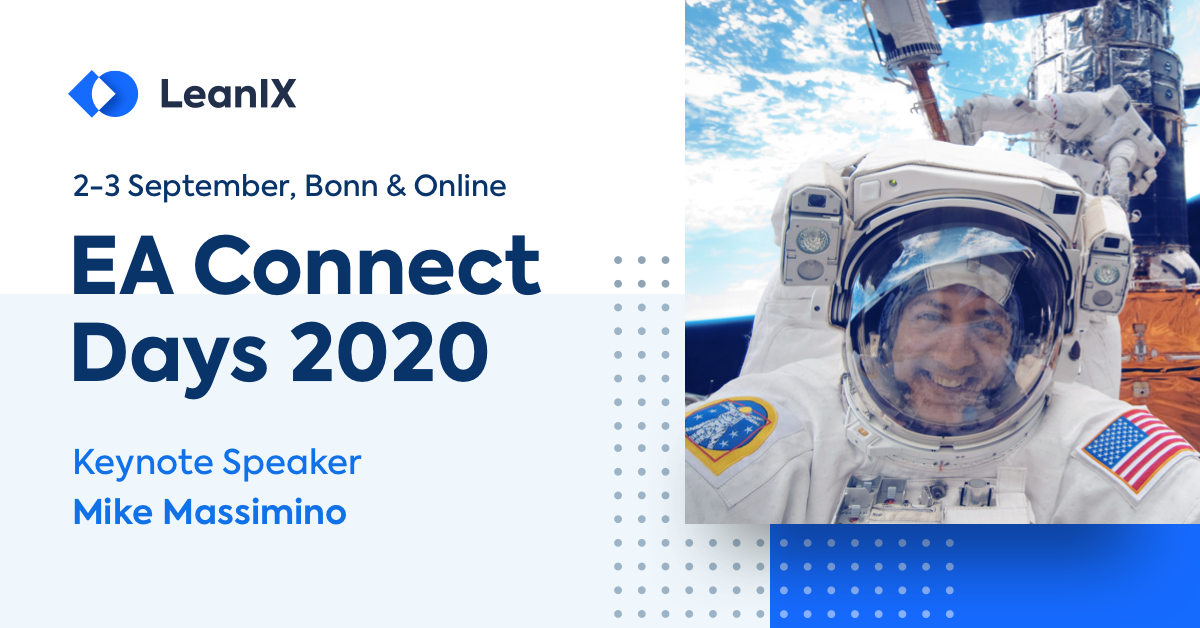 We are thrilled to announce that former NASA astronaut Mike Massimino will be joining us at our EA Connect Days as a Keynote Speaker! Our EA Connect Days have grown to be the best-known peer conference for Enterprise Architects, CIOs, and IT executives. The conference will be hosted September 2-3, 2020 both physically in Bonn, Germany and online. This event brings together hundreds of experts to discuss and resolve risks and challenges in today's enterprise IT strategy and planning.
Mike has been a key part of many organizations such as IBM, NASA, and McDonnell Aerospace. He was chosen to be an astronaut by NASA in 1996 and is the veteran of two space flights, the fourth and fifth Hubble telescope servicing missions, and holds the title as the first person to Tweet from space! During his career, Massimino received two NASA Space Flight Medals, the NASA Distinguished Service Medal, and the American Astronautical Society's Flight Achievement Award.
That's not all the Mike has to his name. He has also made a number of television appearances including The Big Bang Theory, The Planets, One Strange Rock, and many others. His book Spaceman: An Astronaut's Unlikely Journey to Unlock the Secrets of the Universe, is a New York Times best-seller.
Mike's keynote will draw from his space experience at NASA and offer perspectives on how collaboration, teamwork, and innovation is what drives success in times of rapid change.
"The technology running in today's corporate IT departments can be more complex than the technology that launched us into space, and some of their decisions can impact the entire world. I'm really looking forward to sharing my personal experiences with a group of talented technologists who design these IT architectures," said Massimino.
LeanIX serves as a single source of truth for Corporate IT and Product IT to create transparency of the present and derive actions, to shape the future in an understandable business context. We are developing a modern Enterprise Architecture (EA) platform that aligns technology strategy with business goals.
"We're looking forward to Mike delivering the keynote for EA Connect Days because of his outstanding credentials and passions," said André Christ, CEO and Co-founder of LeanIX. "He is an inspirational human being who shows us what real leadership can look like, especially in the face of crisis, and who never gives up in pursuing a worthy goal."
Click here to learn more information about and to register for our EA Connect Days in Bonn and online!