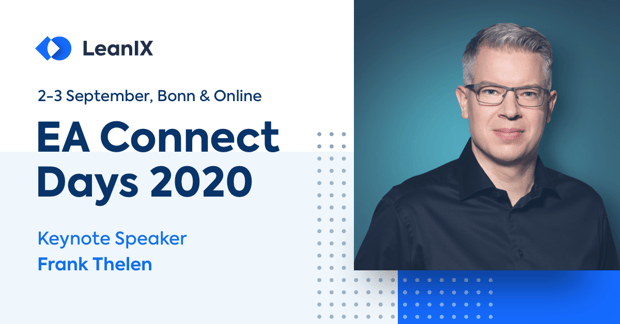 German business leader, author, investor, and TV personality Frank Thelen has just been announced as the newest speaker at the 2020 EA Connect Days on 2-3 September. Well known in the German-speaking market for his TV appearances on "Höhle der Löwen" (the German equivalent of US show Shark Tank), Frank has a prescient understanding of the European start-up market and has been following the rise of Bonn-based LeanIX for the last few years.
Frank will be presenting a keynote based on his best-selling book, "10xDNA: The Mindset of the Future", which focuses on how new technology radically impacts our lives — a theme that ties in perfectly to this year's own for EA Connect Days, "Future-Proof Enterprise Architecture in a World of Rapid Change". For the first time, the leading enterprise architecture conference will be hosted onsite at the World Conference Center in Bonn as well as virtually, so attendees will be able to follow Frank's keynote presentation from anywhere in the world.
Considering the current situation for IT, Frank Thelen comments, "We are on the threshold of a new age. Numerous key technologies are currently under development. It is more important than ever for IT managers to make agile decisions and enable innovation in the company. The participants of the EA Connect Days have every opportunity to help shape the future."
Frank joins an impressive lineup of speakers that include former NASA astronaut Mike Massimino and enterprise architecture thought leaders from C&A, Assa Abloy, Apptio, Lucidchart, DHL, Deloitte, and many more.
It's still possible to register for free for EA Connect Days! Find out more at www.eaconnectdays.com/eu.