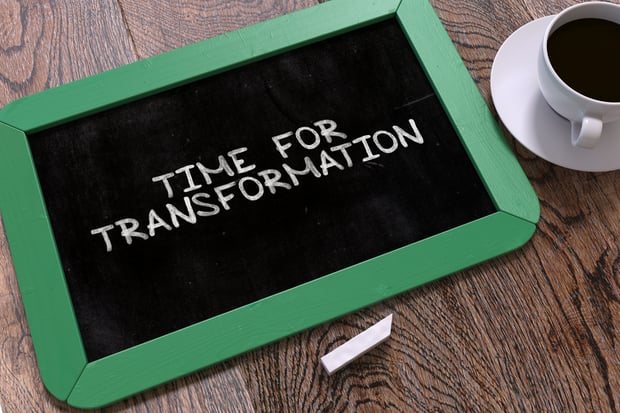 "Business transformation," from process reengineering in the 1990s to digital transformation in the 2010s, has been on the C-level agenda for decades. Nevertheless, 70% of all business transformations fail. This is not surprising given the complexity of any large-scale organizational change along with the inevitable clash between short-term thinking – focused on quick wins – and the inconvenient truth that transformational processes are more about milestones than endpoints.
To provide organizational leaders guidance when it comes to business transformation, we had award-winning author and digital influencer Warren Knight keynote our LeanIX Connect UK event. During his presentation, Everyday Innovation for Continuous Transformation, Knight shared a framework for tackling transformation that addresses the various issues involving people, process, and technologies that transformation efforts face.
Culture Roadblocks
Transformation starts with organizational culture. It's critical that leaders create an environment where people can collaborate, get executive buy-in, and successfully achieve milestones. This environment is just as important as the technologies and partners involved in a transformation. Uniting different parts of the business with a common language – for example, one based on business capabilities – lays the foundation for transformation. When everyone is on the same page, the organizational culture supports change, rather than getting in its way.
Digital Waves
The digital divide between organizations is getting wider. To illustrate where different organizations stand today, Knight described a set of "digital waves." Many organizations, especially post-pandemic, find themselves riding the first digital wave. These companies understand the importance of rethinking their approach to the customer journey but still work in silos and have thus far failed to coordinate their efforts. Companies like this might have a digital transformation roadmap but struggle to get their transformation efforts off the ground.
Most organizations, according to Knight, find themselves on the second wave. They have begun working on upgrading the customer journey and have even begun automating some of the touch points. They may also have an innovation committee led by individuals with the autonomy to make decisions. Nevertheless, even for these organizations, transformation remains a slog.
The true pioneers find themselves on the third wave. These companies have a different mindset. They operate as fully tech-enabled companies taking advantage of diverse platforms and innovations to elevate both the customer experience and the employee experience. What's more, they use data to drive decision making at every level of the business. These are the companies successfully pursuing effective and sustainable transformation.
Customer-Centricity and Data
The purpose of any business, at the end of the day, is to create value for customers. That's why customer-centricity provides the proper orientation for digital transformation. Customer-centricity requires regular, meaningful customer insight and that calls for data. A data-driven approach to customer engagement shifts the mindset from, "What can I sell my customers?" to "What's important to my customers and how can we help them achieve it?"
Developing this kind of customer-centricity brings us back to the question of culture and adopting a holistic view of the organization. That is, it's not just sales people and customer service reps that need to be focused on the customer; everyone does. Achieving this means providing employees with an understanding of how their work supports the customer value proposition, architecting processes focused on reducing friction for customers (which also means reducing friction for employees), and deploying technology in a way that best supports these goals.
Leveraging data flows that democratize customer insight, optimize the use of technology, and streamline internal and external processes is the essential ingredient in any successful transformation effort.
Frameworks for Success
Before embarking on a digital transformation, companies should adopt a framework to outline key steps, milestones, and KPIs. Knight outlined a five-step framework he uses to help facilitate successful transformations. His steps include ideation, scoping, visualization, business case, and pitch ready. You can see how he describes the framework for yourself in this video.
Your enterprise architecture should enable transformation. To see how, check out our Lean Enterprise Architecture Framework.