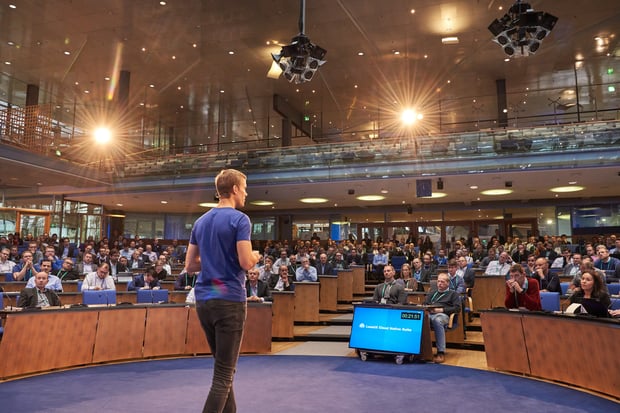 By all accounts, the 2019 LeanIX EA Connect Days was a success. With 450+ participants, 27 presentations, and 1000+ trees sponsored for planting in Nicaragua by LeanIX and its attendees, the international Enterprise Architecture community took full advantage of two days' worth of knowledge sharing on IT and modern business strategies. Not to mention an opportunity for hands-on demonstrations of our company's latest product releases: LeanIX Cloud Native Suite and LeanIX Smart Xplore™.
Detailed summaries and video recordings of each of the EACD presentations will be posted to the LeanIX blog in the coming weeks, but until then, here's just a small glimpse of what took place.
Enterprise Collaboration for Everyone
Nancy Halvorsen, Enterprise Application Portfolio BA, Pinellas County Florida
One of LeanIX's earliest and most devoted users, Nancy Halvorsen, Application Portfolio Analyst/Business Architecture from the government of Pinellas County, Florida, offered direct examples of LeanIX's collaborative benefits. Of note, by positioning LeanIX as the foundation of Pinellas's IT services to drive IT modernization and innovation across the county's entire technology ecosytem, Halvorsen and her team were able to co-operatively facilitate comprehensive reviews and/or upgrades of the following:
Ransomware: Vulnerability of applications and IT components.
Data object sensitivity, classification and security.
Windows 10 device migration and application certification.
Microsoft end of life for Microsoft Windows 7, Microsoft SQL 2008/2008 R2 and Microsoft Windows Server 2008/2008 R2.
Application access & authentication: Protocols and repositories.
"Everybody talks about collaboration, but it's really hard to do. With LeanIX data, we could fuel so many joint projects."
-Nancy Halvorsen, Pinellas County Florida pic.twitter.com/Xu8YpR37gt

— LeanIX (@leanix_net) November 26, 2019
Improving EAM Data Quality with LeanIX Surveys
Christian Patterer, Software Architect, EVN and Matthias Schnell, Senior Architect, EVN
The value of using LeanIX surveys to fast-track the maintenance and assembly of application inventories can never be overstated. As demonstrated by Christian Patterer and Matthias Schnell from EVN, one of Europe's largest energy producers and transporters, LeanIX surveys are crucial for collecting the information that's necessary for minimizing IT complexity across their multinational enterprise. In a step-by-step introduction, Patterer and Schnell showed the audience how EVN build LeanIX surveys—a detailed procedure based primarily on getting answers to the following:
Basic application information such as application relevance and usage, application ownership, etc.
Extended application information including usage of personal data, identity and access management, etc.
Business information analyzing application criticality and functional fit, overview of critical systems, among others.
Server integrations including clarified responsibilities for infrastructure components, impact of server failures, OS and database upgrades and patches, and identifying technical risks in advance.
With multiple companies and sub-companies in EVN's operating network and more than 1,400 servers, the two architects revealed how it's all but impossible for them to gather this information via traditional efforts. Information maintenance needs to be shared, they explained, and every IT employee receives read/write access to enable a truly democratized process.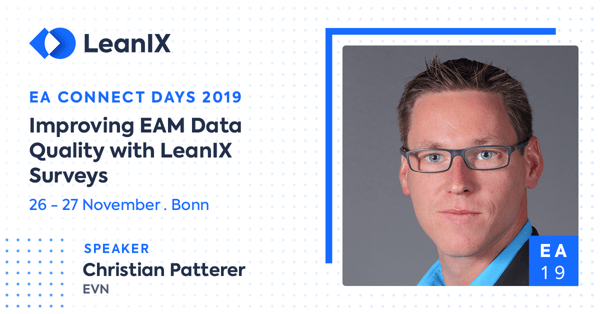 Closing the Gap: Planning & Operations
Matthew Zeidler, Director of Enterprise Architecture, Campari
Every audience member was likely familiar with Campari Group before the presentation of its Director of Enterprise Architecture, Matthew Zeidler. Yet it nonetheless appeared to take everyone by surprise how difficult it is for one of the world's largest producers of spirits, wines, and soft drinks—a company based equally on 50% organic and 50% inorganic growth—to perform standards governance. Thanks, however, to the out-of-the-box integration between ServiceNow and LeanIX, Campari obtains reliable and around-the-clock access to the technical data needed to document their diversified technical landscape and elevate IT into an engine for better business capabilities and supply chains.
"We want to always leverage our platforms to their fullest," explained Zeidler. "The LeanIX-ServiceNow integration gives us the agency our teams require to manage their own applications, dismantle their own silos, and run their IT portfolio."
"We, a small IT organization, were able to configure the LeanIX-ServiceNow integration within a few hours." Matthew Zeidler, Director of Enterprise Architecture @campari #EAConnectDays #EntArch #ServiceNow pic.twitter.com/8HAcqBcxL3

— LeanIX (@leanix_net) November 26, 2019
Automating the Discovery of a Microservices Architecture in AWS
Milos Zivanovic, Technical Product Manager, Zalando
"How do you survive a technology jungle?" asked Milos Zivanovic, Technical Product Manager at Zalando, one of Europe's digital forerunners and a long-standing LeanIX client.
With 570 AWS accounts, 180 Kubernetes clusters, and 5000+ applications, Zivanovic offered a glimpse of the online retailer's remarkable IT management prowess—an aptitude now even stronger thanks to the expanded reach of LeanIX Cloud Intelligence. Zalando uses LeanIX to help document and model its microservices architecture while also providing high-level reporting and insights into data quality for stakeholders across the company's network.
As Zivanovic explained, the challenges of performing IT management on highly granular IT assets and monitoring rapid software development lifecycles are threefold: (1) Determining ownership; (2) classifying assets; and (3) identifying security risks. Not one of which is possible (or practical, at least) if done manually.
"Automation is key," repeated Zivonic at length.
'Surviving a tech jungle demands higher automation and control and with more than 350 delivery teams to coordinate and manage, #visibility is of utmost importance' says Milos Zivanovic, Technical Product Manager @Zalando #EAConnectDays #LeanIX #architecture pic.twitter.com/d4fCJvAnjl

— LeanIX (@leanix_net) November 26, 2019
LeanIX Awards
To close out the conference's first day, LeanIX presented awards to several customers based on categories of excellence with the tool. Many more names could no doubt have been added to this recipients list, but at the end, CEO and Co-founder André Christ brought representatives from the following to the stage:
Strongest Innovator: Fresenius
Best Collaborator: Bosch
Fastest Time to Value: DSV Global Transport and Logistics
Done Is Better Than Perfect
Dr. David Heise, EA Team Lead, ALDI SÜD
Speaking on behalf of ALDI SÜD, one of Europe's biggest grocery retailers, David Heise kicked off the second day of EACD 2019 with an impassioned presentation on IT's integral (and never-ending) role in establishing efficient digital processes.
"We prepared for digital transformation in 2015 and chose early to challenge both our IT landscape and our ways of working," Heise explained. "To do all of this, we restarted the EA function and made it a key driver for ALDI SÜD's transformation."
According to Heise, the best style of EA is lean and fast, and by using LeanIX in combination with other tools like Signavio, he and his EA team now effectively have the means to make IT a leader in their business-driven transformation. In particular, Heise recommended three guiding principles for innovating in the retail world:
Try fast, learn fast, improve fast: "Strive for 'Minimal Viable (architecture Products' by following a 60/40 approach that aims at visible results and feedback as fast as possible."
Do less to achieve more: "De-scope and focus on fewer things—which sometimes means rolling things back that are already set live."
Make it simple: "Invest in making things easier—learn and adapt from others wherever possible!"
So heartening to hear such #SuccessStories - this is what makes us at @leanix_net #customer #success #obssesed @ALDIStores #EAConnectDays #CustomerExperience #ALDI #DigitalTransformation pic.twitter.com/3pQN608GdW

— Anita (@Anita4Tech) November 27, 2019
Driving Digital Transformation With Business Capability Modeling
Bernardo Tarillion, Senior Manager Enterprise Architecture, Magna Global IT
Nearly every car in the world is made with a part that originated from Magna, said Bernardo Tarillion, Senior Manager Enterprise Architecture, Magna Global IT. To pull it all off, the Canadian mobility technology company currently has 347 manufacturing sites and 168,000+ employees located around the world—a global presence re-defining the meaning of "diversified IT landscape."
But what does this mean for Enterprise Architecture? How can Enterprise Architects be expected to know which business capabilities to bolster through IT investments? A "laser focus" is provided thankfully for Tarillon and his team by Enterprise Architecture tools like LeanIX to orient future state transformations with out-of-the-box features like heatmaps and data flow visualizers. He and his team use the tool to evaluate requests from the business with present IT capabilities by analyzing: "What we own today" versus "What we should cover."
'Bridging Business domains with IT domains accelerates #DigitalTransformation with better and clear outcomes' says Bernardo Tarillion, Senior Manager #Enterprise #architechure @MagnaInt #EAConnectDays pic.twitter.com/wdW1jADa3S

— LeanIX (@leanix_net) November 27, 2019
Digital & Modern Enterprise Architecture: An Enabler for Innovation and Transformation
Marcelo Menard, Global Enterprise Architecture Manager, Vale
Many companies strive to be both Agile and Lean. Only few, however, actually do what Vale—the largest producer of iron ore and nickel in the world—does to ensure its 50,000 IT employees sustain continuous value delivery and remove waste. With the backing of LeanIX, each of their business and IT processes are routinely rationalized throughout stages of an "innovation network" consisting of the following:
Innovation Hubs for business connections, problem definitions, design thinking, collaboration.
Digital Labs for experimentation, greenhouse process, protoyping, envisioning, open innovation.
Advanced Insights Center for data science, algorithms, machine learning, advanced analytics.
Dev Centers and RPA for process automation, mobile dev apps, Agile and DevOps.
In the past, such movement was blockaded by silos, but with the introduction of architects at every line of its business, digital architecture management now reigns supreme at Vale and is responsible for generating data-driven repositories that provide:
Democratization of data/information.
Visibility and insights.
Systems of record.
Dynamic data-driven blueprints.
Collaborative, real-time design.
Simplified governance.
Interview with Marco De Monte, UMAknow President and Co-Founder
LeanIX Cloud Intelligence, the first module launched at EACD 2019 in the LeanIX Cloud Native Suite, is powered by Cloudockit and based on its strategic partnership with Montréal-based company UMAknow. André Christ had an opportunity during the conference to interview UMAknow's President and Co-Founder, Marco De Monte, to get to know what his product does and his views on how it can help enterprises adopt cloud native. Watch it below:
"Quantifying the Impact of EA: LeanIX & Forrester Study"
Simon Barth, VP Global Sales Operations & Enablement, LeanIX
Every speaker at the conference illustrated the benefits of LeanIX, but no presenter did so with as much qualitative information as the company's very own Simon Barth. Drawing from research conducted jointly by LeanIX and Forrester, the VP of Global Sales Operations & Enablement reported clear and unmistakable insights into the direct advantages of the tool—quantified benefits such as these:
ROI: 189%
Benefits PV: $1,093,345
NPV: $715,023
Payback: <3 months
It's all based on information gathered by Forrester from customers with years of experience using LeanIX. In their implementation journeys, Barth explained, these customers realized improved visibility and control across their Enterprise Architecture and found that the LeanIX solution helped them achieve more reporting efficiency plus stronger integrations with their EA application environments. The study's results showed using LeanIX improved their risk and cost management potential. The entire report—"The Total Economic Impact™ of the LeanIX Enterprise Architecture Suit"—is available for download here.