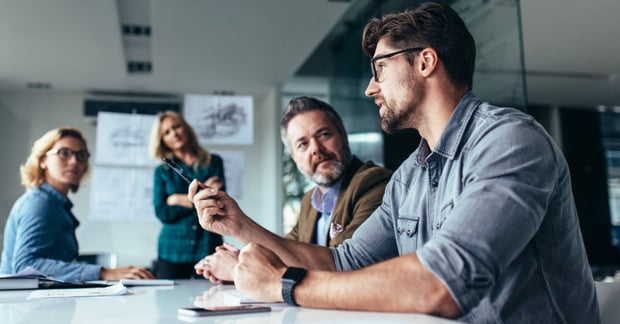 In one of the key talks from this past June's LeanIX Connect Summit in Boston, SAP America Chief Architect, Damien Johnson, and LeanIX Senior Solution Engineer, Jim Cunningham, discussed the RISE with SAP service and how LeanIX can be leveraged alongside it.
RISE with SAP was launched in 2021 to help customers move to SAP S/4HANA through an as-a-service model. It gives customers the ability to execute migration strategies while leveraging the business processes SAP delivers and the most powerful technologies offered by SAP Hyperscalers.
RISE with SAP was built on three key pillars:
Take the lead: Use top-line innovations from SAP and its partners to drive top-line, bottom-line, and green-line growth.
Never stop improving: Get continuous insight to help optimize business processes.
Secure your success: Work with trusted SAP partners to host your complex IT landscapes with infrastructure providers.
Regarding the need that RISE with SAP addresses, Damien explained there are a lot of things companies can achieve with SAP S/4 HANA today. "The hard part," he said, "is actually getting to SAP S/4HANA, running it effectively, and having it integrated into the rest of your environment. RISE with SAP is about delivering that as a service."

To get the most out of the RISE with SAP journey, customers need a way to see — from both a holistic and granular perspective — the current state of their SAP and non-SAP landscapes. Based on that overview, they can then make strategic decisions about these landscapes related to cloud migration.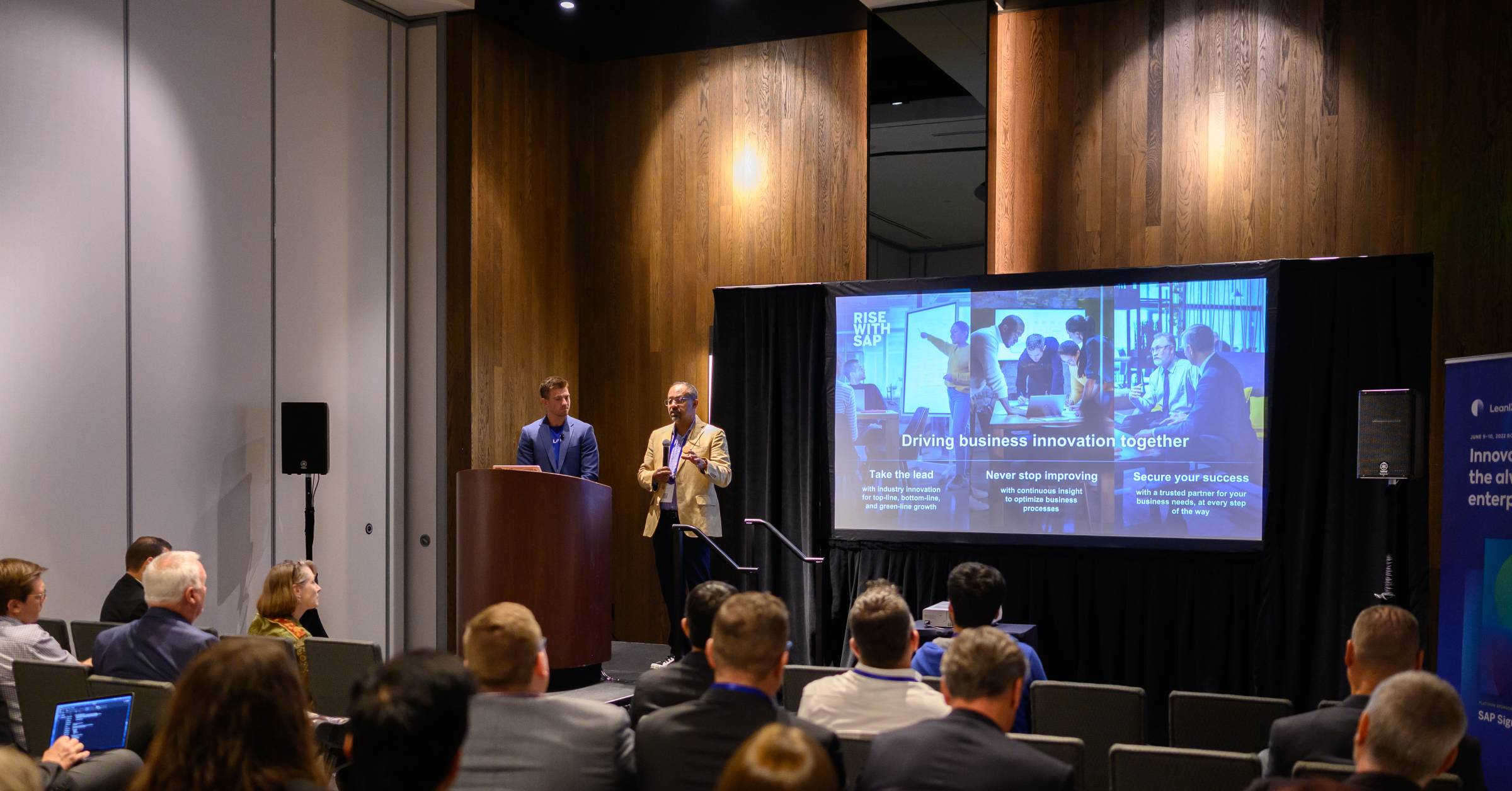 Damien Johnson, Chief Architect at SAP America and Jim Cunningham, Senior Solution Engineer at LeanIX share how RISE with SAP helps organizations undertake the transformation journey.
Several features offered through the LeanIX platform give SAP users this visibility. What's more, LeanIX can be seamlessly integrated with SAP Signavio for a in-depth view of the connections between the technology landscape and business processes.
In this brief session recap, we'll explore 3 important questions to ask prior to your SAP S/4HANA transformation. We'll also show how to to leverage the LeanIX platform to answer these questions.
Quick Takeaways
Complexities across SAP and non-SAP landscapes require informed planning before actual SAP migration plans can be executed.
Key LeanIX features supporting cloud migration planning include: business capability maps, application landscape reports, interface circle maps, and data flows.
The LeanIX platform enables you to view your business process transformations before they happen, while RISE with SAP guides you through the execution steps.
Question #1: What areas of the business should I prioritize in my migration plans?
Cloud migration is always a phased process. It requires assessing the cloud readiness of your tech stack — both by component and as a whole — and then prioritizing migration plans accordingly.
To start, take a high-level look at your tech landscape through a business capability lens. Creating a business capability map allows you to apply pace layering to your landscape and assess the business criticality of your different capability areas. You can then decide how to begin the cloud migration journey by aligning capabilities with specific strategic objectives.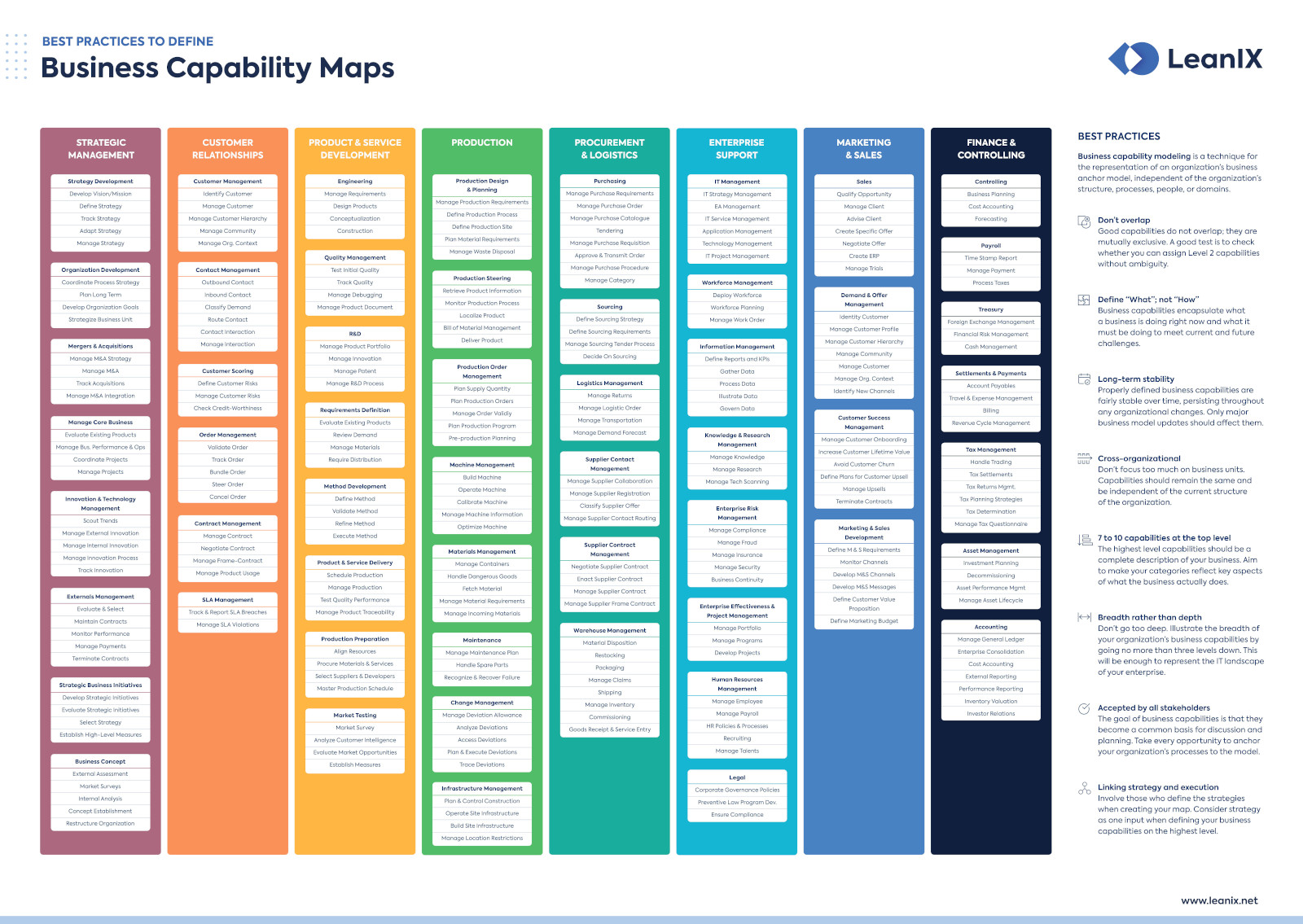 A best practice template to create a complete overview of organization's business capabilities.
Business capability maps can also be paired with other evaluation tools – maturity assessments, health scores – to identify capability gaps and areas for potential growth. LeanIX and RISE with SAP service allow you to then address these gaps or develop plans for growth.
Question #2: What SAP and non-SAP applications am I running today?
The Application Landscape interface in LeanIX EAM can help you understand both your SAP and non-SAP landscapes. Use this interface to gain both a comprehensive overview of your combined landscape as well as detailed insight into the ways that the two landscapes overlap and interact.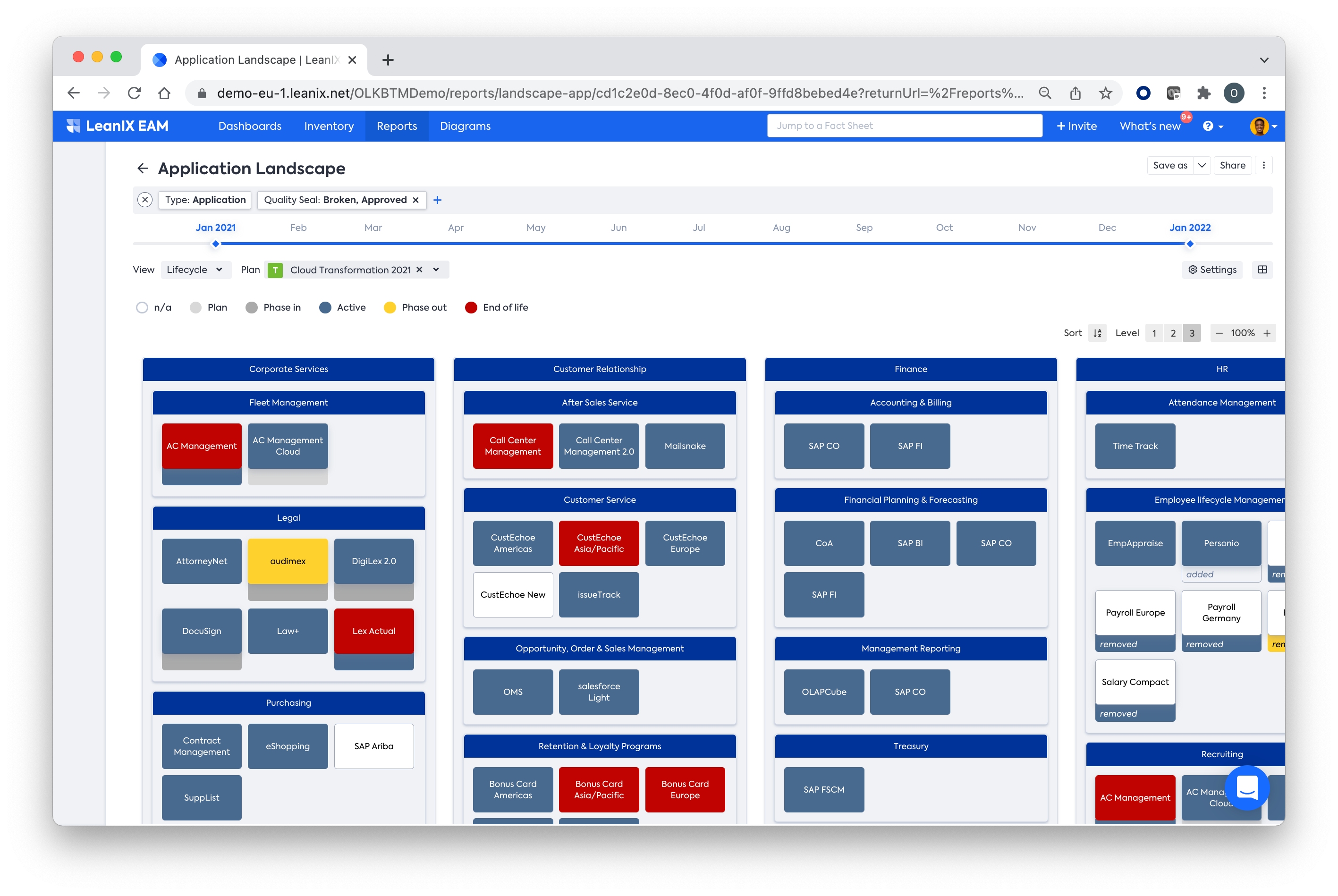 An Application Landscape report as seen in LeanIX EAM.
You can also use easy-to-filter reports in LeanIX to analyze your landscapes and identify factors that could impact the success of your cloud migration, factors such as: applications you're looking to grow or scale, applications approaching end of life, and applications posing security or compliance potential risk.
Finally, you can compare your as-is landscape to your future landscape, allowing you to gauge the potential impact of any business process transformations.
Question #3: How are SAP and non-SAP applications interconnected?
Use your Interface Circle Map to learn which SAP applications are already part of your integration architecture. Then, look at your non-SAP ecosystem to understand what will need to be integrated with your evolving SAP landscape.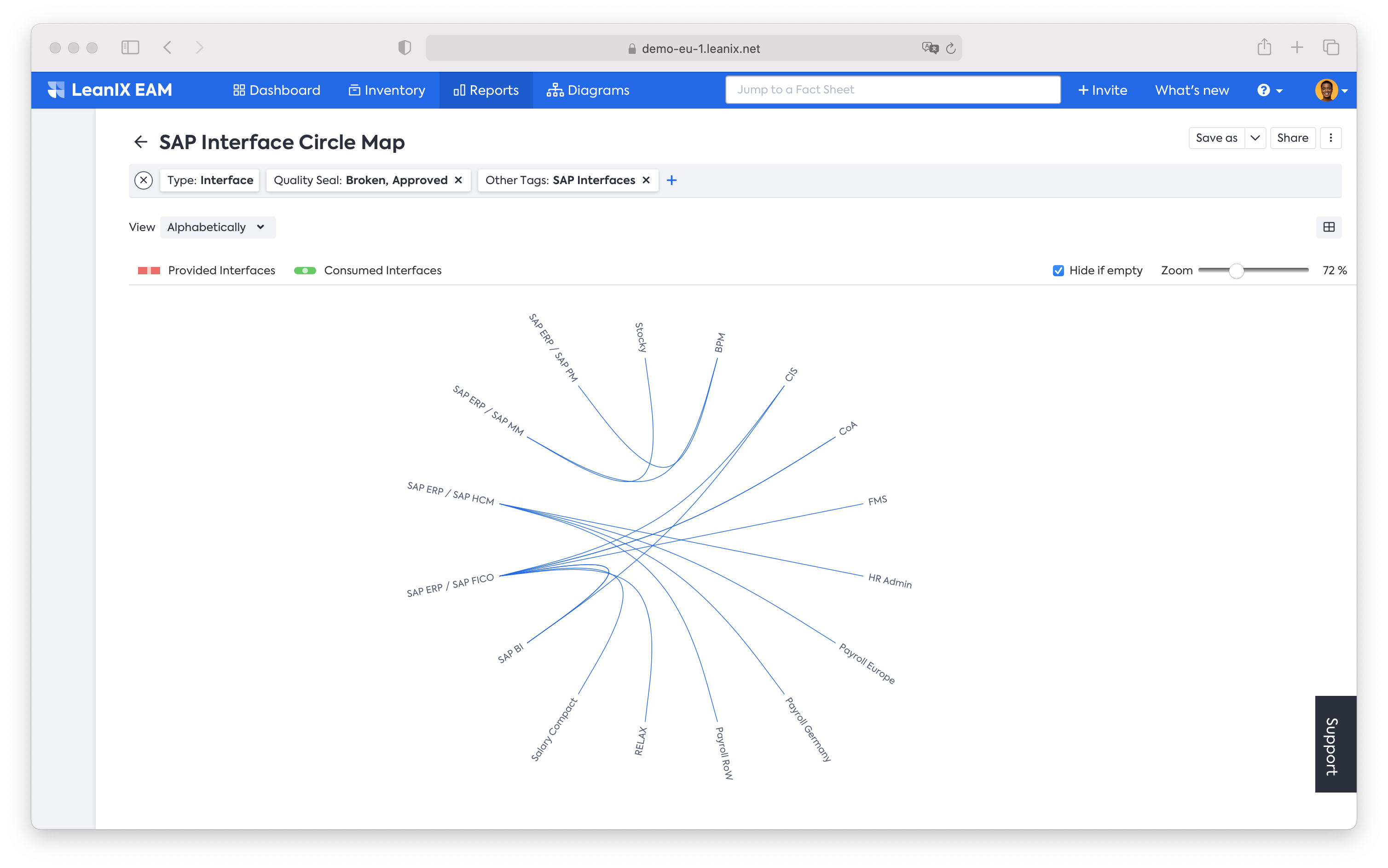 A SAP Interface Circle Map as seen in LeanIX EAM.
You can also use this view to see which interfaces pass data from SAP – as the source of truth – to non-SAP applications.
Finally, you can use LeanIX Data Flows to assess where critical interfaces may need to be rearchitected, where sensitive datasets exist, and what technologies will be needed to address these issues.
The Big Takeaway
RISE with SAP was created to support users through their cloud migration journey — a journey that inevitably involves complexity, the adjustment of business models, and challenging decisions around which parts of the current infrastructure can and should be moved to the cloud.
The LeanIX interfaces, reports, data models, and other capabilities outlined in this talk help clients execute migration strategies based on informed planning, real-time analysis, and data-driven decision making. Done right, the results will be successful cloud migration and true business process transformation.
RISE with SAP is all about helping users to more quickly realize the value of SAP's innovations through a smooth migration to the cloud. Are there benefits of moving to the cloud? Many. Can you take advantage of those benefits through a hasty, unplanned move? Not really.
The good news is, with LeanIX and Rise with SAP, you can enjoy the cloud'd many benefits by managing the transformation with a thoughtful, efficient, data-informed approach.
If you would like to watch this talk in its entirety, you can do so here. [Free registration required].