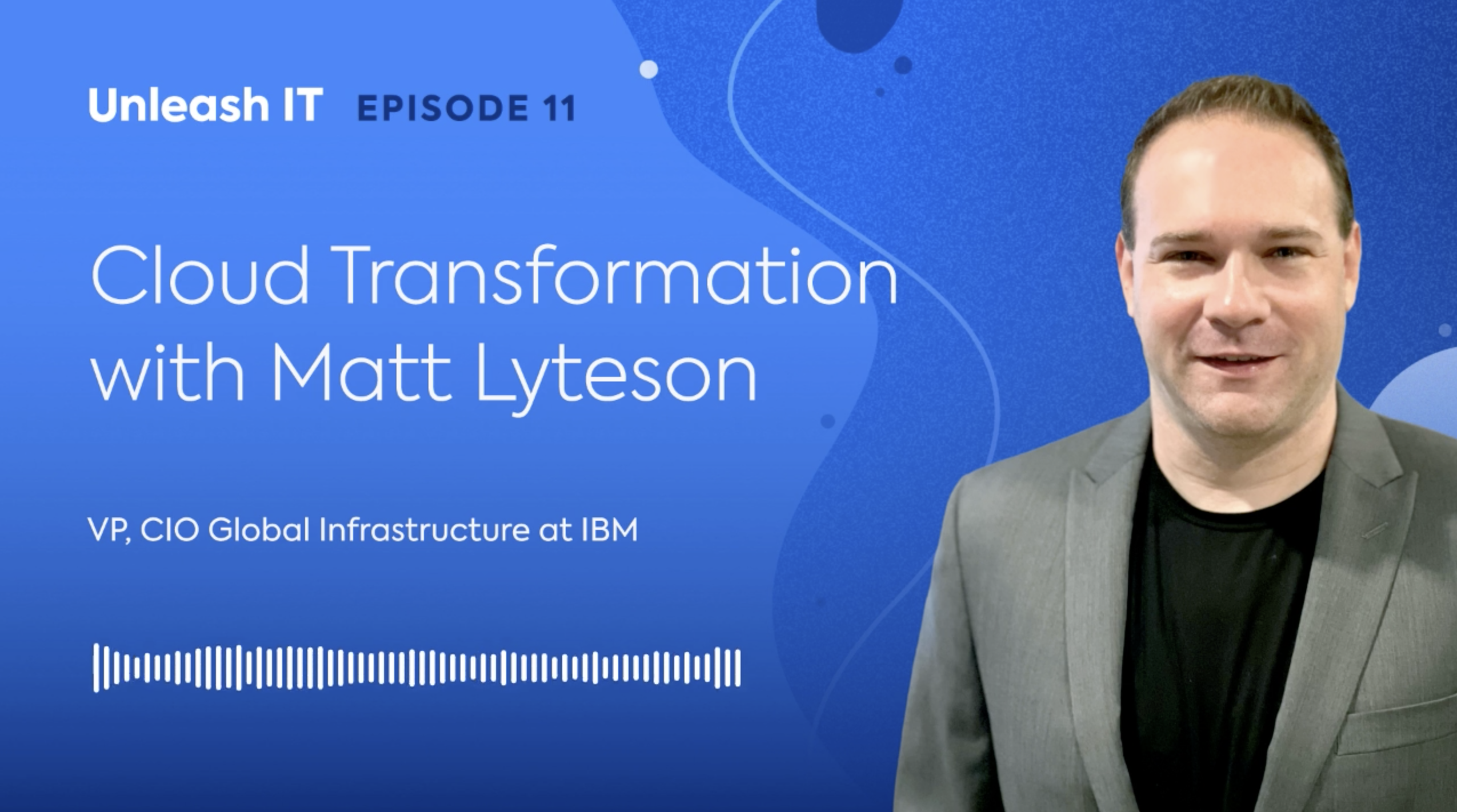 When organizations think about moving to a hybrid cloud, it's hard to focus on the essentials. There are a number of challenges and pain points that require any organization to thoroughly review, strategize, and implement as they undergo a cloud transformation.
But in reality, CIOs should have two goals for any shift to the cloud. Recently on the Unleash IT podcast, we had the chance to speak with Matt Lyteson, VP, CIO Global Infrastructure at IBM, about all the ins and outs of moving to the cloud.
"I'm responsible within the CIO organization for delivering our hybrid cloud platforms based on both traditional infrastructure as a service, as well as public cloud infrastructure as a service," Lyteson explained.
Throughout this episode, some of the topics Lyteson shared were his insights on priorities for CIOs about the cloud, how moving to the cloud affects architecture, and three criteria for a smooth cloud migration.
"Ultimately, however abstract it may seem, you do want everything in this notion of a hybrid cloud." — Matt Lyteson
Priorities for CIOs
CIOs have two missions — and they often feel as though they're competing.
Create great experiences to improve employees' efficiency through technological tools.
Make IT competency and IT function even better.
For Lyteson's team, it's the second objective where the hybrid cloud migration comes into play. It's a highly complex issue: the interoperability between the public cloud (SaaS solutions to help with productivity) and the data center content that isn't ready for migration yet. Nevertheless, the end objective is to create one smooth, uninterrupted fabric.
There are questions that need to be asked about the hybrid cloud priorities: What is the value? What am I really trying to accomplish?
Consider how the cloud affects the experience for application developers, the first line interface to the business. Making it seamless for the application team will cause each instance to look different.
"We really don't think about it in terms of how much is in the cloud. Ultimately, however abstract it may seem, you do want everything in this notion of a hybrid cloud," Lyteson said.
Bottom line: This way, to achieve end-to-end operability and observability within your IT environment will enable you to know when things are or aren't going well. That's what CIOs aspire to in order to ensure their IT operations run smoothly.
Three criteria for cloud
The three dimensions that CIOs need to consider when moving anything to the cloud are the three S's:
One can't approach the three S's in order — they have to arrive simultaneously. Without security, your speed and scale don't mean much. Without scale, you don't have the bandwidth to move your data. Without speed, the whole operation feels pretty pointless.
For Lyteson, he recommends encouraging your team to think about the developer experience. Ultimately, your goal in IT is to support the digitization of your overall business to make it more competitive within the marketplace. In order to do that, developers need to be agile and responsive, which is why you need to bring a full breadth of tools to bear across this hybrid landscape.
Pro tip: Before you grab a good-looking tool, consider how it will integrate with every other part of your IT operating environment. Interoperability is a major component of the work when transitioning to a hybrid cloud platform.
Cloud and enterprise architecture
Lyteson's background is in EA, and he has extensive experience in leading teams through changes away from a monolithic architecture. "Be very intentional. Where do we need to establish guardrails that, from a classical sense, you could call enterprise architecture?" he said.
If you think about enterprise architecture as the structure and the interaction of things that go on within any business, from business to technology, you're going to have an architecture — regardless of whether you have people feeding and carrying it.
Always frame EA as what value is generated for the business. In other words, the priority is finding people, whether or not they have the title or role of EA, who can think top to bottom from the business down to the technology layer.
Two methodologies for team efficiency
DevOps/DevSecOps. Organize teams around your cloud strategy being efficient. Get the right skills on your team and let them run with it.
Cloud Center of Excellence. Organize your team around making other teams in the business consecutively more efficient on the cloud. Pattern recognition, collaboration, and leadership are a must.
"For me, part of the hybrid Cloud Center of Excellence is, 'How do I bring this mass and make things move even faster?'" Lyteson said. "At the end of the day, you need to have joint accountability with the application teams for driving value out of our hybrid cloud platforms."
Priorities for the near future
Finally, for Lyteson, one of the key insights he shared is understanding one's intent.
"Why am I doing this? What is the value that I'm hoping to get out of that? That's really going to inform how you approach it," he said.
When you start with a "why" perspective, you quickly recognize that driving value back into the business to improve employee experience and productivity is the reason that underlies IT decisions.
Connect with Matt Lyteson on LinkedIn.
To hear this interview and many more like it, subscribe to the Unleash IT Podcast on Apple Podcasts, Spotify, or our website.