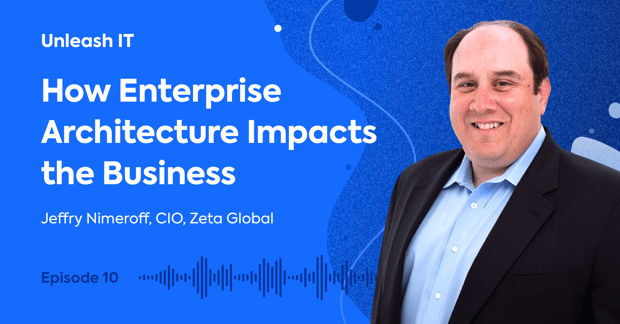 We tend to think about EA as the guy in the Ivory Tower.
But when we dive into what that role really means for implementing tech, it turns out the enterprise architect is the key person who ensures that technology is available to support the business needs.
In episode 10 of UnleashIT, we interview Jeffry Nimeroff, CIO at Zeta Global, about the role of the EA within the big picture of transition.
In this episode, we discussed:
Being product-focused with an engineering framework
The role of the EA during a transitional time
The talent search in 2020
Thinking outside the product management box
Here is a key line from the episode:
"I tend to view the enterprise architect as the most senior person who is going to be capable of ensuring that we can have technology to support the business needs."
- Jeffry Nimeroff
Listen to the full episode of the informative conversation below and if you like what you hear, be sure to share it on your own social networks!
To hear this interview and many more like it, subscribe to the Unleash IT Podcast on Apple Podcasts, Spotify, or our website.