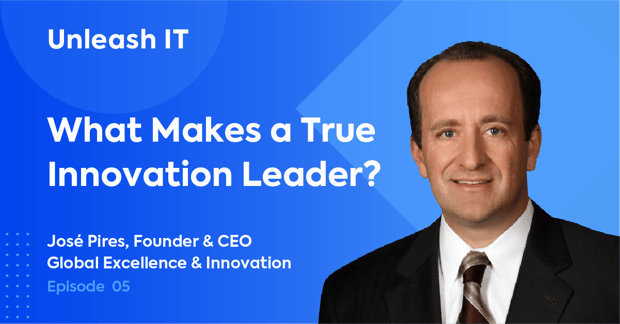 Leaders do not have the ability to predict the future, no matter how transformative their leadership might be.
An innovative leader isn't distinguished by perfection but by understanding the inherent contradictions of these four pillars of greatness: ideas, methods, technology, and people.
In episode five of our podcast Unleash IT, José Pires, Founder & CEO at Global Excellence & Innovation, sits down with Unleash IT host Claudine Bianchi, to discuss the attributes and strategies of transformative leadership.
In this episode, you will hear:
Key features of enduring organizations
Practical applications for technology innovation
How CIOs can change culture
The need for value creation, collaborative leadership, and human relationship skills
Also, here are some sneak peaks from the episode:
"One of the key features of these enduring organizations and the very successful transformations that they go through is they have become masters of contradictions."
"Over time, you become obsolete if you do not innovate."
- José Pires
Listen to the full episode of the insightful conversation below and if you like what you hear, be sure to share it on your own social networks!
To hear this interview and many more like it, subscribe to the Unleash IT Podcast on Apple Podcasts, Spotify, or our website.