André Christ, CEO and co-founder of LeanIX, delighted attendees at EA Connect Days 2018 by announcing his company's EA Management Tool's integration with Confluence—an industry-favourite wiki platform for writing and sharing content amongst teams.
Available currently in all LeanIX editions, the integration allows users to embed live versions of the tool's reports and charts within any Confluence page to extend even more collaborative flexibility to users.
This means that content originally from LeanIX can be pasted to Confluence documents and then interacted with as if users were still inside the EA Management tool.
And always via up-to-date, synchronously linked data.
John Stame, Atlassian's very own Senior Enterprise Architect, discussed his personal excitement at the integration. "Atlassian IT [is] embracing LeanIX because the application avoids all of the complexity that is typically found in EA tools," he said. "Similar to our own solutions, it focuses on intuitive and straightforward communication and knowledge exchange—and we are absolutely excited to see a tight integration between the products coming to life."
The integration flows as naturally (and beautifully) as this:
So, to elevate your Confluence projects using the LeanIX integration, install the macro from the Atlassian marketplace...
Image 1: LeanIX Confluence Integration in the Atlassian marketplace.
...and then begin by activating configurations for all desired LeanIX report and chart types. Whenever you need to insert a live report, just simply create a new LeanIX macro.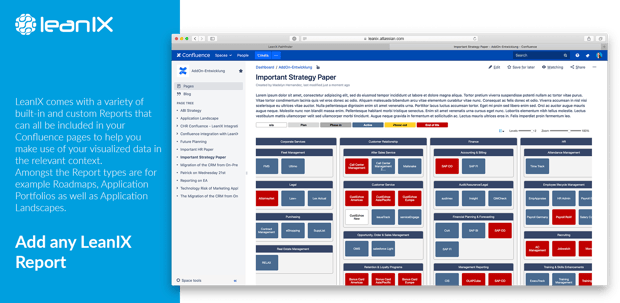 No doubt there are going to be many user success stories because of this, so we look forward to sharing best practices on our blog! Let us know your first impressions in the comment section below.
LeanIX's Confluence integration is offered presently on-premise yet with support for cloud expected in Q1 2019. Additional macros for individual Fact Sheets are also projected for 2019.