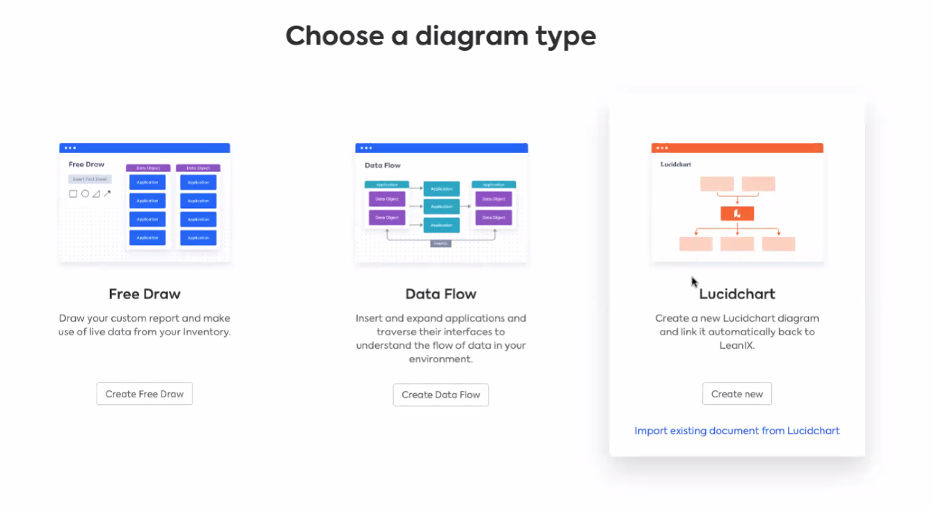 The LeanIX EAM's Next Generation Diagram Editor is now live. Let's explore why this new tool is so important to enterprise architects.
LeanIX is excited to announce the release of our Next-Generation Diagram Editor within our LeanIX EAM. The editor has been in testing for several months, but as its development reaches feature parity with the previous tool, we've migrated to the new system.
We feel that state-of-the-art visual modeling is vital to the democratization of enterprise architecture. Diagrams with scalable detail enable enterprise architects to offer clarity on their work to all their stakeholders, which is key for winning buy-in.
Let's consider the Next-Generation Diagram Editor's new features and why diagramming is so important to modern enterprise architecture management.
Features Now Live In Next-Gen Diagram Editor
The Next-Generation Diagram Editor adds a variety of new features for diagram creation to match industry standard diagram tools. Highlights of the new editor's added functionality include:
the ability to arrange, distribute, and align fields
significant update of shapes available in the library
upgraded color management
the capability to drag and drop images into your diagram
Otherwise, the Next-Generation Diagram Editor continues to have the same important diagramming features the EAM always had:
Data flows
Automatic updating functionality
Creating Fact Sheets and relations directly from the drawing canvas
Changing the labels of shapes representing Fact Sheets
Select by filter / drill-down by filter / show dependencies by filter
Export in view mode
Roll-up along a relation
Filtering
Four features, however, will not be matched in the Next-Generation Diagram Editor:
1: Data Flow - Aggregate Interfaces
This beta feature was tested in the old editor, but wasn't popular, so we have chosen to discontinue it.
2: Custom Styles And Templates
We have also decided to discontinue this beta feature due to a lack of interest from users. We may, however, replace it with configurable shape libraries for Fact Sheet types from our roadmap.
3: Built-in view: Technology Risk
This has been replaced by the Obsolescence: Aggregated Risk view and will be implemented for Next-Generation Diagrams later this year.
4: Different relations in drill-downs
The capabilities of this feature have been replaced by Drill-Down by Filter functionality, Show Dependencies, and enhanced Free Draw.
Next-Gen Diagram Editor For Next-Generation EA
The LeanIX EAM was built to democratize enterprise architecture information by creating a single source of truth for enterprise architecture management. For our EAM tool to build this transparency requires the ability to graphically visualize your IT landscape with scalable detail.
It's an essential capability for anyone in your organization to view your entire enterprise architecture estate at any level of detail, and focus on specific topics, such as network architecture, or business domains. That's why diagram technology is paramount.
To support this, LeanIX created the Next-Generation Diagram Editor within the LeanIX EAM. The system matches the capabilities of best-of-breed diagramming tool, Draw.IO, but runs directly within the EAM Workspace.
We've been trialing a prototype of this state-of-the-art visual modeling tool in early access with LeanIX users for several months. Meanwhile, we've been working to expand our new diagram editor to match the functionality of our previous tool.
We've now achieved feature parity between our previous diagram tool and our Next-Generation Diagram Editor. We're excited to see how LeanIX users will leverage the new editor to empower their enterprise architecture capabilities.
Visual Modeling Key To EA Democratization
The LeanIX EAM is an essential toolset for modern enterprise architects to fulfill their function of aligning their organization's IT landscape with its business goals. Achieving that end requires gaining stakeholder buy-in and alignment.
Key to gaining shared clarity on your current state and future roadmap is presenting the relevant information for each stakeholder in a digestible format. That's why visual diagramming is so important.
Using our EAM each stakeholder will be able to see a visual representation of the information that matters to them, at the level of detail they need. Meanwhile, you will still have an overview of your entire IT estate with granular clarity.
Try The LeanIX EAM today
Visual modeling is vital for enterprise architects to achieve cohesion between IT and the rest of the business. That's why the LeanIX EAM is key for modern enterprise architects.
To find out more, book a demo of the LeanIX EAM today: