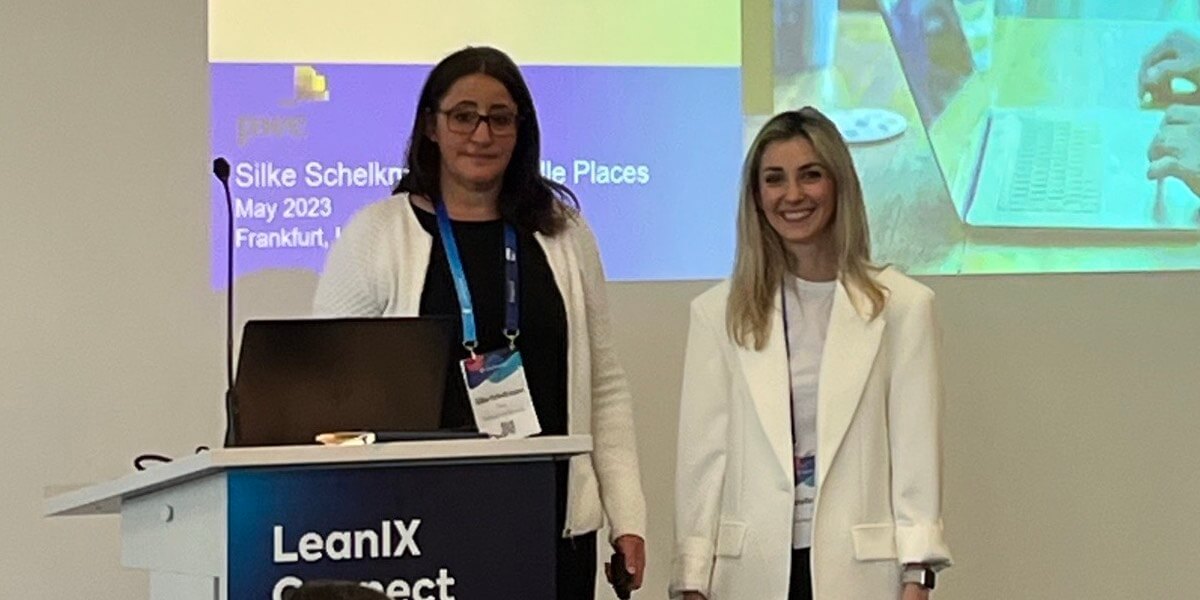 ESG and sustainability issues are becoming priorities for IT leaders. We spoke to Estelle Places and Silke Schelkmann from PwC Germany about the 'Twin Transition' of IT and how LeanIX can help.
Environmental, social, and governance (ESG), and sustainability issues have been rising up the agenda of board meetings across all industries for many years now. Regulatory and public scrutiny has made ESG a financial concern, but the threat of climate change and other societal issues are increasingly driving businesses to transform for purely ethical reasons.
This all comes at a time when enterprise is already struggling with the immediate necessity of adapting to the increasing pace of technological change. A one-off digital transformation is no longer enough, and businesses must now foster a culture of continuous transformation and permanent agility.
Thankfully, this 'Twin Transition' from inflexible, analog systems to digital agility, and from waste to optimized sustainability, has significant overlap. Continuous digital transformation and ESG transformation go hand-in hand.
To help IT leaders manage this two-pronged attack on their legacy technology PwC provided LeanIX with their ESG Capability Map for IT. This functionality brings PwC's expertise in ESG transformation to LeanIX Enterprise Architecture Management (EAM) platform users by automating their transformation according to PwC's ESG best-practice guidelines.
PwC and LeanIX teamed up with plumbing, heating, ventilation, and air conditioning solutions manufacturer, Viega, to create the new ESG Capability Map in the LeanIX EAM. To learn more about the partnership, you can read our co-authored PwC whitepaper, but to offer a personal viewpoint on the transition, we spoke to PwC Germany's Estelle Places and Silke Schelkmann about the project.
Why Is ESG Such An Important Topic For Modern Organizations?
Estelle Places:
"ESG is important to companies for two main reasons:

By adopting strong ESG principles, companies can ensure compliance with increasing ESG regulation, avoiding potential legal and financial risks
Prioritizing ESG initiatives helps a company remain attractive to both internal and external stakeholders

"Internally, employees increasingly value a company's commitment to environmental sustainability, social responsibility, and ethical governance. Demonstrating a strong ESG focus can help attract and retain top talent, fostering a positive workplace culture and enhancing employee satisfaction and engagement.

"Externally, customers are increasingly conscious of the environmental and social impact of the companies they support. Embracing ESG practices helps build trust, reputation, and loyalty with customers who prioritize sustainable and ethical business practices. This, in turn, can lead to increased sales, market share, and long-term profitability.

"Overall, embracing ESG principles is essential for companies to navigate regulatory landscapes, attract and retain talent, and meet the evolving expectations of socially conscious consumers, thus contributing to their long-term success and sustainability.

"To better understand the importance of ESG and sustainability, you can read PwC's whitepaper on the subject."
Why Did The World Economic Forum Link ESG With Digital Transformation As Twin Transition?
Estelle Places:
"The WEF connected ESG and digital transformations because digitalization enhances ESG outcomes, accelerates sustainability goals, fosters inclusive growth, and unlocks innovation.

"Digital tools enable better data collection, analysis, and reporting, optimizing resource efficiency. Digital inclusion bridges social and economic gaps, while innovative business models drive economic growth.

"The Twin Transition recognizes the interconnected nature of ESG and digital transformation, emphasizing their simultaneous pursuit for maximum impact."
What Makes Enterprise Architects The Right Group To Support Leaders In Tackling ESG Issues?
Silke Schelkmann:
"Enterprise architects are an ideal group to support leaders in tackling ESG issues for several reasons.

"While cloud-related topics gain attention, enterprise architects offer great potential to leverage sustainability efforts, which is why we can categorize them as hidden champions.

"Enterprise architects possess a unique position as the interface between business and IT. Their expertise provides transparency on the information systems' status within IT, offering valuable insights to build sustainability initiatives.

"By utilizing enterprise architecture, leaders can make informed decisions, drive sustainable practices, and integrate ESG considerations seamlessly into their IT strategies."
Why Did PWC Germany Choose To Partner With LeanIX For This Project?
Silke Schelkmann:
"LeanIX has been named a leader in the Gartner Magic Quadrant report since 2022. PwC Germany has chosen LeanIX as the orchestration platform for their sustainable IT blueprint, recognizing LeanIX's strength in offering comprehensive organization overview and facilitating the integration of sustainable practices into IT strategies.

"This also further strengthens the strong alliance between PwC Germany and LeanIX, which is now even more elevated."
What Was It Like Working On The Project?
Silke Schelkmann:
"Working on a common project with LeanIX was an incredibly fulfilling experience. The topic of sustainability is clearly a great interest for this SaaS provider and it was a pleasure for PwC Germany to share great ESG-related insights, which built a collective passion, making it an exciting endeavor for all parties involved.

"We were united by the shared goal of building an innovative solution that would contribute to a greater purpose. The enthusiasm surrounding this project created a vibrant and enjoyable atmosphere. Collaboration was smooth and effective, with a friendly and supportive ambiance that fostered creativity and teamwork."
How Did The Leanix EAM Support The Work With Viega?
Silke Schelkmann:
"To make this innovative solution happen, we needed to have a client on board to ensure the customer centricity aspect, especially from the CIO perspective. In this context PwC Germany was more than happy to bring all parties together and enable LeanIX to unlock the potentials of the enterprise architecture of Viega."
Why Should Organizations Consider Using The Leanix EAM To Support Their Twin Transition?
Estelle Places:
"Our partnership has created the first collaboration platform on the market for sustainable IT, where LeanIX elevates its current EAM potentials with exclusive ESG offerings. PwC Germany sees this as a USP, scaling up our strong alliance.

"Working together, the orchestration platform on one side and the personalized consultancy support needed by customers on the other side, our collaboration unlocks ESG transformation for IT leaders."
Sustainable Enterprise Architecture with PwC and LeanIX
To find out more about our ESG collaboration with PwC, read PwC's whitepaper on the project: