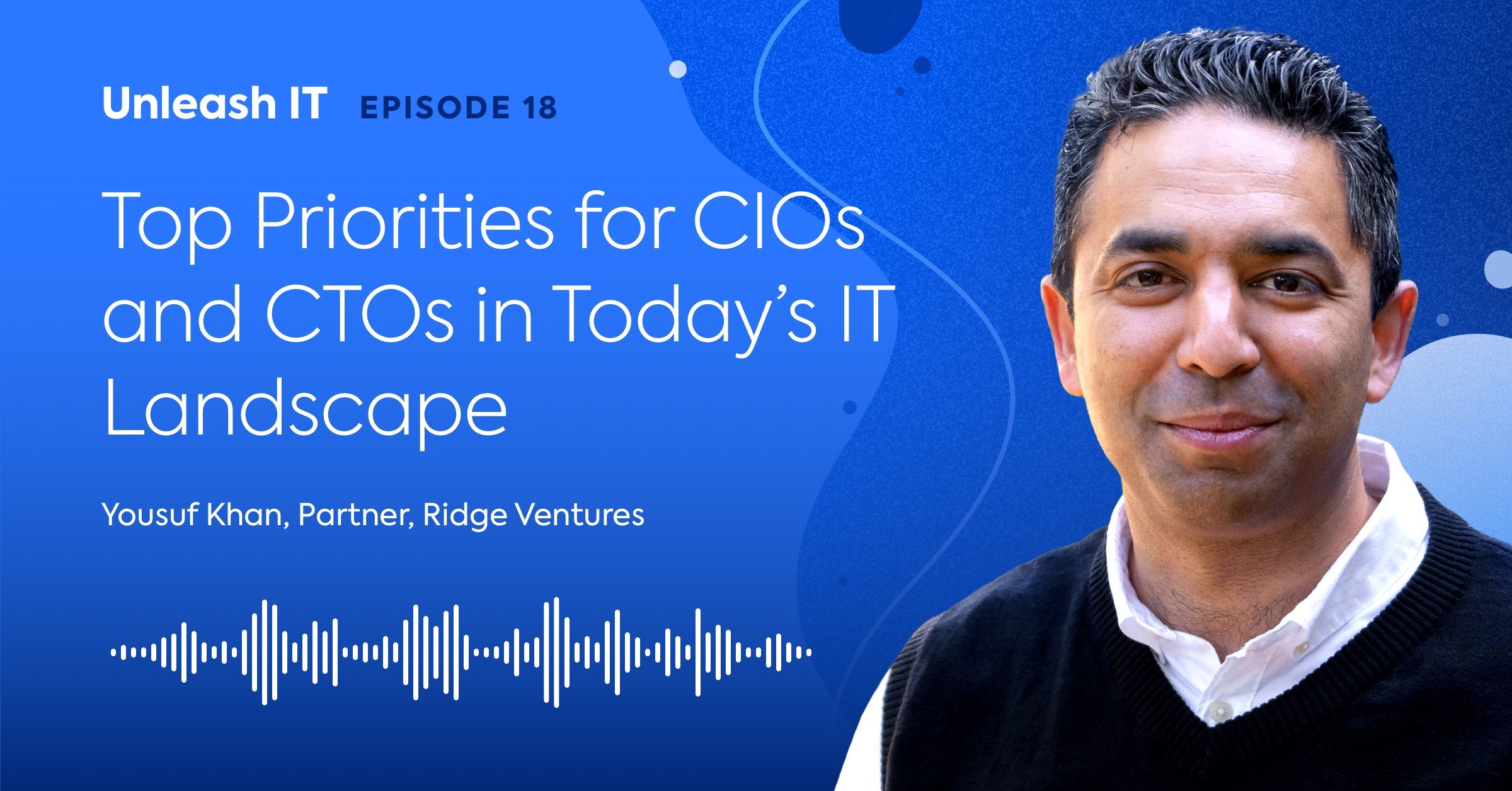 Change is the name of the game in IT today. Trends come and go, and priorities constantly change.
To give us a snapshot of the technology landscape facing CIOs and CTOs today, LeanIX CEO André Christ spoke to Yousuf Khan, Partner at Ridge Ventures. Yousuf has over 20 years of experience as an operator and enterprise CIO and now works in venture capital.
In this episode of Unleash IT, the following subjects are discussed:
The shared priorities of CIOs and CTOs today
Moving from a project-centric mindset to a product-centric mindset
Setting up resilient and future-proof architectures
The relationship between developers and the IT organization
What large enterprises can learn from scale-ups
Shared Priorities of CIOs and CTOs today
In his role in venture capital, Yousuf frequently speaks with CIOs and CTOs about issues in the tech industry today. These conversations have led him to focus on four key themes: customer experience, security, data, and people.
1 — Customer Experience
Transforming the customer experience is an especially common refrain. No matter which markets these tech leaders target, CIOs and CTOs want a bespoke digital strategy for their customers' journeys.
This makes it all the more important to quantitively measure the customer journey to prioritize and rationalize optimization efforts. To be specific, customer journeys are expected to be broken into minute details and dissected for optimization potential.
Corresponding to this process is customer success itself — a key component, for example, of SaaS vendors. Customer success departments and teams receive first-hand insights into how customers use products and can help shape future strategies.
But at the end of the day, IT architecture has the most potential for helping organizations adapt to customer-centric visions.
"That requires quite a lot of work to integrate systems," Yousuf says. "It means being able to look at the data, being able to report back on it, being able to drive actions — all those things take a tremendous amount of time."
2 — Security
"The harsh reality is that threat vectors continue to become very complex," Yousuf says. That, coupled with a talent acquisition problem within cybersecurity, makes it an especially difficult challenge to overcome for many organizations.
"Information security in enterprises is everyone's problem." — Yousuf Khan
Yousuf argues that CIOs need to partner with CISOs to enable their teams. There also needs to be a focus on building more skills and seeking out solutions that improve the security posture of their environment.
Yousuf offers four pieces of advice for how CIOs and CISOs can improve their partnership:
Have an intention to actually build a good partnership
Find an effective way to delineate the scope of responsibilities
Look at cybersecurity solutions together
Work on training and enablement
3 — Data
Like Arila Barnes from Standard Industries explained in episode 16 of Unleash IT, Yousuf discussed the importance — and difficulty — of collecting and organizing data to drive new performance indicators. These treasuries of data and analytics nonetheless require finely-tuned system landscape to improve connected data.
"Businesses are now being completely overwhelmed with the level of data they're bringing in from their products and from their customers," Yousuf says. Because of that, building out a solid data analytics stack continues to be a major challenge.
And, with a statement that surely reverberates with LeanIX users, he explained that "disseminating data across the enterprise seems to be a pretty continual journey."
4 — People
Finally, CIOs and CTOs are focusing much of their efforts on building great teams. Their attention has been on acquiring talent, supporting the development and growth of team members, and building great cultures. On this point, in particular, Yousuf illustrated the importance of a product-centric mindset.
Project-Centric vs. Product-Centric Mindset
Many companies are looking to shift away from a project-centric mindset toward a product-centric mindset — an approach native to tech companies in Silicon Valley. What that means is instead of running one project after another, companies want to operate under the North Star of maintaining and improving a product.
So, how can companies that still maintain a project-centric mindset start making the transition?
According to Yousuf, they first need to understand that they have to go through the building, supporting, deploying, and focus on the experience of their products. They also need to think about how best to structure their team to support that new commitment.
"It requires quite a bit of thinking," Yousuf says. "It's not the traditional approach."
Needless to say, a lot of change management goes into these types of initiatives.
"Change management enablement in companies is actually very hard," Yousuf says, "an alignment within organizations is actually really hard and it's the role of the CIO to do that."
Setting Up Resilient & Future-Proof Architectures
Organizations are buying more software than ever before. But connecting it all together into a coherent architecture remains a core issue for CIOs.
According to Yousuf, people are waking up to the fact that because their enterprise is driven by software and they need to ensure that they're connected, secure, and compliant, and that the data is flowing.
"If you don't have the right architecture — if you haven't structured both your data and applications — you're going to dig yourself into a very deep hole." — Yousuf Khan
As more products are adopted and more data produced, that challenge will endure. "Of the last ten CIO conversations I've had, five or six of them talked — in some way, shape, or form — about the need to rethink their architecture," Yousuf says.
Balancing Scaling Fast and Building Something Sustainable
Yousuf argues that companies with growth on the mind need to find a balance between scaling fast and building more sustainable architecture. To approach this, Yousuf offers up a three-step process:
Think about what you are trying to achieve
Decide how you can get there fastest so that you get good value and good output
Get everyone on the same page and drive towards the same point
That process will ensure that you avoid the trap of having lots of people doing lots of good things, but not in a way that is cohesive and beneficial for the organization as a whole.
Citizen Developers and the IT Organization
Many organizations have adopted the concept of the citizen developer (i.e., people in the business equipped with capabilities like building software) and building applications based on the platforms built by IT professionals.
But Yousuf cautions that citizen developers need structures in place that provide rules and governance. That responsibility falls to the IT organization.
"The IT organization is the standard-bearer for how business applications and software are running in the company," Yousuf says. "They're trained to manage systems, to integrate them, to architect them, and to support them."
Because of those qualifications, they are the perfect candidates to educate and drive solutions into place.
"The IT organization probably has the strongest vantage point about where an application is, or where a set of applications are, and where they're going so they can provide the guardrails for the organization to be able to do citizen development and provide support, enablement, and encouragement around it."
What Large Enterprises Can Learn From Scaleups
Yousuf believes that larger organizations can learn a lot from startups and scaleups. Above all else, he believes they can learn how to build products.
Of note, since scaleups excel at creating innovative solutions for their problems. He believes that enterprises have a lot to gain from learning how to approach innovative problem-solving in the same way.
Large enterprises can also improve the way they think about roadmaps, platforms, and vision.
"When I was a CIO and I was working with early-stage companies," Yousuf says, "it was very insightful for me to actually understand the genesis of how a product is built, the problem that they're trying to solve, and the approach that they're taking to try and solve it."
He also learned a lot about establishing a longer-term vision for a product. He learned the importance of asking questions like these: Could the product have a larger impact? Could the product be deployed into other use cases in the company? Could it scale?
Getting the opportunity to have those types of conversations with scaleups was energizing for him as a CIO.
"Those are the sort of things that you get excited about, that you want to champion," he says.
To hear this interview and many more like it, subscribe to the Unleash IT Podcast on Apple Podcasts, Spotify, or our website.