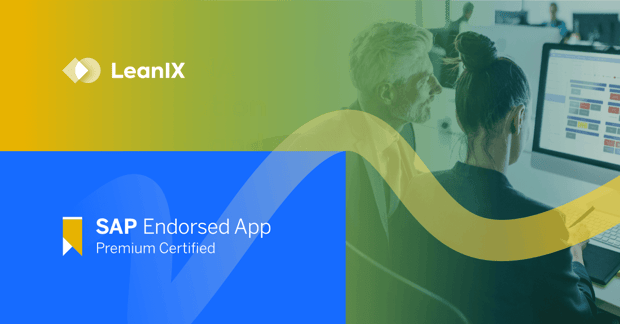 Reinventing an ERP architecture is an enormous undertaking that presents numerous challenges for any organization. The complexity of such a project is exacerbated in the age of digital transformation. Companies are adopting and developing new technologies to get a competitive edge, while at the same time migrating services to the cloud and striving to maintain business as usual in the face of everchanging customer demands. With SAP S/4HANA, however, it's not a matter of if enterprises will have to change over, but when.
Underestimating the scale of an SAP S/4HANA transformation can be highly disruptive to both IT and business operations. Unrealistic and overly aggressive timelines lead to misinformed decision making and overspend, furthering the inherent difficulties associated with ERP transformation. That's why, using an enterprise architecture tool like LeanIX is so important to avoid costly pitfalls.
Present the business case for SAP S/4HANA
Though there are several years left until support for SAP ECC will expire, enterprises are better off migrating sooner rather than later. There's no doubt that an ERP transformation is an expensive and complicated exercise. Being able to convey the long-term value of moving to SAP S/4HANA is critical to getting buy in from executive decision makers.
The best way to do so is through the creation of a strong business case that documents the benefits and expected return-on-investment (ROI), as well as the current problems that the organization is experiencing with its existing ERP system. Getting stakeholders on board can be the driving force behind justifying an investment in SAP S/4HANA before it becomes a last-minute scramble.
Download our white paper, Setting the Stage for SAP S/4HANA with Enterprise Architecture, to better understand the business value of transformation.
Build the transformation roadmap
To yield the most benefit from SAP S/4HANA's improved features, organizations need to develop robust, end-to-end transformation plans. This will take time, but it's necessary to reduce risks, save time and money, and accelerate innovation.
Enterprise architects (EAs) should be involved in the entire transformation process, but are especially important in the planning phase. They have the tools and foresight to identify problems and address them before they arise, and point out affected interdependencies that could slow project timelines. Additionally, EAs can help reveal the best approach to take for their company's transformation, i.e., Greenfield, Brownfield, or a hybrid.
LeanIX has created a step-by-step roadmap poster for you to leverage enterprise architecture in your SAP S/4HANA transformation. Get your free copy.
Get your SaaS-based enterprise architecture tool in place
Enterprise architecture tools act as the single source of truth for IT data, mapping business processes to applications and the underlying components that power them. As a top-rated EA tool, LeanIX empowers collaboration across the entire organization to maintain data accuracy and present a big picture view of the IT landscape. This is a critical piece of the transformation to SAP S/4HANA because it reveals dependencies across the technology ecosystem and provides a common language between both business and IT stakeholders.
Learn how LeanIX can help you with your SAP S/4HANA transformation by creating a transparent framework to document your infrastructure, reduce complexity, and accelerate opportunity.