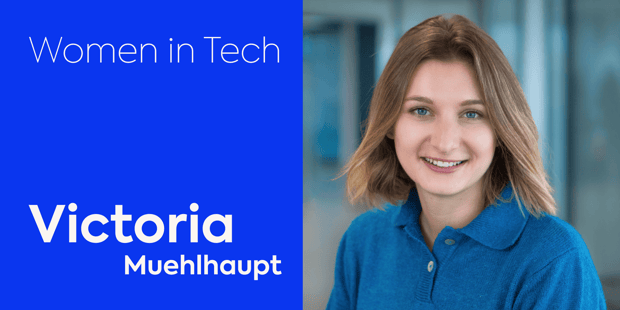 Our Women In Tech forum has been meeting regularly to address the issue of inclusion in our industry. In the first of a series of interviews, Jessica Wilson, our DEI Program Manager, spoke to Victoria Muehlhaupt, our Head of Customer Success Management, Midmarket, about her experiences.
What led you to pursue a career in tech and what challenges have you overcome?
I don't have a technical background. I studied foreign languages in university and never really saw myself working in a tech company when I was younger.

Starting my career in tech and understanding that there is a need to bridge the gap between IT and the business really made me want to pursue this path. I'm glad I was approached by LeanIX on LinkedIn, because it opened the door for me to understand more about the tech domain.

A challenge that I have overcome in this is taking a chance on something that you were never told you were good at. Going back to school now, I would have maybe made different decisions about my studies.

For little girls, the stereotype of being inferior at scientific disciplines still exists and keeps them from pursuing careers they might be a perfect fit for.

Do you think diversity and inclusion has improved in tech over the last few years?
Over the past several years, I have observed increased efforts within the tech industry, including LeanIX, to improve diversity and inclusion.

While progress has been made, we can always aim to do better and ensure that all under-represented groups have an equal chance to thrive in this field. I think we should set tangible key performance indicators (KPIs) for the diversity we want to achieve - 50% of new hires identifying as women, for example - and deliver on these.

Do you think the rise of remote and hybrid working has helped improve inclusion?
I believe that remote and hybrid work structures have indeed improved inclusion in the tech workforce. By offering flexibility, we create opportunities for a wider range of individuals with varying needs and capabilities.

Building an inclusive culture in remote or hybrid environments, however, requires intentional effort to ensure effective communication and engagement. It also requires an even bigger effort on making minorities visible and sharing their stories.

What's the best piece of advice you've received about working in tech?
"There are no stupid questions". Sounds cliché, but it really is great advice.

In a domain where you feel like you don't have the same knowledge as others, asking questions is essential. It also teaches the more technical people to make information accessible for people without a tech background.

Do you feel that the responsibilities of childcare are more even now than they were?
I think childcare in Germany is still perceived as the role of the mother in most cases. There are more and more examples of families where the fathers take more responsibility, but they sadly remain the exception.

There's a lot that needs to change on a country and society level, but of course, companies can help with supporting child care, parental leave for non-birth parents, and introducing a 'returners' program to facilitate coming back to work for the people who have taken time off.

Racial diversity and LGBT+ rights are equal challenges to gender equality in tech. Do you see all diversity and inclusion as one struggle or as parallel issues with their own unique facets?
I see all diversity and inclusion challenges as interconnected, though each group still faces unique issues.

Gender diversity is something we have been discussing and improving for a longer time, so I see a big potential in getting this right today. It has the potential to be the model for other minorities to strive for equality.

We need to use the improvements we implement to create a supportive and inclusive work environment for everyone.

What is the biggest change you'd like to see in the tech industry to support women?
The biggest change I would like to see is the breaking down of gender stereotypes and unconscious biases that can create barriers for women in the tech industry. I would love to see women losing their impostor syndrome when sitting with senior people and gaining the confidence to say, "I've earned my seat at the table".

Making this change starts with early child education and showcasing women who have achieved a career in tech.
If you'd like to join our Women In Tech forum, you can request access to the community on our site: