To thrive in today's digital age, businesses need to adapt to evolving customer and industry needs. However, the changes required to stay competitive often lead to full-scale, complex transformations. If not executed properly, these activities can do more harm than good. The LeanIX Business Transformation Management (BTM) module is designed to provide our customers with the necessary tools to successfully execute a business transformation.
In our webinar, How to Accelerate Change with the LeanIX Business Transformation Management Module, Sagar Sheth (Product Marketing Manager) and Johannes Wilden (Lead Product Manager) shared how to ensure success and achieve quick time-to-value in your organization's transformation efforts. This blog will review key insights from the webinar, including the importance of enterprise architecture (EA) for business transformation and how the BTM module works.
Importance of enterprise architecture for BTM
Did you know that 70% of transformations fail? Many businesses fall short when starting a transformation journey due to low preparation, lack of monitoring from ideation to implementation, a late identification of constraints and risks, and the absence of proper transformation management tooling.
Looking at existing road-mapping solutions, LeanIX knows that they lack the support needed for a successful transformation. Other issues with current mapping tools include:
Long-term strategic roadmaps (3y / 5y) that are too inflexible
Short-term project management missing business context
Lacking traceability on how business objectives are achieved
Difficult to incorporate impacts (changes) on and constraints by architecture
Roadmaps often stay high level with no link to execution
Execution lacking a streamlined update of EA documentation
There are many types of business transformations that support investment in a management tool. Here are a few of the most common we see today:
Migrating your own data center workloads to the public cloud
The rollout of global ERP systems (S/4HANA, NetSuite)
Modernizing legacy / monolithic IT landscapes
Mergers, acquisitions, and carve-outs
Changing your operating model (e.g. due to COVID-19)
So, how are we tackling this issue? Think of BTM as the GitHub for IT roadmap planning. Let's say you want to make some changes in your architecture model. First, you can create a plan in the BTM module to migrate any systems you want, for example, to the cloud. Within the plan created in LeanIX, you can see the impacts (a very explicit change in the architecture that will happen in the future) to understand how they will affect the current architecture.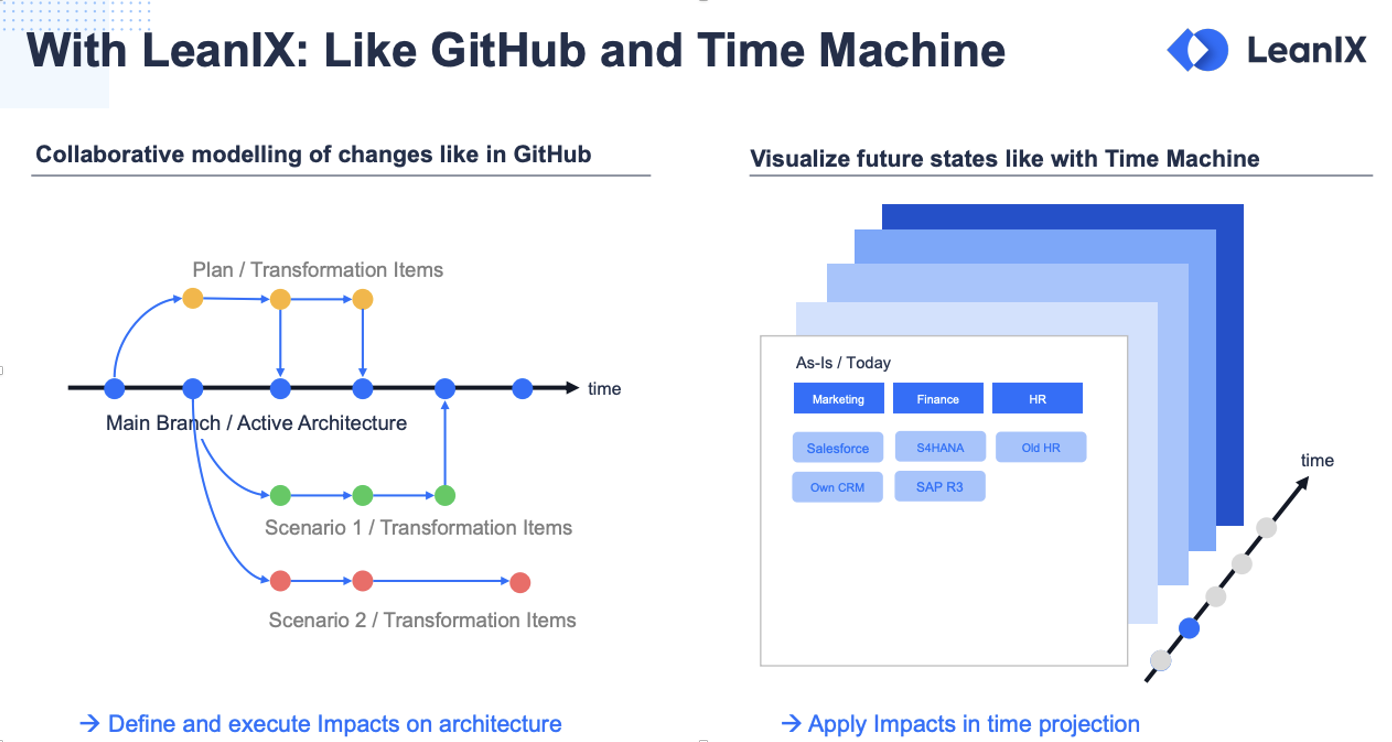 After that, you can model different scenarios to decide which migration strategy will work best. When you decide the winning scenario, you will then execute the impacts to your active architecture. Overall, you can plan and visualize the future, and decide which outcome would best-suit your business.
Now that the planning and modeling are all done, the real fun can begin. Want to learn how to see the future state of your IT architecture?
A closer look at the LeanIX BTM module
To fully understand the way our BTM module helps transformation initiatives succeed, we will use an example: Company A wants to move their internal applications into the cloud by 2022 to increase IT efficiency by 20%. With a clear plan and goal, we can quickly deduce that the Transformation Item is to move internal applications to the cloud by a certain time, and the Business Objective is to increase efficiency by 20%. To achieve this goal, the enterprise architects will work with the appropriate business leaders to execute these steps:
Map affected Business Capabilities to the Objectives
Define plans to achieve Objective
Model impacts to affected Applications
Visualize plan based on multiple dimensions (e.g. time, cost, context)
Decide, execute plan, and track progress of Objectives
Key features of BTM
In our BTM module, we have two new Fact Sheet types: Objective and Transformation Item. The Objective Fact Sheet is used to define high-level strategies as Objectives, map objectives to business capabilities and transformation items, and perform high-level progress tracking. The related reports in this Fact Sheet are Objective Landscape which helps you understand how your initial strategic goals are structured, and Investment Distribution which helps you optimize your allocation of spending.
The Transformation Item Fact Sheet consists of four subtypes: Plan, Building Block, Epic, and Project. The Plan is the bracket that holds all transformation items in a scenario together. The Building Block is used to define impacts on a high level. Epics and Projects are used to define impacts on a lower level and show the impacts on affected fact sheets to make strategic changes transparent within the organization, and the execution of impacts on fact sheets. The related reports in this Fact Sheet are Transformation Landscape which helps understand what your initiatives are, Transformation Cost to help understand what you are investing into certain transformation items, and Transformation Roadmap to help put all the transformation items into a timeline to understand the sequence of all those transformations.
Benefits of BTM
When successful, BTM can provide many benefits for an organization. You can gain instant transparency of all ongoing initiatives to effectively manage architectural changes. Users can collaboratively plan scenarios with business stakeholders, immediately identifying conflicts and risks through visualization. They can also prioritize and execute plan ideas by envisioning the outcome, accelerating key decisions with the right data.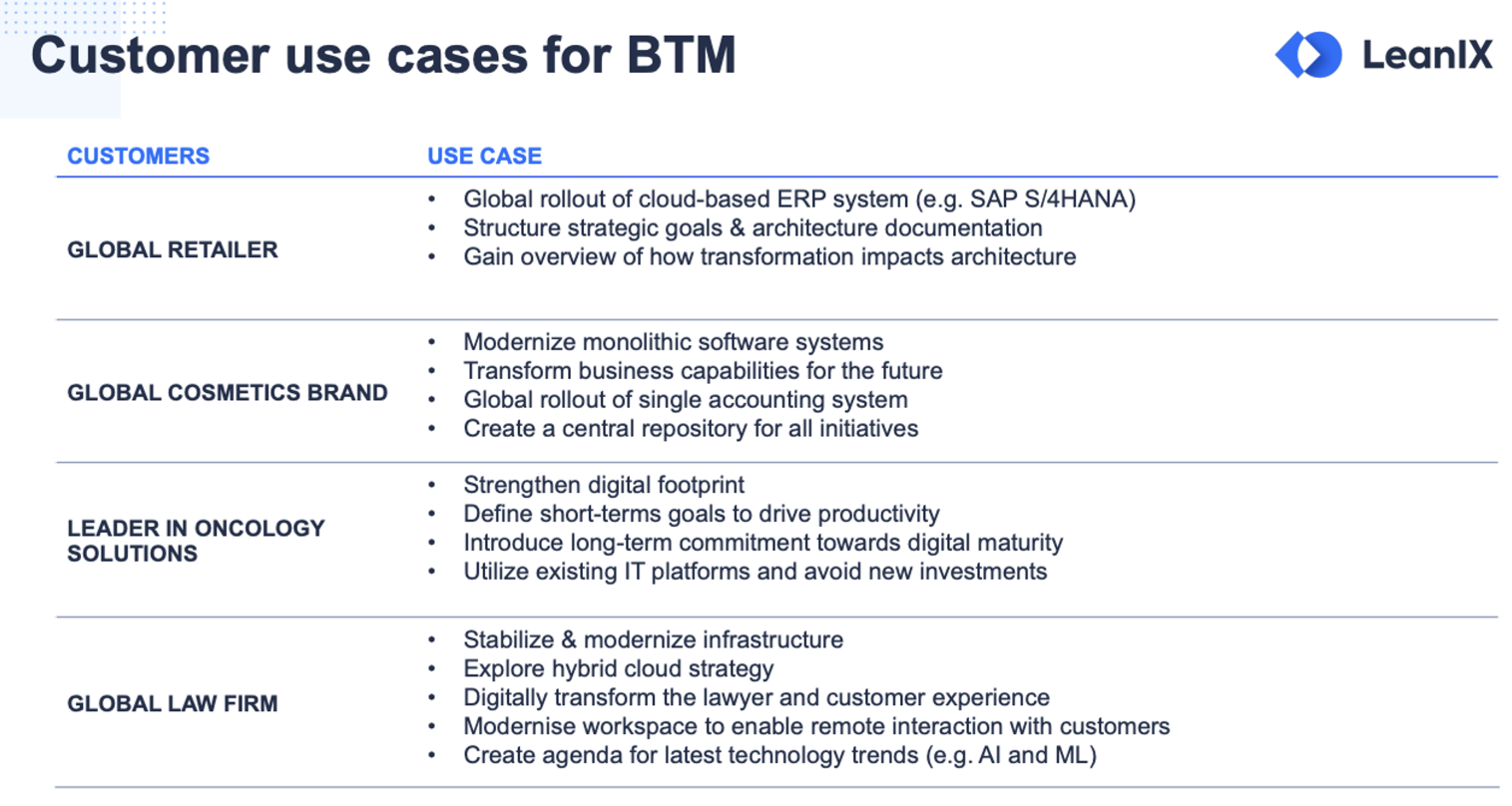 Other benefits of our BTM module are:
Multiple teams can autonomously work on a roadmap
Plans and scenarios will not mix up the active architecture
Different scenarios can be compared to each other
Independent validation of plans and scenarios
External workflows can trigger execution
Plans can be easily removed
If you would like to learn more about our Business Transformation Management module, watch the full webinar to see a live demo. Also, take a look at our Business Transformation Management Playbook to learn the most pressing needs for BTM, when to green light a transformation, 7 steps to manage your transformation, and more!