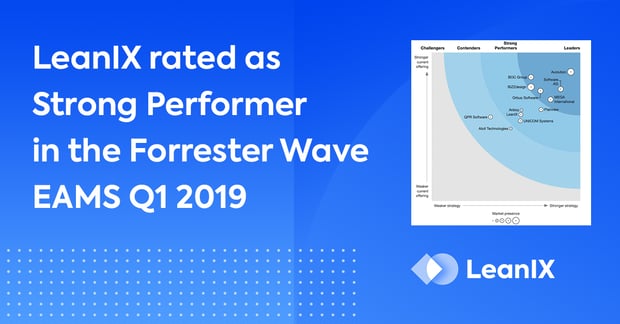 New Forrester Wave identifies the need for Enterprise Architects to focus more on strategy and asset management
Enterprise Architects have been talking — and the right people have been listening.
People like Forrester Research.
The global technology research firm with 35 years of IT expertise has shined the spotlight on EA Management Tools in its Wave Report—its evaluation of the most significant providers.
Forrester states that as Enterprise Architecture use cases become commoditized Tech Asset and Strategic Management and Organization Design capabilities will be the key differentiators for vendors to enable their customers' digital transformations.
Forrester's comprehensive 35-criteria evaluation of Enterprise Architecture Management Suites finds that LeanIX performs strongly in performance management and technology asset management and meets the needs of most EA professionals.
After reaching out to our customers and inspecting LeanIX for themselves, Forrester's committee of EA Analysts and Research Associates has given LeanIX the highest score possible in the criteria of EA reporting capabilities, customer satisfaction and SaaS market impact.
---
Download the complimentary The Forrester Wave™: Enterprise Architecture Management Suites, Q1 2019 right here..
---
Oh, and by the way, don't expect LeanIX to lose its edge any time soon. According to Forrester's evaluation, "LeanIX is likely to maintain or improve its position in the market".
LeanIX, founded in 2012, is an EA Management Tool relied upon by industry segments worldwide to unite the shared needs of IT and Business units. It's our goal to help enterprises create data-driven solutions to market opportunities with resources already at their disposal—and it is a mission that's helped clients like Adidas, Bosch, and Zalando capture potential.
Get in touch to see how we can put your enterprise in motion.