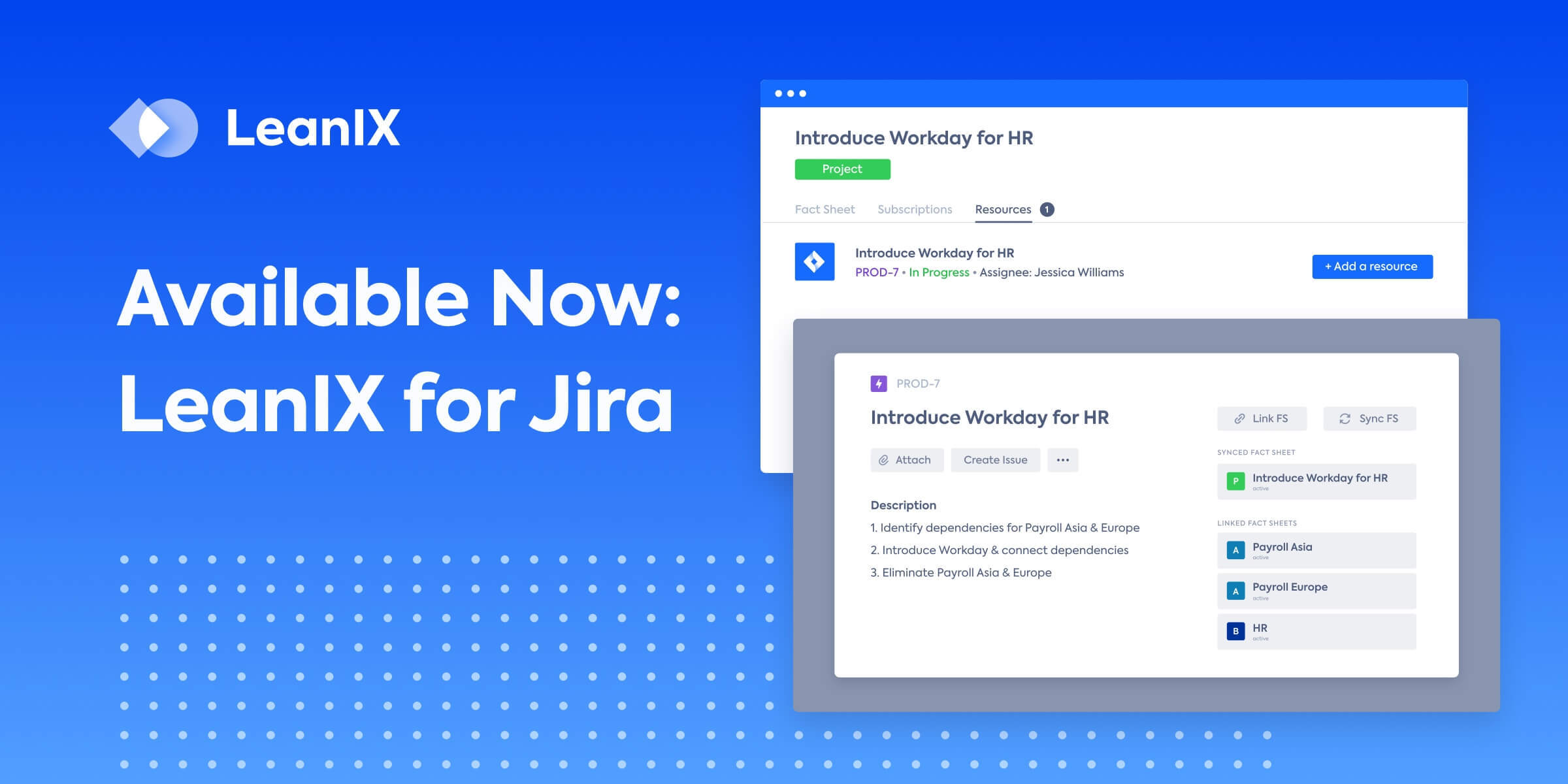 In another step towards making enterprise architecture (EA) more actionable, LeanIX's new integration with Atlassian's Jira offers a combination of features to streamline project and product management activities. Many LeanIX customers rely on Jira Software for project and issue tracking, and with an integration to Atlassian's Confluence for sharing reports and live data already available, this much-anticipated release enables users of the EA tool to:
Provide architectural context to your project teams
Visualize the impact of the projects on your IT landscape
Introduce Fact Sheets from Jira to the LeanIX inventory
Monitor the progress of Jira issues from LeanIX
Link LeanIX Fact Sheets to Jira Issues
An entire EA repository in LeanIX is now accessible via Jira issues. By clicking "Link a Fact Sheet" on the right side of an issue, Fact Sheets of every kind (e.g., Business Capability, IT Component, Application) can be searched for and attached to a ticket. Project and product teams can then illustrate a given project's architectural foundations as soon as planning and implementation efforts kick off.

Sync Jira issues and LeanIX Fact Sheets
As evidence of how deeply connected LeanIX is to Jira, Fact Sheets can be built at a high level in Jira by filling out the name and description. Users only have to press "Sync a Fact Sheet" on the right side of the ticket to set up synchronous links between the issue and the LeanIX workspace. Updates are then exchanged simultaneously from both ends.

Create Fact Sheets from Jira
Project teams can also introduce a new artifact into the LeanIX repository right from a specific Jira issue. While linking or syncing Fact Sheets, users can press "Create a new Fact Sheet" to then type the new artifact's name and select the Fact Sheet type. The newly created Fact Sheet is now available in LeanIX to be populated with relevant information for further collaboration and transparency.

Track status updates live in LeanIX
EAs and project teams are naturally inclined to align their deliverables and help one another dismantle obstacles along the way. Superior visibility is nonetheless a prerequisite for such collaboration, and with the LeanIX-Jira integration, the status of Jira issues can be monitored in real-time in LeanIX and viewed alongside the responsible parties of IT artifacts.

Use Cases
All in all, to improve collaboration between project and product development teams, this integration creates opportunities to contextualize deliverables, reduce blind-spots into one another's activities, and control the impacts of ongoing development efforts on architecture. This transparency creates numerous advantages, but two main use cases for the LeanIX-Jira integration include (1) mitigating application risk and (2) addressing cloud violations.
LeanIX-Jira Integration: Mitigate application risk
When it comes time to resolve or explore potential risks to applications (e.g., patching an SQL injection, reviewing problematic open source software licenses), Jira tickets can be linked to any Fact Sheet affected by the issue. These Fact Sheets can then be clicked on and seen within LeanIX to navigate dependencies for greater architectural detail. Further, through either the Fact Sheet resources tab or the Project Landscape Report, EAs can track Jira project statuses in real-time to showcase progress.
Create Jira issue to address a security vulnerability
Link impacted Fact Sheets to support the issue
Identify dependencies to simplify mitigation workflow
Automatically track project status in real time
Use LeanIX Project Landscape Report to showcase progress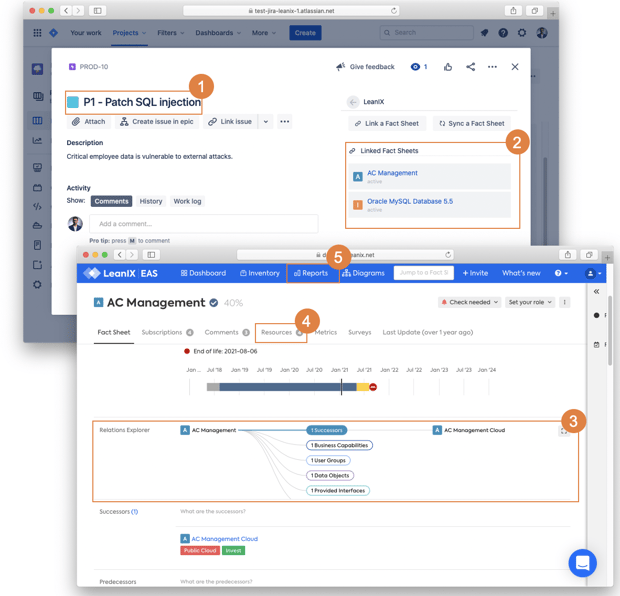 LeanIX-Jira Integration: Address cloud violations
Though the LeanIX Cloud Intelligence module automates the discovery of cloud violations, the LeanIX-Jira integration can streamline efforts to assess and patch issues. Once violations are identified and their potential business impact graded via built-in Fact Sheet attributes, Jira issues can then be created with the relevant architectural components and synced to initiate mitigation workflow. Architects can then use Cloud Intelligence workspaces to track the status of these projects.
Automatically discover cloud violations using LeanIX Cloud Intelligence
Assess severity of business impact on cloud violation
Create a Jira issue to initiate the mitigation workflow
Link impacted Fact Sheets to support the execution
Govern current state of mitigation in LeanIX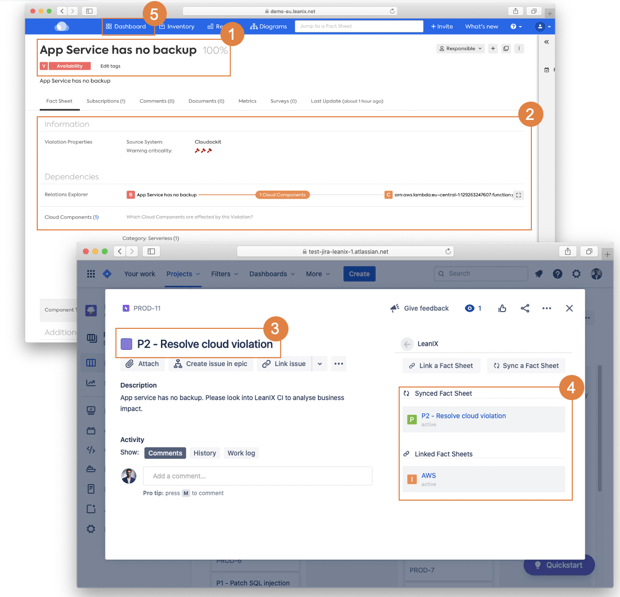 Further Information
The LeanIX-Jira integration is available now on the Atlassian Marketplace. If you'd like to know more about the new integration to Jira, reach out to info@leanix.com or to your LeanIX Customer Success Manager. We'd be happy to give you and your team a demo. Of note, the integration is available for all LeanIX modules.