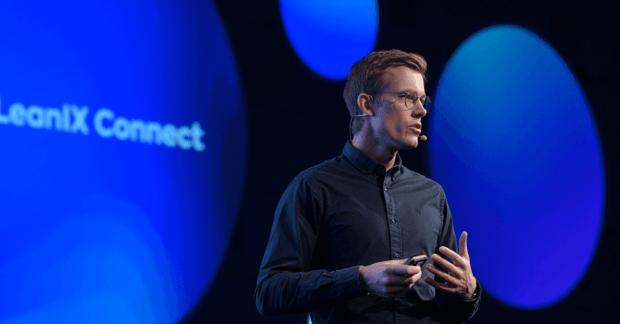 On May 9, 2023, our CEO and founder, André Christ, opened our 2023 Connect Summit Europe with an inspiring keynote speech on the current state of the enterprise architecture industry. Yet, he ended by describing three innovations we're adding to the LeanIX platform to tackle future challenges.
Let's deep-dive into the new features coming soon to LeanIX.
Our 10th annual European summit got off to a rousing start as our visionary CEO set the scene for the rest of the talks on enterprise architecture best practice. He began by telling us all about the five things that were on enterprise architects' minds in 2023.
To find out more, read:
Yet, André finished his keynote by introducing three new features that LeanIX customers didn't know they needed. We're excited to continue to develop our platform beyond the needs of today, so it can remain an essential tool in years to come.
Let's look over the three features you can anticipate coming to the LeanIX platform very soon.
1 Evolving The LeanIX Meta Model - Q3, 2023
Our pre-defined meta model has remained largely as it was when we invented it, 11 years ago. This was key for us, as we always insisted the model must remain simple and easy for everyone in your organization to understand.
However, since then, we've seen the industry change to incorporate a variety of influences we couldn't have predicted all those years ago:
Product-centric organizations
Digital and technical platforms
Business architecture
Micro-services and deployments
Cloud and other classifications
André explained that our customers are asking him for more guidance on their meta models, so they don't have to waste time discussing them when they need to be building them. As such, we want to offer an expanded model with greater guidance, without complicating our existing model or forcing change on our existing users.
To cater to your needs, we're introducing a new meta model, which will offer an additional "Platform" Fact Sheet type, as well as changes in Fact Sheet naming, and added out-of-the-box subtypes. We'll explain the changes to our customers in detail very soon.
New customers can start directly with the new model from Q3, 2023. However, the new meta model will be optional for existing customers, so they retain their control.
2 Superapps, Not Mobile First
We recently made the difficult decision to retire our LeanIX mobile application. This was because we realized that, while our customers do use their mobiles, they already have applications that work across devices.
Far better than having a dedicated mobile app, we realized, was integrating the LeanIX platform into the workplace apps our customers already use on laptop and mobile. That's why we're excited to introduce our new Portal feature, which allows LeanIX to integrate into Teams, Slack, and similar applications.
Our new Portal integration will also be open source, allowing you to integrate LeanIX into whatever workplace toolset you use, including your chatbots. This only makes sense, since our platform needs to sit above the individual applications you use every day.
We'll keep you informed about the progress of this development and will offer a timeline for the release as soon as we're ready to share it.
3 Introducing The LeanIX AI Assistant - Q2, 2023
To end his keynote speech, André explained that it was impossible to speak at a conference nowadays without mentioning generative AI (artificial intelligence). This is just as well, as AI was a central topic of our big announcement.
LeanIX has always been a pioneer, so we believe it's only right for us to be the first vendor to apply the power of generative AI to enterprise architecture data. Yet, just what would that look like?
We see AI automating tedious enterprise architecture tasks, such as documentation and research. It could, on the one hand, write an architecture summary, or complete your architecture documentation. On the other, it could propose replacement software or research successor technologies.
You could give it five applications you would like to replace and it could tell you what the industry standard application was for each type of applications, give you pros and cons, and then write it up into a report you could hand to your board. Yet, this is just the beginning.
As such, we're thrilled to introduce the LeanIX AI Assistant. Leveraging a large language model and a Generative Pre-trained Transformer (GPT), our Assistant will accelerate your enterprise architecture management, and become a revolutionary tool for the future.
Most importantly, the LeanIX AI Assistant is privately hosted on Microsoft Azure. As such, you can feel safe uploading your proprietary data to it without risking it on a public service.
We've moved quickly, and demonstrations of the power of our AI Assistant were already running at Connect 2023. A closed beta will be available later this month, and you can sign up to it by visiting our public roadmap.
To view André's full keynote, visit our site: