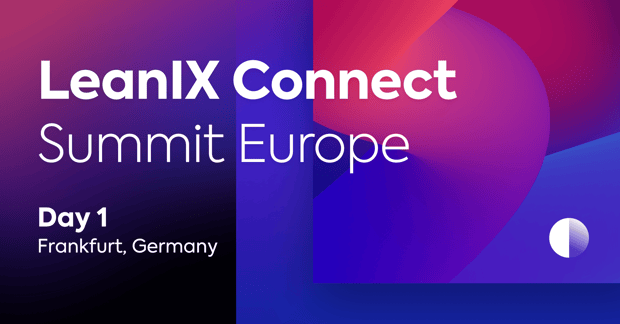 That's a wrap! We've just rounded off the first day of our 2023 Connect Summit Europe. Let's recap everything that happened in this packed day.
Phew! We're exhausted from a full day of insightful, deep-dive presentations on the current best-practice in enterprise architecture management. Before we get some rest ahead of day two of the LeanIX Connect summit Europe, let's recap what happened today.
If you want to join in on the fun, it's not too late to register for day two, and get access to today's video on-demand:
We started at 9am, German time, in the Frankfurt Congress Center Messe. Mark Jeffries began the day with anecdotes regarding his move from television to corporate events.
As the day went on, Mark offered some spurious advice for public speaking that he assured us was likely to cause arguments with our families, even if it made us better presenters.
Mark started the day in earnest by introducing our visionary CEO and founder André Christ for his keynote.
André

Christ Keynote
The 10th annual LeanIX Connect European summit kicked off with an opening keynote delivered by our CEO and founder, André Christ.
With Mars becoming the 1,000th customer to join our community, LeanIX has a direct pipeline to the needs of the industry, enabling us to perfect the toolset we provide to our experts. As enterprise architecture becomes increasingly mission-critical, André listed five areas that enterprise architects are focusing on in 2023:
Managing Software Complexity & Cost
Navigating Transformation
Improving Data-Driven Decision-Making
Controlling Technology Risk
Implementing IT Sustainability
André explained as we went along what initiatives we're undertaking to support enterprise architects in those activities. To finish his presentation, however, André listed three new and exciting features we're implementing in order to support enterprise architects with their next set of challenges:
A brand new meta-model to support Platform Fact Sheets
Integrations into Teams, Slack, and other apps with our Portal feature
Our brand-new and very exciting LeanIX AI Assistant
To explore André's keynote in more detail, read:
LeanIX Partners with Collibra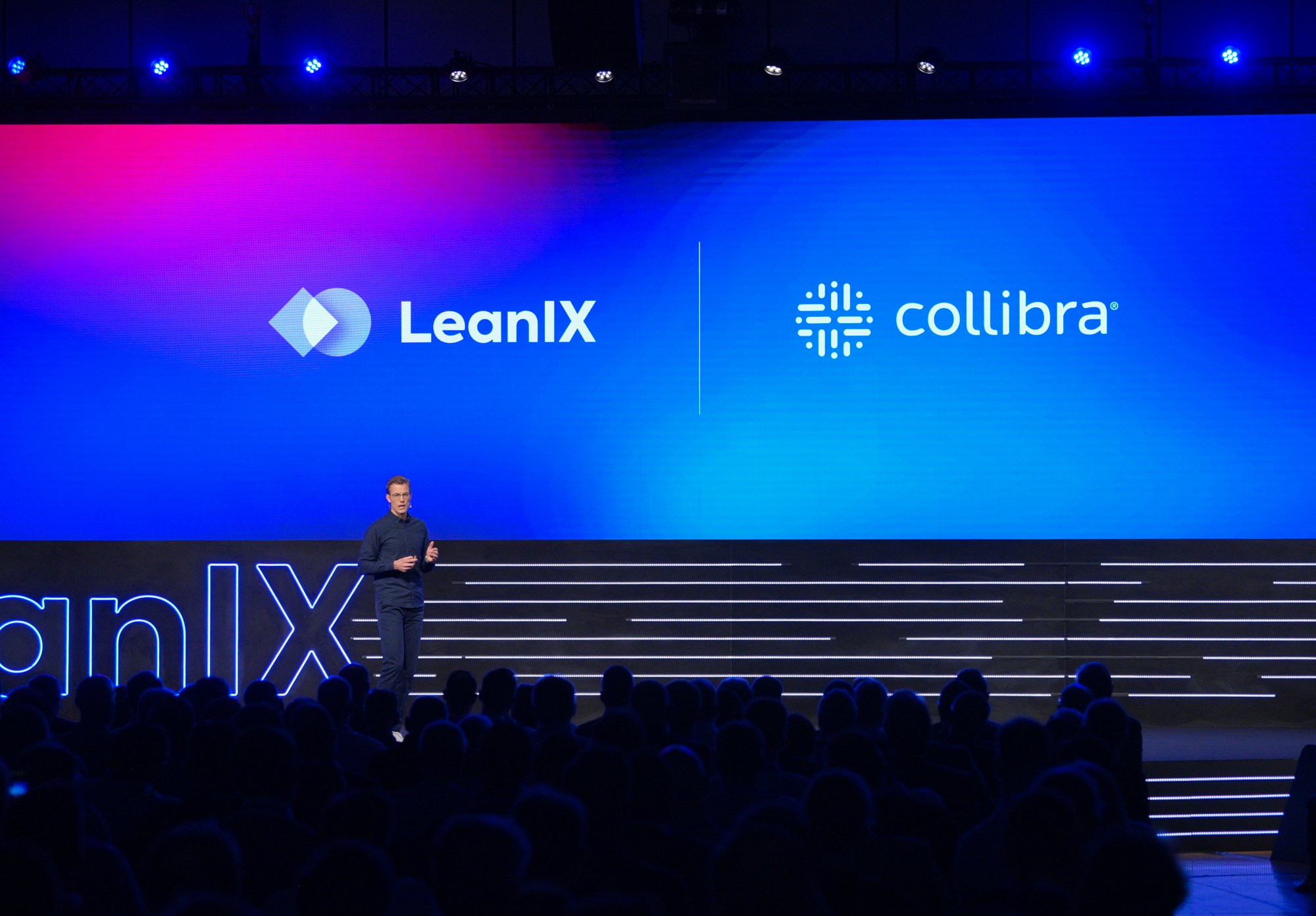 Also announced as part of André's keynote was our new partnership with Collibra, the data intelligence company. The partnership, announced today at the LeanIX Connect event, allows Collibra's data modernization resources to be integrated into the LeanIX platform.
This integration will allow LeanIX users to empower their enterprise architecture with reliable data sourced from Collibra. This enables enterprise architects to make data-driven decisions.
To find out more about the partnership, read:
The Connect Main Stage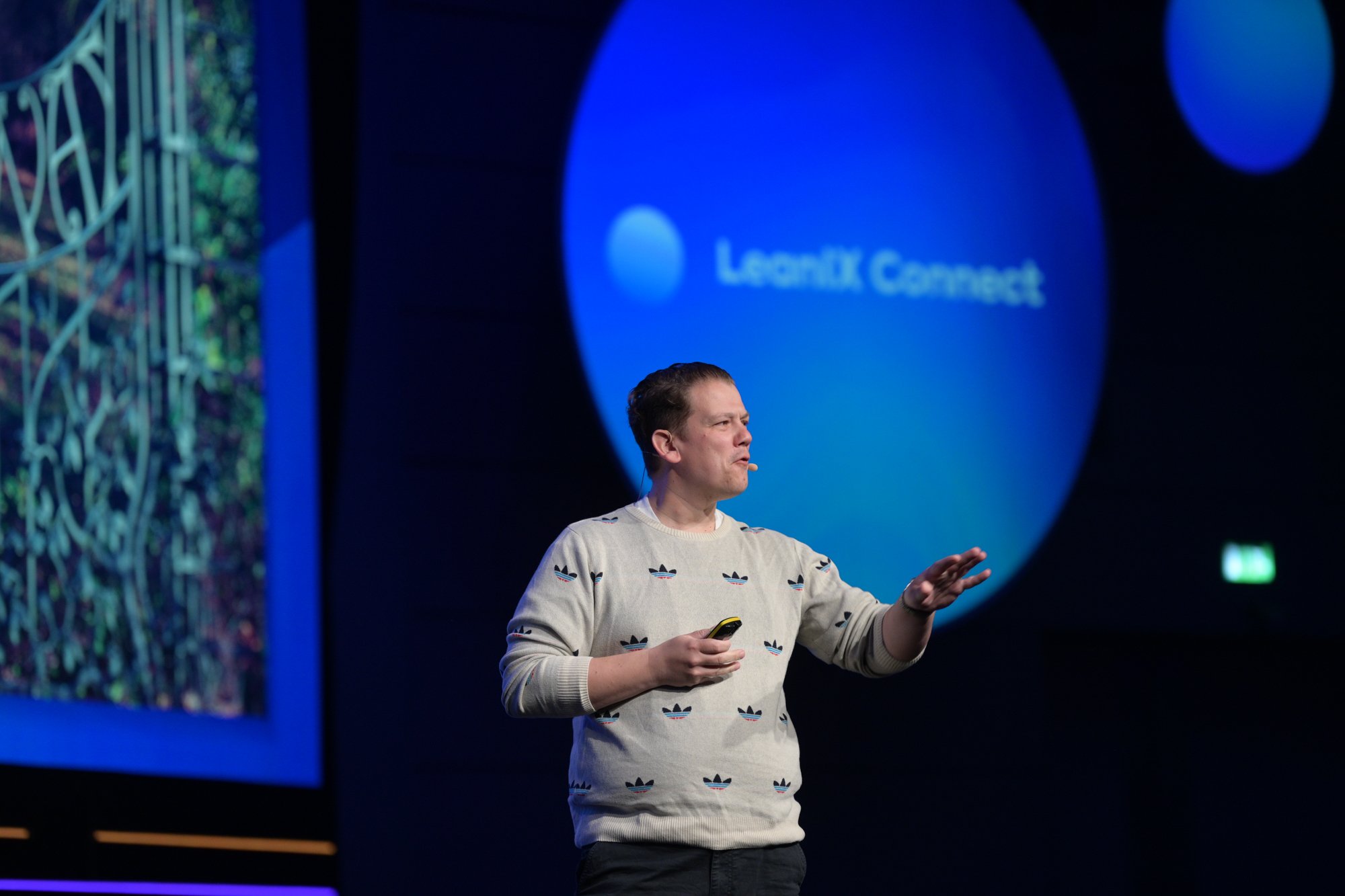 Following on from André's keynote, Daniel Eichten, VP of Enterprise Architecture at adidas took the stage. Daniel had guested in André's keynote to discuss open-source software security before returning for his own talk.
Daniel spoke on the journey from the "darkness" of application chaos and into the "light" of enterprise architecture management. Retelling the story of creation, Daniel explained how LeanIX has supported adidas in their application rationalization initiatives, as well as introducing us to some beautiful animals and a wonderful adidas sweater.
Unleash The Combined Power Of Business And IT With SAP Signavio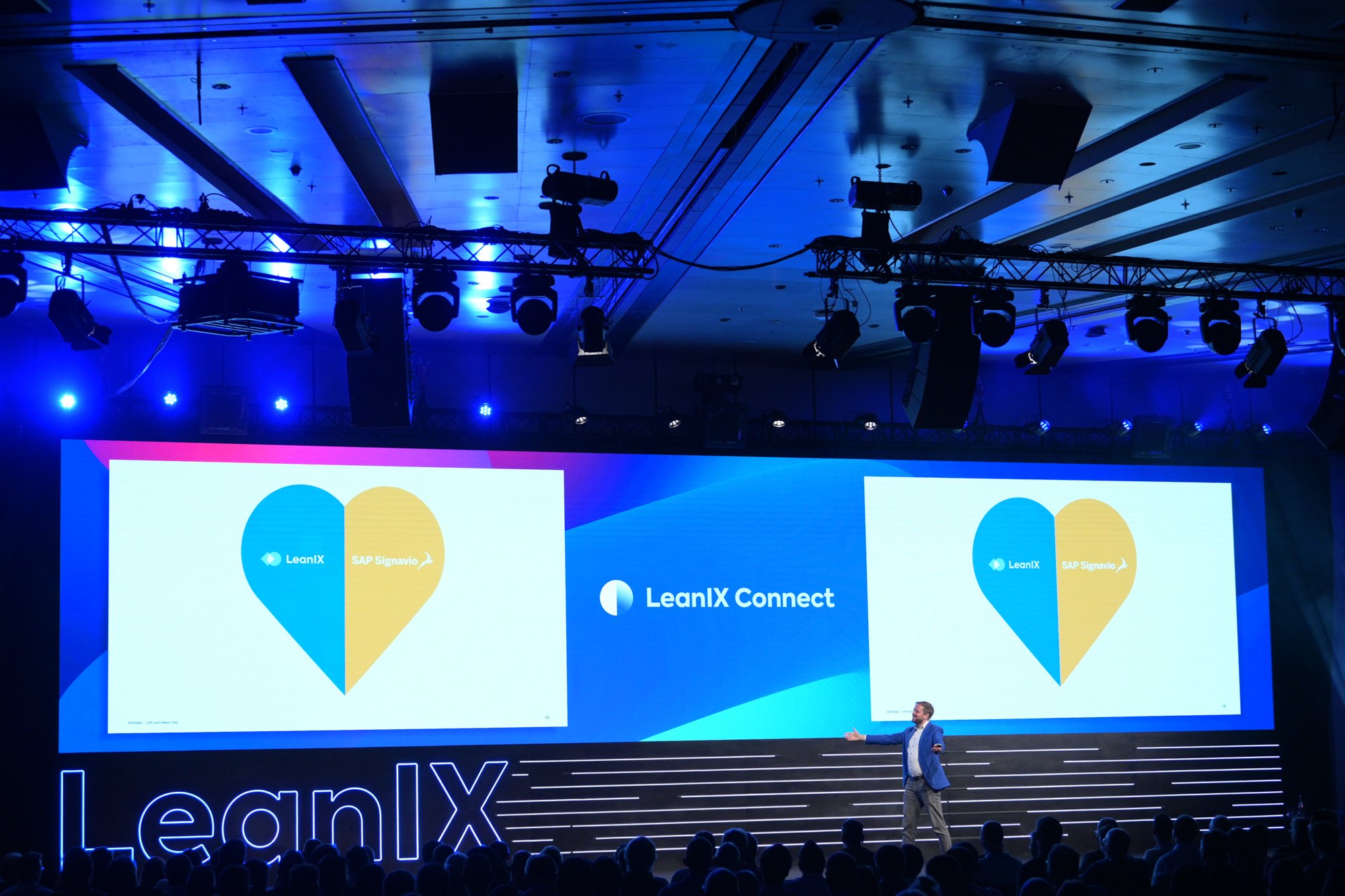 Next up, Dr Gero Decker of SAP Signavio offered a love letter to André in celebration of 10 successful years of partnership with LeanIX. More seriously, Gero explained how challenging change could be, particularly on ERP transformation.
Yet, he explained, using LeanIX as a single source of truth for enhancing collaboration between IT and the rest of the business, change is manageable. Unleashing that combined power is the only way to drive enterprise forward.
Exploring The LeanIX Platform For Application Modernization
Moving straight along from Gero's tribute to André, our own Hannah Esser and Adina Aldea took the stage to talk us through how the LeanIX Enterprise Architecture Management (EAM) platform supports our customers in application modernization.
Adina took us on a whirlwind tour of the platform, as she imagined our friendly enterprise architect "Susan" taking steps in the LeanIX EAM to migrate her organization's application portfolio to the cloud.
Adina quickly offered anyone in the audience who wanted a deep dive into the platform to visit her at the LeanIX demonstration booth upstairs at the event center.
Salesforce Ask Where Do I Invest?
After a short coffee break, Alex Znyk, Enterprise Architect at Salesforce, took us through how Salesforce uses the LeanIX Enterprise Architecture Management (EAM) platform to determine where to invest budget and resource in developing their application portfolio.
Following a thank you to LeanIX for our support, Alex explained how Salesforce ties its platform closely into customer success, yet also uses their Tableau application to add visualization capabilities to LeanIX Fact Sheets.
The 7 Nightmares Of A CIO That EA Can resolve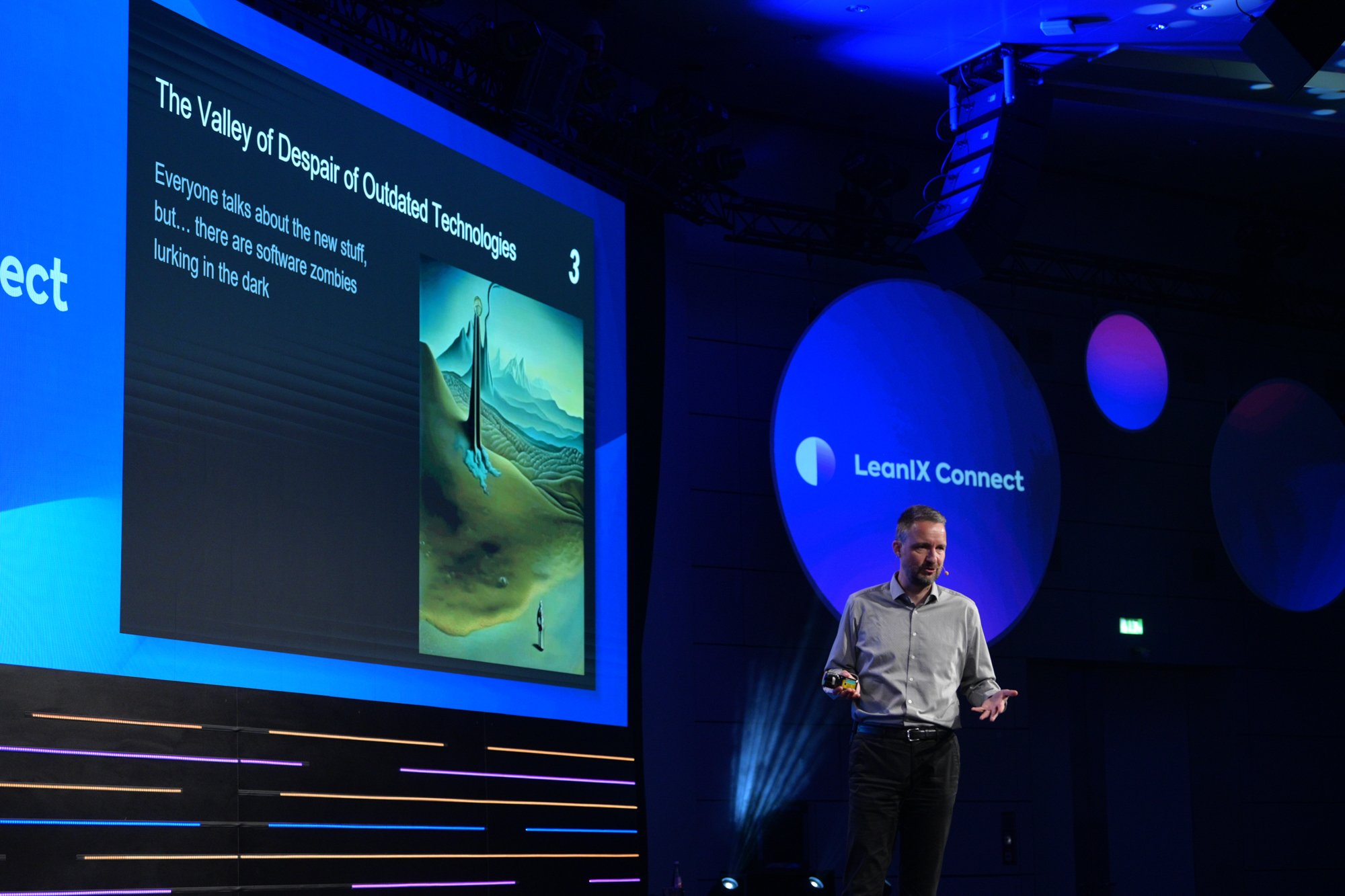 After a well-earned lunch break, we returned to an anticipated talk from consultant, Marcus Schaper. Marcus presented the seven worst-case scenarios for CIOs, represented by famous paintings, and explained how enterprise architects could solve these issues before they arose:
Following the white rabbit of cyber security
The candy shop of tempting technologies
The valley of despair of outdated technologies
Sailing through the sea of business IT collaboration
Climbing the mountain of business transformation
High-speed sleigh of agile development and innovation
Tears and Joy on the Beach of People Development
To end the talk, Marcus took a poll of the audience to see how many felt their enterprise had solutions to all seven nightmares. Only 1% of 135 respondents said they did.
As a final point, Marcus advised us all to think about these questions. If we come to a meeting with a solution for one of these nightmares, CIOs will listen.
Connecting The Dots With Ericsson
Mats Berglund, Enterprise Architect at Ericsson, continued the show with an explanation of how you can connect your business to your enterprise architecture team by visualizing a diagram that flows through their entire business architecture:
Strategic goals
Customer journeys
Value stream
Processes and workflows
Data
Integrations
Applications
Hardware
Using the LeanIX Enterprise Architecture Management (EAM) platform, Ericsson is modelling their architecture and increasing collaboration across the company.
How to get your application landscape into LeanIX
Following on from Marcus, Hans Nygaard from GEA Group talked to us about how you can find all of those rogue applications and get them into the LeanIX platform. Whether it's hunting down long-abandoned spreadsheets or cracking down on off-the-books software, Hans explained how you can locate and integrate your hidden applications.
Furthermore, Hans went on to tell us how you can keep your application portfolio updated as your organization changes. With Hans' advice, we're set up well for the future.
A Hero's Journey For EAM in 5 Steps
Next, Liliana Simon from EFS consulting and Erwin Heinreich from CRAYON explained the five steps enterprise architects can take to become heroes to their business.
The challenge is carrying out change and transformation in a global business while maintaining individual autonomy. The solution: enterprise architecture.
Using the right tools and technology (spoiler: it involved LeanIX), Liliana and Erwin took us through their five steps to organisational change and business value.
How To Avoid Dirty Websites With Scania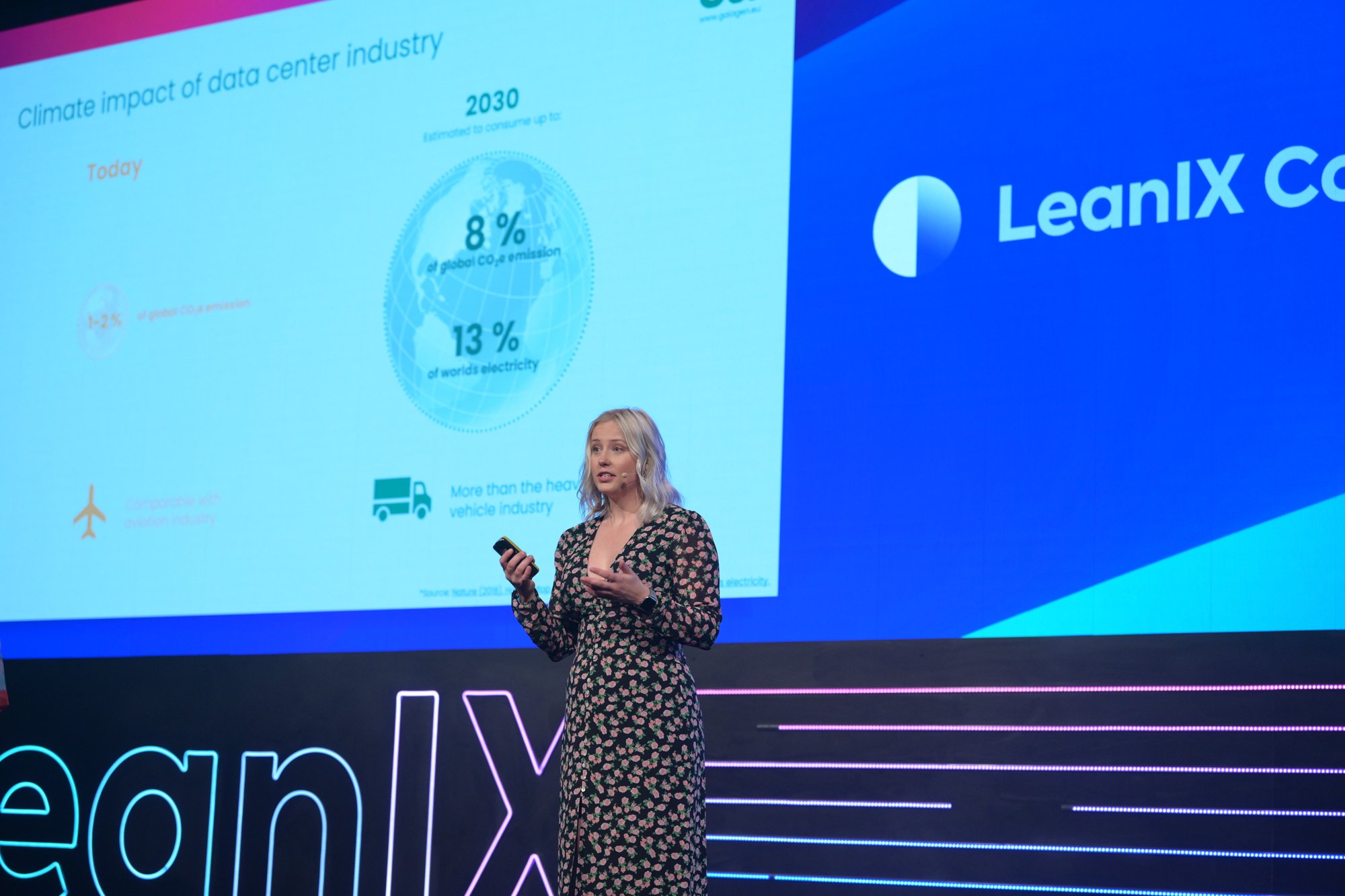 Finishing off the day's talks with shock value, Elsa Westin and Tina Runesson from Gaia Gen/Scania arrived from a 24-hour, low-emission journey from Stockholm to ask our audience how many of them visited "dirty websites".
Thankfully, they were referring to non-sustainable websites, rather than anything more not-safe-for-work. Finishing off the day with impact, the duo explained the important part that IT and enterprise architecture have to play in business sustainability.
LeanIX Awards
The end of the evening saw our annual customer awards ceremony where we honor the customers who are using the LeanIX platform to drive the discipline of enterprise architecture forward. Congratulations to all tonight's winners!
Much more to see...
Yet, this still wasn't everything! Away from the main stage there was a sea of stalls and booths showcasing all our partners, as well as giving you the opportunity to get hands-on with the new features of the LeanIX platform or just get to know our team.
There was also a selection of excellent presentations on our smaller stages, including:
NTT Data discussing SAP S/4HANA transformation
Detecon Consulting explaining the 10th edition of the TOGAF standard
PwC talking about Sustainable enterprise architecture
Deloitte discussing how you can use LeanIX tools to power EAM
...and much more...
It's not too late to register for day two, and get access to today's video on-demand:
Yet, over the next month, we'll be summarizing the most-important of these talks on this blog. Subscribe below to stay updated.