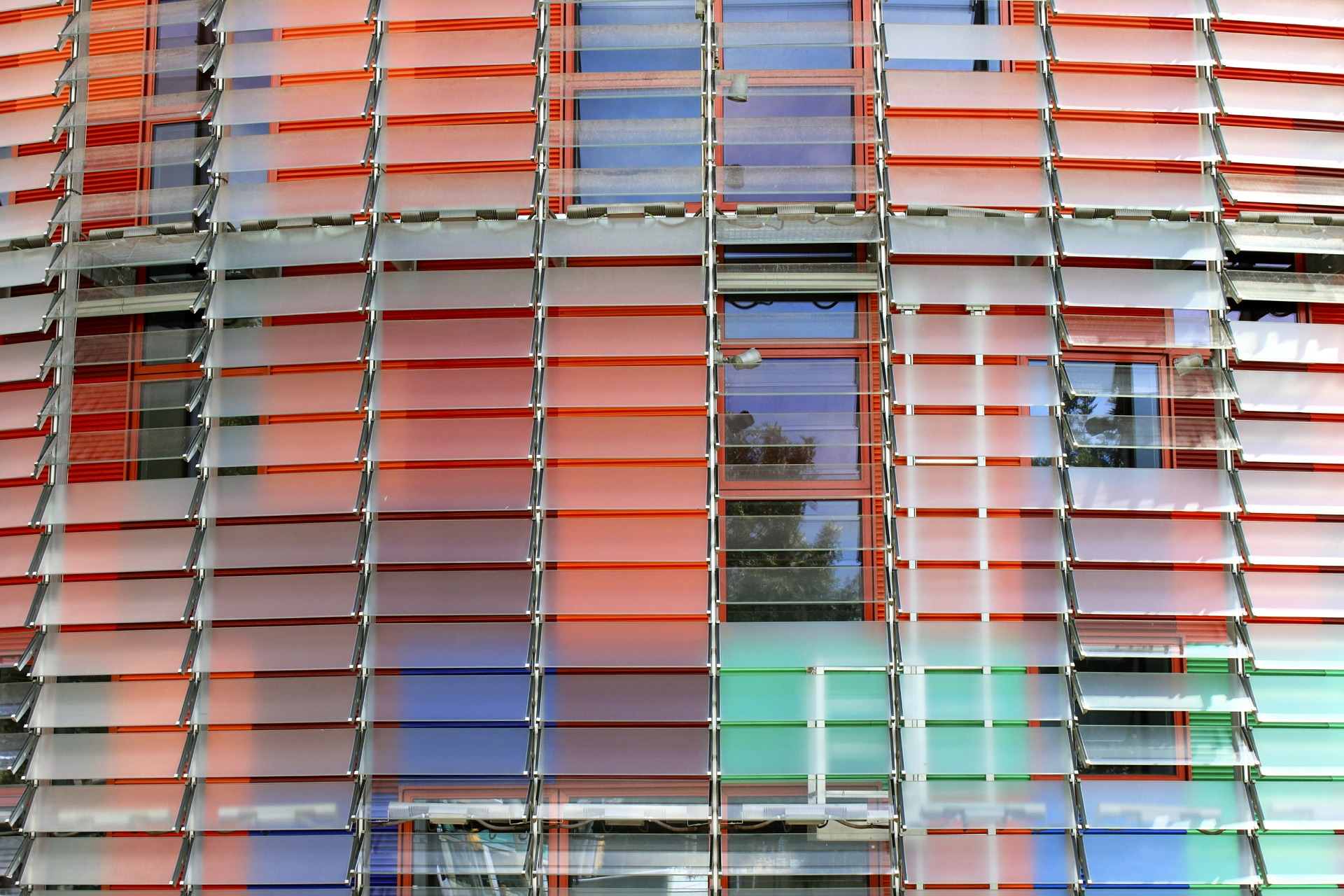 RUAG, a Switzerland-based manufacturer of technologies for the aviation, space and defence industries, needed a clear look into its IT portfolio.
After 15 years of consistent M&A and investments in new technology, their risk management efforts had become increasingly hard to manage as a result of its imprecise inventory of IT assets. In particular, it had collected a total of 17 ERP-like systems and 17 instances of SAP—the combinations of which were significantly muddying attempts to obtain a functional overview of their present and potential IT capacities.
Transparency was needed to enable further activities—and fast.
RUAG's Board of Directors sought to correct this problem by establishing an Enterprise Architecture (EA) practice that could survey and define their operations with practical methods of outreach. It was decided that only a decentralized, "virtual" team of EAs comprised of candidates from across all corporate IT and business divisions would be able to manage this task—one comprised of enough diverse members to make contact with the wide-ranging personnel and technologies underpinning the company's worst-defined but most-required services.
But how would a team separated by geography, business division and job function strategize with one another? And better yet, where would they even store their collected findings—let alone make sense of it all?
Since RUAG's previous attempts at EA failed due to protracted implementation phases, it decided on constructing an IT inventory with pieces that could be assembled using the contributions of those from diverse technical standpoints—stakeholders of all stripes who would be able to provide and benefit from IT knowledge without being blocked by occupational barriers. It needed something that would fit into its existing tool landscape with its open REST API and be structured, top-down, on collaborative principles that matched the Agile expectations of their enterprise.
So the company chose LeanIX's EA Management Tool as the right platform to collaboratively piece together its modern APM project—and these were the results:
Successful creation of a virtual Enterprise Architecture team on one common platform
Decentralized data maintenance of EA landscape
Visualization of technology risks in best-practice reports
Identification of data and application redundancies
Clearly assigned responsibilities across all divisions
So, what makes collaboration with LeanIX so effective?
1. Subscriptions
A LeanIX EA Management Tool makes sure that users who define architectural objects do so intelligibly and on a regular basis. It's the reason why all collaborators can be subscribed to "Fact Sheets"—the name given to the building blocks of information that form the basis of LeanIX reports—to receive instructions and updates from administrators and other EA stakeholders. Whether subscribed as a "Responsible" (a user intended to actively participate in the defining of an object), "Observer" (one required to track the development of the delineation), and "Accountable" (the sole user who must sign-off on its accuracy and completeness), collaborators have clear parameters on how to provide architectural assistance. And if updates start to lag? Well, a variety of push alerts will make sure that quality assurance isn't forgotten.
Subscriptions are available for all Fact Sheets, and every user with admin or member rights can add subscriptions.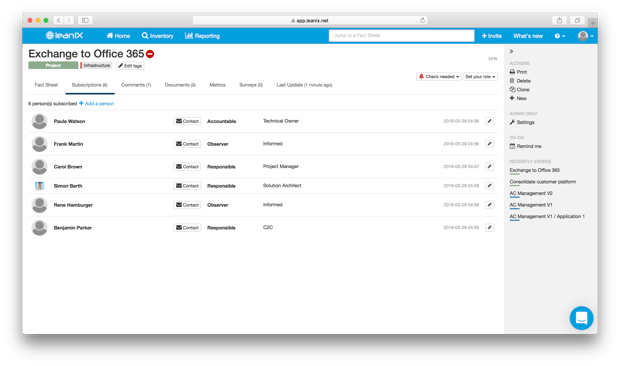 A list of subscribers associated to a LeanIX Fact Sheet.
2. Surveys
LeanIX Surveys are ways to mine data in wildly efficient ways from personnel both inside and outside an enterprise's network. It works like this:
Surveys are designed either from scratch, made using a template, or downloaded from a qualified industry peer.
Requests to answer Surveys are broadcast using emails and shown on the personal "To-Do" panels of users' home screens.
As soon as surveys are run, senders can observe results as they arrive in real-time and on a status page. Even if the survey is still running, users have the option to download findings, pause to make changes, and then resume the questionnaire.
Survey Results arrive directly inside a Fact Sheet. All qualitative information is implemented automatically (and whatever data it replaces is put in backlogs).
Here's a detailed guide on how to best design and conduct EA Surveys.
3. Comments
In order to minimize e-mail traffic and prevent unnecessary phone calls, all Fact Sheets have a dedicated section for comments. Those subscribed to a given Fact Sheet receive notifications of new comments.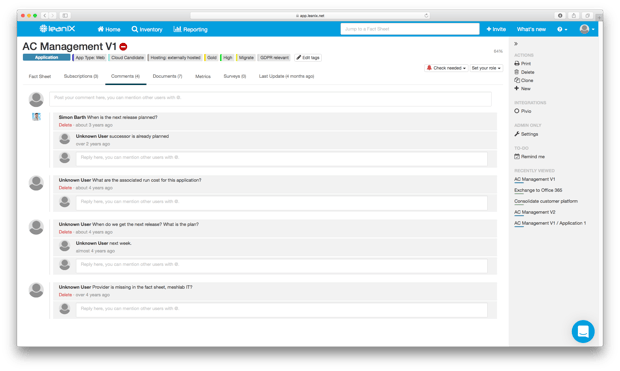 A look at conversations occurring inside the Comments section of a LeanIX Fact Sheet.
4. Out-of-the-box, shareable, and configurable data visualizations
All versions of LeanIX come with ready-made data reports that can be configured to show architectural information relevant to all varieties of stakeholders in incredibly visual formats. These reports can get generated automatically, and each can be viewed in tabular formats in addition to being downloaded and shared as a .PDF or a .PNG.
See which reports are best for specific stakeholders here.
The Long-Lasting Benefits of Collaborative EA Management
A collaboration-based approach to architecture that aligns IT processes to the inputs of all relevant stakeholders is a tell-tale sign of a well-oiled modern enterprise. However, while success stories like RUAG prove that growth does not have to be synonymous with complexity, it does re-iterate the unavoidable truth that change has to be continually managed—especially the shifting ways in which personnel choose to work together.
"A more informed network perspective helps companies to identify the few critical points where improved connectivity creates economic value by cutting through business unit and functional silos, physical distance, organizational hierarchies, and a scarcity of expertise." Robert L. Cross, Roger D. Martin, and Leigh M. Weiss, McKinsey & Company
But looking on the bright side, experts at McKinsey Institute report that the size and varying performance potential of an enterprise isn't actually a good excuse for inferior collaboration models. In particular, the authors show how optimizing communication habits at the structural level have led to new revenue and boosted productivity in companies from disparate industries to achieve the following benefits:
"Validating the effectiveness of networks, sharing good ideas": A petrochemical company that maximized output by collecting jointly-made, relevant ideas for technical improvements.
"Improving the allocation of resources": A financial-services group that developed cost-savings as a result of properly allocating responsibilities to those connected with the maintenance of core business capabilities.
"Improving cross-selling": A leading technology company that improved customer and market responsiveness by becoming better at partnering technical expertise with inefficient sales processes.
"Eliminating inefficiencies": A CIO of a major utility company was able to observe and fully evaluate the collaborative habits of IT staff to define and improve gaps in roles.
As you can see, it all comes down to better connectivity—whether between business processes and their fundamental technologies, employees with their roles within enterprises, needs with reality—and what LeanIX fosters is sustainable and pragmatic ways of doing so by integrating complex networks of IT and personnel with a method that can be practiced by anyone with access to a web browser. And concretely speaking, the results of using architecture to modernize the behaviors of enterprises offers proven cost-savings in the following categories:
Software license optimization

Application retirement
Server optimization
Project rationalization
Data storage optimization
Retiring aged and low-value applications
Eliminating redundancies
Standardizing common technology platforms
Would you like to see if LeanIX can accomplish the architectural needs of your enterprise? We'd be happy to discuss your company's IT priorities during a personalized, 30-minute demo at a time of your choosing. Just hit the button below so we can start the process.
LeanIX offers a Software-as-a-Service (SaaS) for Enterprise Architecture (EA) that enables organizations to make faster, data-driven decisions for their IT landscape. More than 150 leading brands worldwide such as DHL, Merck, Vodafone and Zalando use the innovative tool. Users of LeanIX gain insights on how to organize and leverage their IT landscape to increase competitiveness and innovation going forward. LeanIX addresses the common enterprise predicament that information regarding IT landscapes is missing, outdated, or difficult to analyze. Key use cases include Application Portfolio Management, Technology Risk Management, and Integration Architecture. LeanIX was founded in 2012 by Jörg Beyer and André Christ. The company's headquarter is in Bonn, Germany. A wide network of partners provides support in North America, Europe, and Australia.