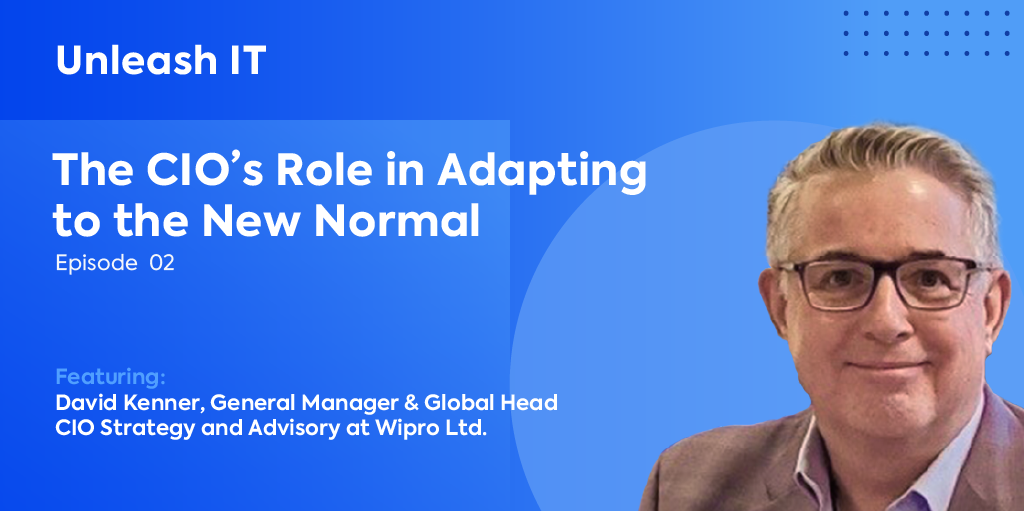 As the world transitions from panic mode to a new normal, the IT community, and in particular, CIOs are faced with unprecedented challenges and "we need it done yesterday" directives.
In Episode 2 of our podcast Unleash IT, we sit down with David Kenner, General Manager & Global Head CIO Strategy and Advisory of Wipro Ltd. Our conversation led to some relevant insights into what it's like to be in an IT role right now. How to transition your organization to a "business-anywhere model" is just the tip of the spear on this episode of Unleash IT.
In this episode, you'll hear about:
The CIO's role as a strategic partner in business planning
Enterprise architecture's place in the IT landscape
Anxiously prioritizing digital transformation, thanks to Covid-19
Here are some sneak peeks from the podcast:
"The role of the CIO in our view is really a partner in the business as the technology strategy becomes the business strategy."
"If you don't have somebody who really has an in-depth understanding of the technology landscape, and somebody who is adept at being able to manage that effectively, their value back to the organization is probably diminished."
— David Kenner, General Manager & Global Head CIO Strategy and Advisory, Wipro Ltd
Listen to the full episode or download it to your favorite player. If you like what you hear, share the podcast on your social networks!
To hear this interview and many more like it, subscribe to the Unleash IT Podcast on Apple Podcasts, on Spotify, or on our website.