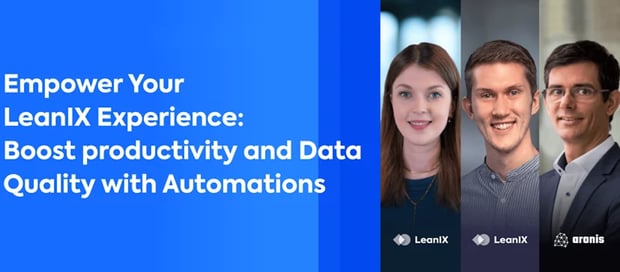 Enterprise architecture automation is vital for achieving the highest productivity and data quality with the least resources. Discover how LeanIX automation can empower your EA function.
On November 7, 2023, LeanIX customers joined a session to learn how to boost productivity and data quality using the automations built into the LeanIX platform. The session was led by three experts in leveraging LeanIX, two of our product specialists, and one of our customers:
Marlene Jung, Senior Product Manager, LeanIX
Simon Uerdingen, Technical Consultant, LeanIX
Thomas Schreiner, Founder, Aronis
Register below to watch the whole session yourself and learn the value of LeanIX automation:
LeanIX: Leveraging The Power Of AI Automation
Enterprise architecture is about aligning your business processes and strategy with your technology. Sometimes that means orchestrating major changes to your organization like digital transformation; but other times, it means synchronizing data, conducting data quality audits, and sending notifications to users.
The more your enterprise architecture management platform can manage these small tasks for you, the more time you will have to focus on the really game-changing projects. That's why enterprise architects are increasingly relying on automations to run small tasks for them while they focus on the big picture.
As we begin to leverage artificial intelligence (AI) and machine learning, and generative AI comes to the fore, these tools are about to become incredibly powerful. Yet, with every company claiming to have an AI tool ready to go, it can be difficult to choose the right path for your organization. [
So, where do you start?
A Choice Of Three Paths To EA Automation
Enterprise architects leveraging the LeanIX platform's automation capabilities to improve data quality have three options available to them:
1 Built-In No-Code Automations
Firstly, the LeanIX platform comes with a set of user-friendly automations that you can set up without any coding knowledge. You can simply configure our built-in automations to carry out actions when triggered by events that occur within your LeanIX application Fact Sheets.
This is as simple as choosing from a list of triggers ("when"), a list of other criteria ("if"), and a set of actions to perform ("then"). This easy process can create powerful and useful automations, for example:
When a Fact Sheet is created, if it is new, then add the creator as a subscriber
When a Fact Sheet is set for approval, if the creator confirms they have taken all the correct steps to assure data quality, then automatically approve the Fact Sheet
When a Fact Sheet's data quality is compromised, if the Fact Sheet is for a mission critical application, then create an action for a dedicated team to fix it
2 Out-Of-The-Box Automation Store
Need an automation that's not already built in? Simply access some ready-made code from our LeanIX Automation Platform store and empower your enterprise architecture with useful extra tools.
Accessing our partner product, you can access a Python scripting module that automates the creation of your code. With the support of full, online documentation, you don't have to be an expert to achieve results with basic coding using this tool.
3 Custom DIY Automations
Finally, if you want to do something more advanced, the LeanIX platform supports custom-coded automations that you can build yourself. With our platform and your ingenuity, you can achieve anything.
What Can LeanIX Automations Do?
It's all very well to offer options, but enterprise architects need results from their automations. So, what can the powerful automations in the LeanIX platform do?
In the introduction to our webinar, Thomas gave a list of the automations that you can create with the LeanIX platform and that Aronis has used. Using LeanIX Automations, you can:
Automatically assign a set of actions to be performed when a new Fact Sheet is created
Calculate fields like KPIs or assessments
Synchronize your data to and from third-party systems
Automatically manage your data quality
Send notifications when data quality is low
Ensure consistent actions are taken to maintain relationships
Derive data from other sources
Automatically manage subscriptions, for example removing users who have left the company
...and much more...
And Generative AI Too
As impressive as these capabilities are, the future is even brighter for the automation capabilities of the LeanIX platform. All LeanIX EAM users now have the added advantage of our built-in AI Assistant.
Users are already harnessing the capabilities of our AI Assistant to:
automate their documentation procedures
speed up report generation
explore future technologies
furnish architectural recommendations
simplify the utilization of enterprise architecture tools for business users
Find Out More About LeanIX Automations
Using our enterprise architecture management platform's automations, you can take simple tasks off your hands so you can focus on the important work, and ensure your data quality is monitored at all times. This is a vital capability for enterprise architects who are always being asked to do more with less.
To find out more about using LeanIX automations to support your enterprise architecture practice, watch the full webinar on BrightTALK: