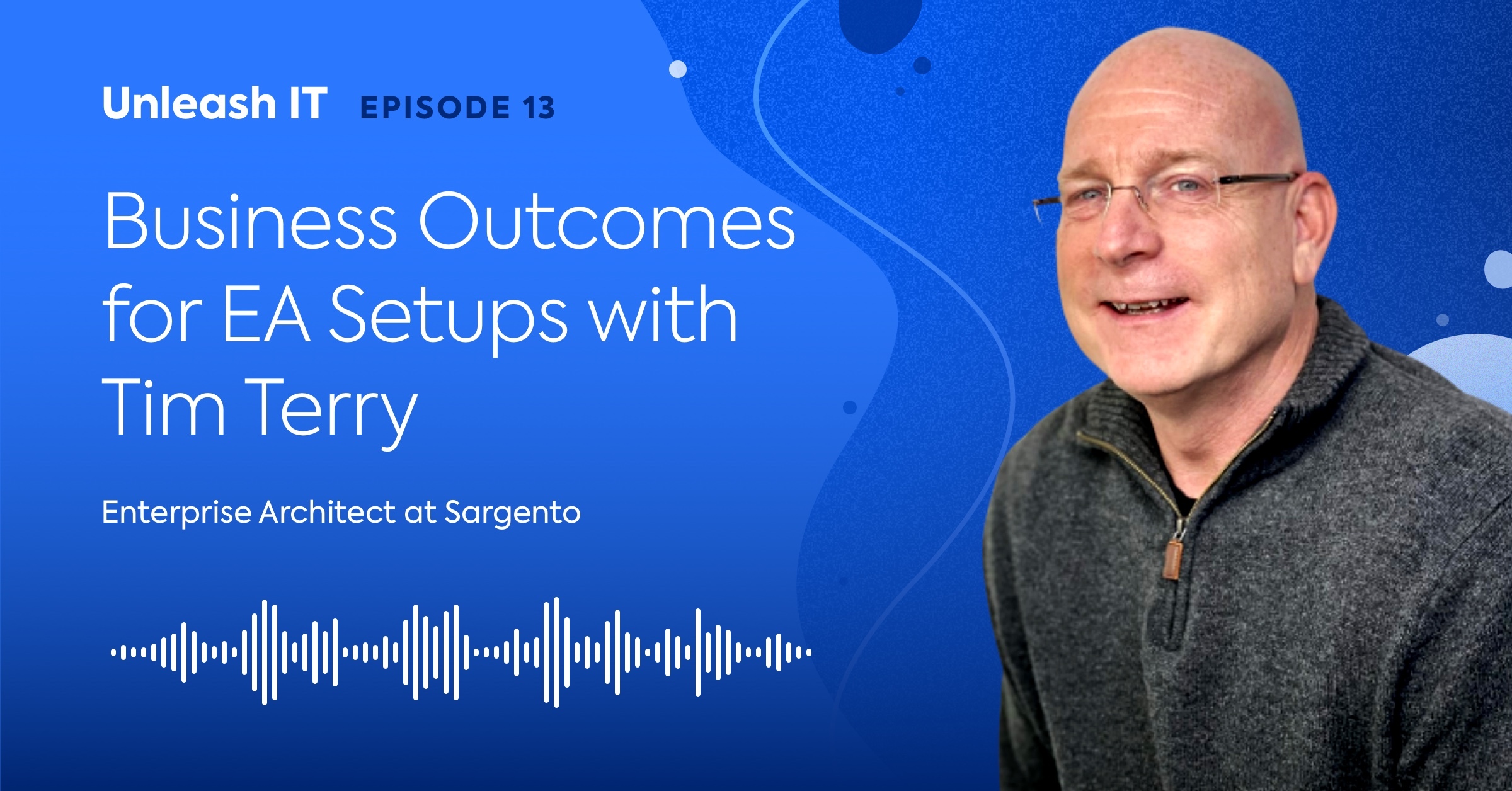 It's generally better to start from scratch than to retrofit when starting an enterprise architecture (EA) practice. But how do you build an entire setup from the ground up? In today's episode, we speak with Tim Terry, Enterprise Architect at Sargento, about the ideal setup of an EA practice.
Tim is pioneering what EA looks like at Sargento, a family-owned, leading American brand in cheese, because he is drawn to building new things — and since innovation is a core component of his company culture, he is a perfect fit in his role.
"What is the strategy of the business, and how does enterprise architecture enable that?" — Tim Terry, Enterprise Architect at Sargento
Charting the path to a perfect EA setup
Rather than delivering only diagrams, rules, frameworks, and governance, Tim sought a business outcome-focused approach for his EA program. Above all else, he and his team set out to never become an "ivory tower" or a bottleneck to innovation.
The EA program at Sargento was established with two things in mind:
Business capability mapping
Functional fit assessments
Once Tim began to understand the application infrastructure and its various functional fit, he conducted a survey of the overall complexity of the application landscape. These assessments took place across different areas of the organization, and as the study progressed, Tim was able to envision current and future business outcomes for Sargento.
But to measure and record this data, Tim built a tool that his team could use to approach the business and document its business capabilities, processes, applications, and various data sets. With this tool, he could assess the maturity of the company's capabilities and prioritize improvements with Sargento roadmaps.
"How do we become more nimble and agile and responsive to changes in market conditions — to the changes to technology that became available to us?" — Tim Terry
Business cooperation and buy-in
Tim cites the buy-in from his business colleagues and Sargento business partners as two key elements of his successful EA practice. Since both stakeholder groups are essential parts of the company's strategy and architecture team, he created joint workshops to align the growth of the EA program to their expectations.
Collaboration also played a factor in Tim's choice of tooling. In particular, since the EA tool at Sargento was not to be owned by one person or one team, he selected a tool allowing those within and outside the IT department to maintain critical assets cooperatively. Or, as Tim explains, a "living, breathing way of managing" the business and its core capabilities.
Continuous transformation
In response to host André Christ's statements on the continuous and iterative nature of today's digital transformation initiatives, Tim agreed that digital transformations are no longer just one-time events. Strategies become outdated faster than ever before, he explained, and to better prepare for the inevitable fluctuations in technologies and markets, businesses must be responsive to new solutions.
"Does it allow me to innovate, and does it allow me to differentiate, and does it allow me to have my people and areas of business move from being busy to being insightful and productive?" — Tim Terry
Tim says that being "nimble" and "agile" are crucial skills for groups like Sargento — as is speed-to-value, a key metric when investing time and money into potentially long-lasting digital transformation initiatives. Rather than wait upwards of 36 months to see the benefits of an initiative, businesses want see ROI early and often.
These expectations make it necessary for today's architects and IT leaders to run innovation and cost-saving activities in parallel. It's a balancing act that can only be executed, Tim believes, by evolving the practice of application rationalization itself. In his view, as opposed to solely minimizing technical debt and exploring consolidation opportunities, IT assets must be evaluated based on whether they are empowering a business — to move from "being busy" to "being productive".
"Does this application have the ability to support a future-state that is automated, integrated, and insightful?" he asks. "Does it know and understand user behaviors? This podcast is called Unleash IT — so, how do we unleash the workforce to be more productive and insightful instead of just being busy all the time?"
---
Connect with Tim on LinkedIn. Thanks for joining us!
To hear this interview and many more like it, subscribe to the Unleash IT Podcast on Apple Podcasts, Spotify, or our website.