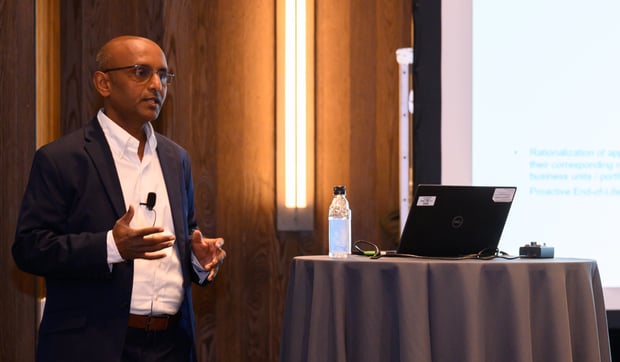 To communicate with business leaders, enterprise architects need to tie data to business value.
That was the starting point – and primary message – when Nick Tullio, Director of Global Digital Operations at Carrier, and Chandra Venkat, Associate Director of Enterprise took the stage to describe what they have accomplished with LeanIX over the past year.
Carrier is a venerable brand tracing its origins back to 1902 when Willis Carrier invented the first modern air-conditioning system. Spun out from United Technologies two years ago, Carrier today has four business units (HVAC (residential and commercial), refrigeration, and fire and security), more than 80 brands, over 100 new products, and 58,000+ employees.
Since the spin-off, Nick explained, the digital operations team has worked to address several challenges. First, they have worked to bring clarity to any confusion around operational roles and responsibilities, how applications fit into the IT portfolio, how the organization's needs have evolved, and how best to model these needs.
With so many brands, regions, and products, there is a lot of duplication in Carrier's IT landscape. Addressing this redundancy was job number two. Related to this was the desire to make operations at Carrier more efficient, which meant not only reducing redundancy, but also ensuring the seamless collection and presentation of IT data.
Finally, on this last point, the team's overarching goal was to provide business stakeholders with the information and visualizations needed to make decisions. As Chandra explained during the presentation, business leaders today use LeanIX data as the basis for their discussions about the business, testimony to the success the EA and digital teams at Carrier have achieved so far.
Driving Measurable Business Results
To get the full picture of what Nick, Chandra, and team have accomplished thus far, you should watch their presentation. Why? Because the results are impressive:
Creation of a single source of truth for IT inventory
Identification of hundreds of applications for rationalization (275+), cloud modernization (200+), and retirement due to obsolescence (200+)
Over a $1 million reduction in support costs
Multiple Power BI dashboards for leadership
A roadmap for future readiness
Creating a single source of truth was the basis for everything that followed. Making LeanIX that single source of truth involved several steps, including the creation of an "Application Services" Fact Sheet that closely aligned with CMDB/Snow modeling best practices (Business Service -> Business Application -> Application Services -> Tech Stack).
Consolidating this information in LeanIX allowed Carrier to map their application landscape in terms of who consumes these resources across multiple legal entities and multiple regions. This mapping allowed them to connect the dots between IT and the business value IT delivers (and, by the way, also enabled more granular chargeback from IT to business units).
The information collected in LeanIX also made it possible for Carrier to map the tech stack landscape by tying applications to the servers hosting them. This in turn mad it possible for the team to focus on reducing tech debt as well as rationalizing and consolidating applications. For example, it allowed the organization to think about things like, "If we modernize a particular application by moving it to the cloud, could we repurpose the old servers for something like backup or DR?"
Carrier can ask and answer questions like this because leadership has access to the relevant data. This is critical.
Giving the C-Suite What It Wants
EA has to help business unit heads and the C-suite make decisions, which calls for curating and presenting information in the best way possible.
Chandra's philosophy in this regard is fairly straightforward. He understands, first and foremost, that leaders want to make decisions that make them look good. To help them do that, you need to show them where they are, where they are going, and what the pros and cons of different options are.
The catch is, you have to show them in a succinct way. For this reason, Chandra focuses on data, not decks. He also understands that data needs to tell a story.
Chandra started by leveraging LeanIX's OOB reports to help leaders think about the business. Specifically, he sat down with leaders and went through business capability reports with the aim of ensuring that business capability maps reflected how the business actually thought about and defined capabilities.
As the team mapped more and more of the IT landscape, Chandra leveraged LeanIX's Power BI integration ("I used Power BI left and right!") to create single dashboard views for leadership. These dashboards became a powerful tool for analyzing the business and making decisions to improve it.
For example, the dashboards allowed conversations around rationalization ("Why do we have this data in Lotus Notes? What is that costing us? Couldn't we move this to Salesforce?") and modernization ("This application is a candidate for cloud migration, but it will need to be transformed for us to maximize cost savings. Is the investment worth it?")
And when EA leads conversations like this with the business, it reveals its true power as a strategic driver of change.
It All Starts with Data
To reiterate, the starting point of this journey was creating a single source of truth covering the IT landscape at Carrier. Because this data lived in different places, creating the single source of truth was a non-trivial undertaking. What ultimately made it possible was a focus on data governance.
Sometimes "governance" can seem like a bad word and remind people too much of the old concept of "EA as cop." Governance at Carrier, however, focuses enabling collaboration. Collaboration demands that everyone trusts the data. Governance makes it trustable.
In other words, as Chandra put it, "It's all about governing the right thing."
Making LeanIX the single source of truth at Carrier involved pulling all applications into LeanIX and then using LeanIX to populate the CMDB (in part, as mentioned, by leveraging a new Fact Sheet that mirrored the appropriate data model). Since some applications live in the cloud, this also meant making sure that every application was identified by its LeanIX ID, which Chandra referred to as its "Social Security Number."
As simple as these steps may sound, they have had a profound impact. First, they have given leadership a comprehensive overview of their application and tech stack landscape. Second, they created a common language around these landscapes "spoken everywhere you go," as Chandra says. Finally, they help leadership make informed decisions that improve the business.
And that, in a word, is how EA drives business value.
Watch the entire Carrier presentation from LeanIX Connect Summit Americas.