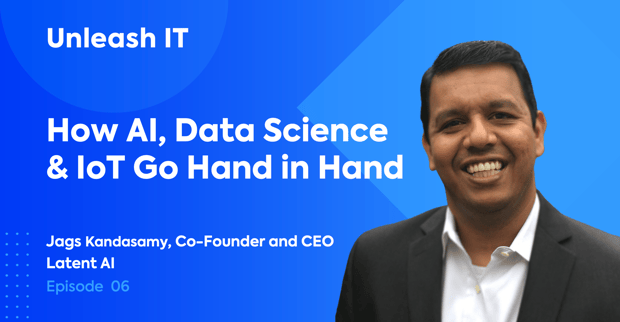 To say that the internet has exploded is a vast understatement. Today, we generate 22 exabytes every four hours — the size of the entire Internet in 2002. Yet, we only use 5-10% of the data we collect.
In episode six of our podcast #UnleashIT, Jags Kandasamy, Co-founder and CEO at Latent AI, explained the future of data science and the explosion of IoT.
In this episode, you will learn about:
Making all devices intelligent — even when offline
How to become a "data hoarder"
Whether your organization needs an AI ops role
What constitutes true digital transformation
Here are some key lines from the episode:
"All of the Internet was only 22 exabytes in 2002. Today we generate that amount of data in 4 hours."

"Data scientists need to be much more vertically aligned. They need to understand which business that they are supporting."

- Jags Kandasamy
Listen to the full episode of the informative conversation below and if you like what you hear, be sure to share it on your own social networks!
To hear this interview and many more like it, subscribe to the Unleash IT Podcast on Apple Podcasts, Spotify, or our website.