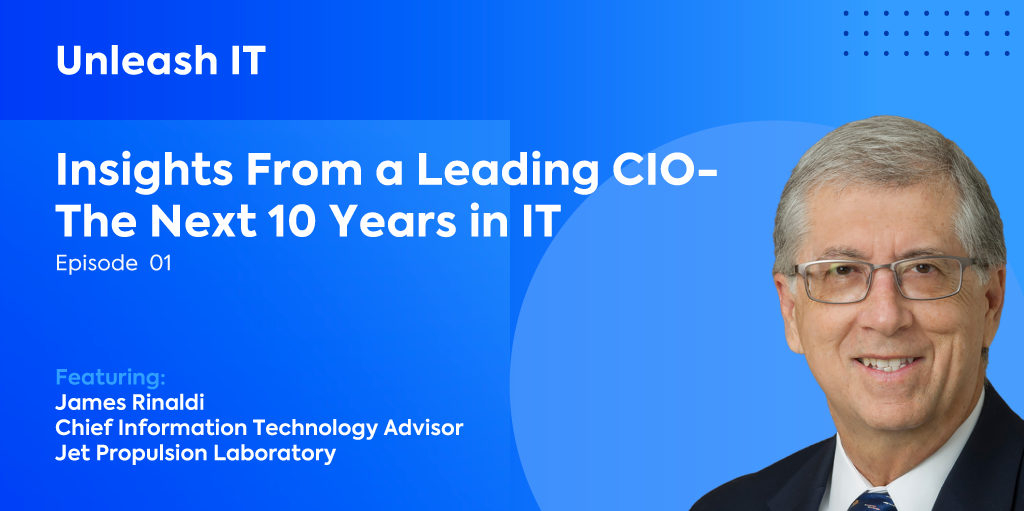 James Rinaldi, Chief Information Technology Advisor, Jet Propulsion Laboratories joins us for a fascinating walk through his commanding career heading up IT for Marriott International, the Internal Revenue Service, U.S. Food & Drug Administration, and JPL. His current role at JPL gives James a new perspective.
In the first episode of our podcast Unleash IT, he shares his projections for where the tech is headed, as well as some impactful leadership insights that CIOs both seasoned and new won't want to miss.
In this episode, we discussed:
Where IT is heading for the 2025-2030 timeframe
How the fluid nature of IT displays itself in an IT organizational structure

Leadership reflection and advice for new CIOs
Here are some snippets from the discussion:
"If you let legacy age without frequent updates, the cost of upgrading that legacy becomes phenomenally high. Legacy is the killer of any IT organization."
"Different leadership styles can really help, especially for new CIOs. Learning how to communicate both written and verbally, but also just socially, to interact so that you fit in with that C-suite, versus looking at the tech guy that got promoted. "
— James Rinaldi, Chief Information Technology Advisor, JPL
Download and listen to the full episode. If you like what you hear, share it on your social networks!
To hear this interview and many more like it, subscribe to the Unleash IT Podcast on Apple Podcasts, on Spotify, or on our website.