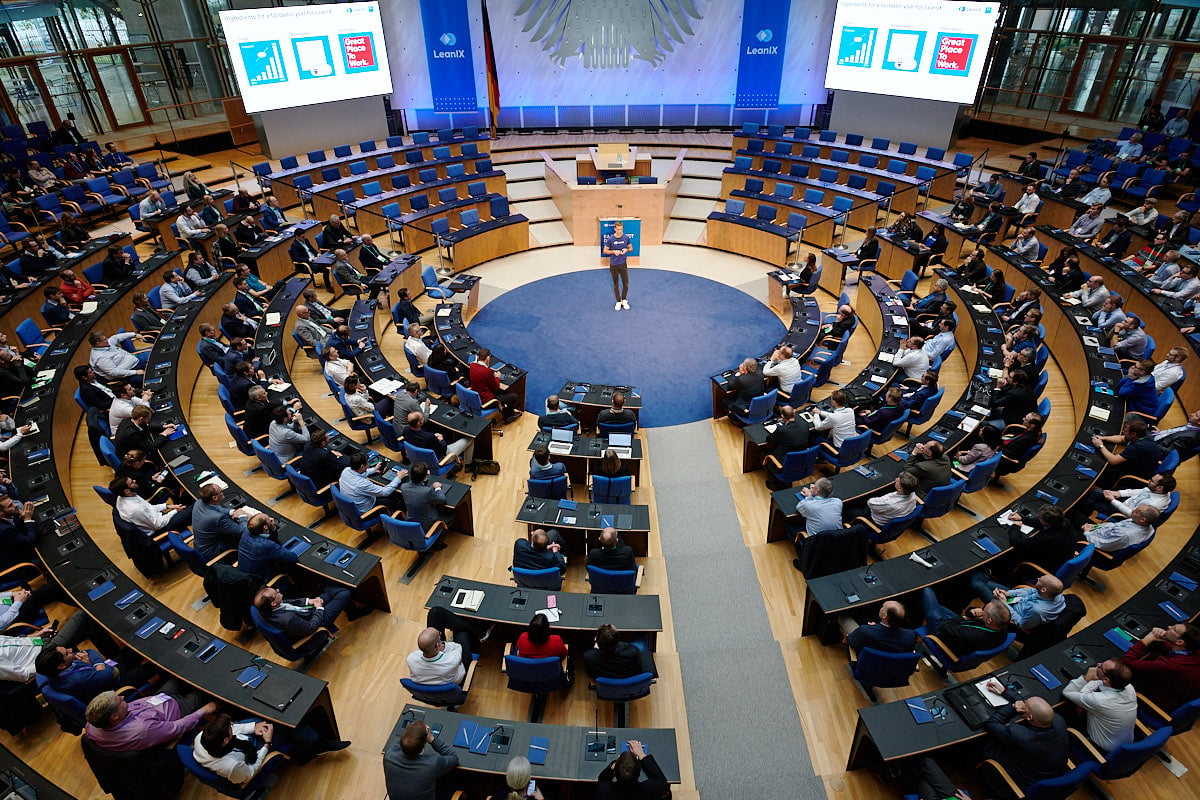 At a glance:
EA Connect Days US (*Virtual Conference)
EA Connect Days EU

Gartner EA Summits (U.S.A. and U.K.)

Gartner IT Symposium/ITxpo 2020
EAMkon 2020
Lean EAM Konferenz
Forrester Digital Transformation Summit (U.S.A.)
IRM Enterprise Architecture Conference Europe
IT Enterprise Architecture Vienna
Rethink! IT
StrategyDays
---
If your 2020 calendar hasn't already been hijacked by skills workshops and annual retreats, there's an abundance of Enterprise Architecture events planned this year that might interest you and your colleagues.
Details on all are below...
Each is a must-attend event for EA professionals wanting to fortify the talents required for the future needs of their role and organizations. It's a list that gets bigger every year, but if you get to travel to any one of them, make sure to say hello to one of our LeanIX reps.
If not, we'll just have to wait to connect with you at either our US EA Connect Day (May 20) or EU EA Connect Day (Sept 2-3).
Return here for a constantly updated list of EA events worldwide.
May 20 (online event)
LeanIX's US EA Connect Day, one of North America's leading Enterprise Architecture conferences, is being held online this year and is free for all attendees. EA Connect Day will bring together the world's top enterprise architects, cloud architects, CIOs and IT leaders to discuss, deliberate and resolve the most significant topics and challenges of EA.
Who will you network with?
In addition to developers and customer success agents from LeanIX, attendees can be certain to meet categories of following:
Enterprise architect
IT solutions architect
Cloud architect
CIO
CTO
Data scientist
September 2 - 3 (Bonn, Germany)
LeanIX's EA Connect Days will again touch down in Bonn, Germany this November. Adidas, Bosch, TUI and Zalando are but few of the companies who've previously shared their secrets to success at the event—and this year an even larger turnout has been promised plus expanded participation from the global Enterprise Architecture community.
Who will you network with?
In addition to the developers of LeanIX itself, EA Connect Days 2019 collects cross-industry specialists in IT modernization plus all architectural decision-makers with the following titles:
---
February 27 (Vienna, Austria)
The primary objective of this conference is to acquire compact, user-oriented knowledge of Enterprise Architecture Management and all associated instruments based on current challenges in corporate practices.
Who will you network with?
The target audience for the one-day is listed as:
Head of EAM, IT management, CIOs and CDOs

Enterprise IT architects, application architects, data architects

Solution and system architects

Business architects and department heads

Specialists and managers who take on planning and control functions in IT management
March 10 - 11 (Cologne, Germany)
The intersection of IT and corporate strategy, new technologies and the requirements for the role of a CDO will be the basis for discussion at the business factors StrategyDays IT. Presentations, workshops and countless talks on the subject of digital transformation and business process management.
Who will you network with?
StrategyDays offers an "icebreaker" evening the night before the conference, but in case you can't attend, professionals with the following titles can be expected during the event itself:
CDO
CIO
CTO
Data scientist
Cloud architect

Suppliers and users from IT controlling
May 18 - 19 (Orlando, U.S.A.)
Cancelled
Gartner's finger is always on the pulse of trends in Enterprise Architecture and Agile. On May 18 - 19 you have a chance to receive insights from 80+ research-driven sessions and 50+ exhibitors on key organizational EA use cases. Special presentations are to be conducted by New York Times writer Jake Knapp and just about every distinguished expert from Gartner.
Who will you network with?
All varieties of Enterprise Architects anArcd Innovation & Strategy Leaders with titles comprising but not limited to:
Chief enterprise architect
CTO
Head of IT strategy & planning
Business architect
IT architect
June 4 - 5 (London, U.K.)
Cancelled
Global research and advisory firm Forrester will put on a two-day knowledge exchange on the themes of digital transformation and emerging technologies. Forrester's Technology & Innovation Forums bring customer, operational and technology considerations together to provide clearer views on how to think about customer dynamics, technology choices and operational implications.
Who will you network with?
Technology leaders and line-of-business leaders with digital business transformation priorities in areas like:
Digital transformation
Data analytics and management
Digital transformation in the supply chain
Digital product management
App development and design
June 10 - 11 (London, U.K.)
Gartner's second EA summit of 2020 will continue the conversations begun in Orlando on the EA techniques and ideas of tomorrow. It similarly promises a roster of formidable guest speakers—many of which analysts from Gartner itself—who will lead attendees in practical discussions and workshops connected to modern EA leadership.
Who will you network with?
As in Orlando, guests will be able to meet enterprise architects and innovation and strategy leaders with titles comprising but not limited to:
Chief enterprise architect
CTO
Head of IT strategy & planning
Business architect
IT architect
June 16 - 18 (Stuttgart, Germany)
This year's EAMKon—a conference dedicated to Enterprise Architecture Management—will again take place in Stuttgart. Esteemed Professor Florian Matthes from the Technical University of Munich is once more set to hold workshops and moderate the event.
Who will you network with?
A top-class mix of EAM strategists with titles ranging from:
Enterprise architect
IT solutions architect
CIO
CTO
Data scientist
September 30 - October 1 (Berlin, Germany)
Strategy, AI, transformation, IoT: each presents significant opportunities and complexities for IT decision-makers and CIOs. Rethink! IT is billed as a chance to "interactively discuss" these subjects while also reviewing the latest developments and approaches as well as innovative technologies and trends in the area of ​​enterprise IT & digital transformation."
Who will you network with?
The event is a networking platform for top-level professionals with the following titles:
October 18 - 20 (Orlando, U.S.A.)
Just about everything affecting the professions of CIOs and senior IT executives will be reviewed this June at the Gartner Symposium/ITxpo 2020 in Orlando. Prepare for expert advice and solutions to the opportunities inherent in the fields of artificial intelligence, cybersecurity, and modern data analytics.
Who will you network with?
The Sympsoium/ITxpo will get you face-to-face with key drivers of technology from industries like:
Banking Investment Services
Education
Manufacturing
Oil & Gas
Retail
October 26 - 29 (London, U.K.)
A conference equally dedicated to enterprise architecture and BPM. This event offers unique insights into how the strategies of both disciplines can work together. For those interested, the event includes a track devoted to Business Architecture.
Who will you network with?
October 28 (Munich, Germany)
Agile Enterprise Architecture and Innovation Management will be up for discussion at this year's EAM conference hosted by Lean 42. There are many specifics still to be revealed about this year's event, but it is a good chance to hopefully preview the trends and EAM standards of tomorrow.
Who will you network with?
In between special presentations and workshops, you'll have chances to network with breeds of the following:
CIO
EA
Solution Architect
Representatives of companies either new to or seeking better EAM
November 3 - 4 (Chicago, U.S.A.)
The U.S. stop of the Forrester Digital Transformation & Innovation 2019 in Chicago is focused on helping business take on the mantle of innovation leaders. That's quite a big task, but considering that the event is being hosted by Forrester and its bevy of seasoned tech analysts, odds are no attendee will walk away lacking solutions.
Who will you network with?
Technology leaders and line-of-business leaders with digital business transformation priorities in areas like:
Digital transformation
Data analytics and management
Digital transformation in the supply chain
Digital product management
App development and design