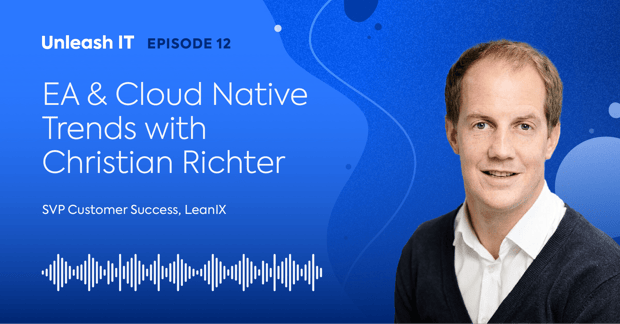 In the world of enterprise architecture, there needs to be a clear understanding of what the customer requires to get a competitive edge.
In this episode of Unleash IT, host André Christ speaks with Christian Richter, LeanIX Senior Vice President of Customer Success. Christian, who has onboarded over 250 customers with his team, shares with us how recent trends will affect customers in the architecture and cloud native space.
"The as-is architecture is the starting point in an enterprise architecture journey and maturing enterprise architecture practice." — Christian Richter
Top 5 Trends
Within the last several months, here are what customers have been focusing on most:
Application Rationalization. This is a typical use case for creating value and having impact on the bottom line.
Strategy and business objectives mapping. This means building the bridge between business and IT to create a better understanding of both sides.
To-be architecture. Customers are focusing on to-be architecture rather than as-is architecture by laying out scenarios.
Automated discovery. For some time, enterprise architecture has been a rather manual effort, but now, tools can be integrated into an ecosystem where automated discovery plays a crucial role.
Performance. This is all about usability and creating a good experience for users who are working with an EA tool.
Shortly after the pandemic started, application rationalization became the major use case for a lot of customers. There was a need for companies to realize short-term cost reduction with a high pressure on the cost side. Customers began to evaluate the whole application portfolio in a structured process, which resulted in more efficient application rationalization.
The Agenda for Architects
Business continuity management has become a major topic, and enterprise architects have a seat at the table in those decisions. Due to the need for adaptable service management tools, LeanIX offers customers a self-service portal - a mechanism to show the repository within LeanIX to a broader audience in an easily accessible format.
EA is not only about looking at the assets, but about understanding how to translate strategy and map business objectives. For every Enterprise Architect, business capability is a well-known concept.
About a year ago, Christian saw in the customer base that customers were trying to extend the metamodel towards business objectives and strategies. Since then, LeanIX has launched the business transformation module, productizing the ideas and input that customers have.
So far, 10% of the customer base is already using this new functionality in their production or sandbox environment — with standout reviews.
"We believe coming up with better support from our end will make the job easier for all of our customers." — Christian Richter
The Value of To-Be Architecture
As-is architecture is the starting point in an enterprise architecture journey for building a solid foundation. But mature customers are focusing on how the landscape will develop. To-be architecture is definitely a nonlinear route. There are multiple, partly conflicting scenarios and plans that need to be discussed, compared, and evaluated.
Here are a few items to consider in the to-be architecture:
Cloud transformation: moving from a data center-centric world into a cloud-centric world
ERP transformations
Make or buy decisions for certain applications and platforms
S/4HANA transformation
Monoliths, SAP dependencies, and more
In terms of urgency, a lot of these issues should be discussed and decided sooner rather than later. There's no question that architecture management is highly relevant and that architects need to keep track of all updates and changes made to the landscape.
The Appeal of Automated Discovery
The ecosystem approach to automated discovery means that the tool should be an information hub between several IT disciplines.
From a user perspective, you don't want manual or duplicate data inputs in the system but rather benefit from external data sources. This is where automated discovery and integration is crucial.
Over 25% of LeanIX customers already integrate with an external solution. Roughly one third of customers are using EA to follow the ecosystem approach.
Bottom line: with integration API, complexity is minimized. Everyone wins.
"With the integration API, the complexity is minimized because the developer doesn't have to understand the LeanIX data model." — Christian Richter
Performance and Usability
Christian stated that his primary agenda is to have a great user experience for customers in place.
"As a company, we are building our market position on high usability on collaboration on the ecosystem approach, and this requires a high performance system," he said.
Navigation has to be smooth, ports have to open fast, and queries have to deliver results easily and quickly.
This point of performance and usability unites all the other trends. Automated discovery means getting more data in from external sources. Complex to-be architecture calculations require complex dependencies that are mapped out. To execute these calculations, the performance is challenged.
To ensure a smooth user experience, the application landscape needs to be improved, both in features and in speed.
"Performance is a topic that will keep us busy in 2021," Christian said.
To hear this interview and many more like it, subscribe to the Unleash IT Podcast on Apple Podcasts, Spotify, or our website.