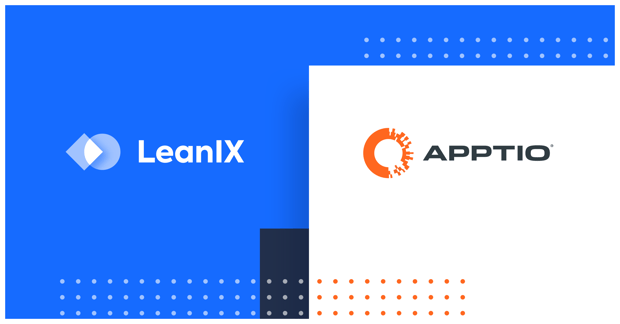 The LeanIX-Apptio base integration — an out-of-the-box connector that links LeanIX's EA Suite to Apptio's IT Financial Management (ITFM) solution — was released today at the virtual U.S. EA Connect Day. Offering end-to-end transparency for precise understandings on the costs of IT architectural developments, the link between EA and ITFM supports a variety of use cases such as application rationalization and cloud transformation.
LeanIX is Apptio's first EA partner, and everything you need to know about the partnership and the integration itself can be found in our latest white paper on the subject: "Integrate IT Financial Management and Enterprise Architecture."
Two platforms, one solution
The integration empowers stakeholders at all levels of the organization to make more data-driven decisions about their IT investments by uniting their company's technology business management (TBM) and enterprise architecture framework. Users can unlock the full potential of their IT data by syncing it to Apptio to reveal the true financial impact of their IT landscape. In turn, as a result of total cost transparency, more pathways for cross-departmental collaboration can be established as well as a shared language for discussing deployed technologies.
Here's a quick breakdown of the features: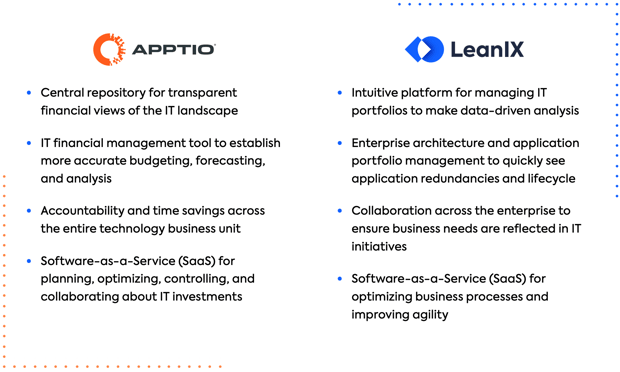 How the LeanIX-Apptio integration works
Once IT data from the LeanIX instance has been synced to Apptio, calculations — whether general (e.g., OpEx, CapEx, total cost of ownership) or application-specific (e.g., application run costs, application development costs, application cost savings) — are paired to Fact Sheets and incorporated into the overall reporting capabilities. With an advanced version of the LeanIX-Apptio integration set to arrive later in 2020, the now available base integration creates a holistic link between business, IT, and finance using periodic data pulls to export information from LeanIX to Apptio with the LeanIX Integration
Among other items, configuration options are available to select which Fact Sheets, relations, and attributes are exported.
More information
There's plenty to see and discuss about the LeanIX-Apptio integration. If you would like to request a personal demonstration, please reach out to us here: info@leanix.net. Depending on your individual requirements and your calendar, we can create a demonstration customized to your specific needs.