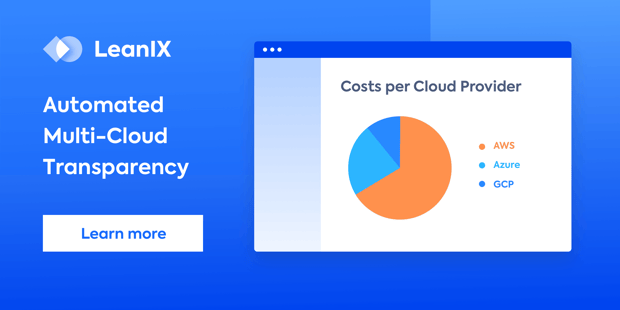 The 2019 LeanIX EA Connect Days kicked off today in grand style. After a keynote presentation on the "burnout epidemic" by Bruce Daisley, VP EMEA at Twitter and host of the Eat Sleep Work Repeat podcast, LeanIX CEO André Christ took the stage to share his company's roadmap for the year ahead—a moment each of the event's 450+ attendees had been anticipating.
"Growth enables opportunity," said André. "As LeanIX expands, we keep receiving more chances to develop what customers need for their own innovation efforts. As such, we are proud to announce our first new product since we started in 2012, one dedicated to helping companies embrace a world increasingly being run on containerized applications."
And with that being said, he introduced the audience to the LeanIX Cloud Native Suite.
LeanIX Cloud Native Suite
We extended our enterprise architecture capabilities with the launch of the LeanIX Cloud Native Suite for managing multi-cloud environments. The suite is available now with a module currently focused on Cloud Intelligence to deliver control over multi-cloud environments and create operational efficiencies for dynamic workloads.
For enterprise architects, the tool lets you strategically monitor and plan your digital transformation. The LeanIX Cloud Native Suite will help business and IT leaders answer the following questions as they invest heavily in cloud transformation:
What is deployed?
What cloud components are in use?
Which services are consumed from which hyperscaler (AWS, Azure, Google Cloud Provider) and how do they relate to business applications?
Where is it deployed?
Which data centers are used from which hyperscaler?
Which types of cloud components are running where?
Who is responsible?
Which organization, accounts subscriptions or resource groups are in use?
Who is responsible for them?
Is it secure and compliant?
Do some cloud component violate security, availability, performance or other best practices?
Are all internal governance rules met (e.g., correct tagging)?
How much does it cost?
What are hotspots for cloud spend?
How do they relate to the business context?
"Over the past seven years, we've seen a significant shift in our customers' cloud maturity," said André. Every single brand we work with is now cloud-enabled in some way—whether through a single, web-based application deployment or a full, multi-year migration to a hyper-scale environment. The LeanIX Cloud Native Suite automatically discovers all cloud components and clusters to provide a real-time overview for everyone. This compelling view equips companies with the means to benefit from a well-governed and optimally-consumed cloud infrastructure."
Features of the Cloud Intelligence Module
Up-to-date multi-cloud overviews
Enhanced cloud portfolio analysis and management over deployed applications, Microservices, Tech Stacks, and Data Objects from across all cloud providers.
Cost optimization hotspots
Portfolio-level cost management integrated across all cloud deployments to access real-time costs on current cloud deployments and organized into architectural constituents.
Risk mitigation
Mechanisms to identify cloud components that violate security, availability, and performance rules to ensure internal governance requirements are met.
What else was launched?
André also unveiled the following announcements which will be discussed in more detail in the coming days:
OEM partnership with Cloudockit
New pricing for the EA Suite (EAS)
Professional services organization
2020 product roadmap themes