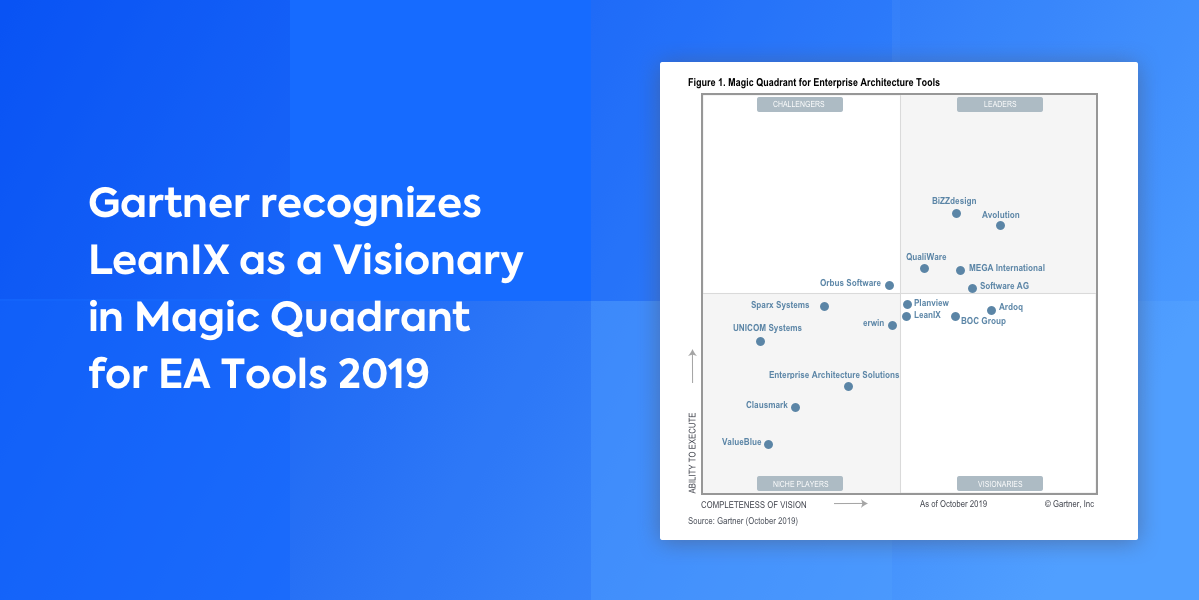 LeanIX's data-driven approach to Enterprise Architecture and ability to lead organizations through the lifecycle of digital transformation have been featured as key strengths by Gartner in its 2019 Magic Quadrant for Enterprise Architecture Tools. In particular, LeanIX is positioned as a 'Visionary' for its business-outcome-driven approach to enterprise architecture.
Gartner summarizes the company's core strengths as:
Market Understanding
LeanIX helps large organizations face challenges that range from identifying cloud-ready applications to managing data that has proliferated as a result of the Internet of Things. Its functionality is especially adept at helping organizations surpass traditional, or "heritage", approaches to Enterprise Architecture.
Market Responsiveness/Record
LeanIX is attuned to the needs of its users. Of note, it has put tremendous focus on the EA tool's overall usability and making sure that licensing issues never prevent its clients from utilizing the product. LeanIX has even created a heatmap to instantly reveal which technologies are impacted by poor data quality and to discover ways to improve it.
Marketing Strategy
LeanIX engages clients from across numerous channels and uses their feedback to strengthen its product. One of the most notable examples of its constant customer outreach is its "LeanIX EA Connect Day" conference—an event dedicated to Enterprise Architects, CIOs and other IT leaders.
Organizations focused on digital transformation initiatives often run up against a common problem: their modernization targets aren't proportionate to their present
capabilities
and most pressing operational needs. Therefore, LeanIX designed its platform to enable businesses across industries to rapidly unify siloed applications, processes, and user groups to provide a holistic, data-driven view that helps them visualize the as-is state to identify, prioritize, and make meaningful decisions in their IT landscape.
"Our debut in the Gartner Magic Quadrant as a Visionary reinforces our commitment to our customers and validates LeanIX as an enterprise-ready platform supporting global organizations at scale," said André Christ, CEO and Co-Founder, LeanIX. "As a result, our customers experience rapid acceleration of digital initiatives in addition to quantifiable business outcomes. This latest recognition by Gartner further solidifies our product roadmap, and is yet another testament to our staying power as a market leader."
Since its inception in 2012, LeanIX has gained fast traction in the market. This year alone, and in every consecutive year, the company has doubled its customer base and achieved more than 100 percent growth globally. The company was also recently named a "Strong Performer" in The Forrester Wave™: Enterprise Architecture Management Suites, Q1 2019 report, as well as one of Germany's Top 10 fastest growing technology companies by Deloitte in 2018.