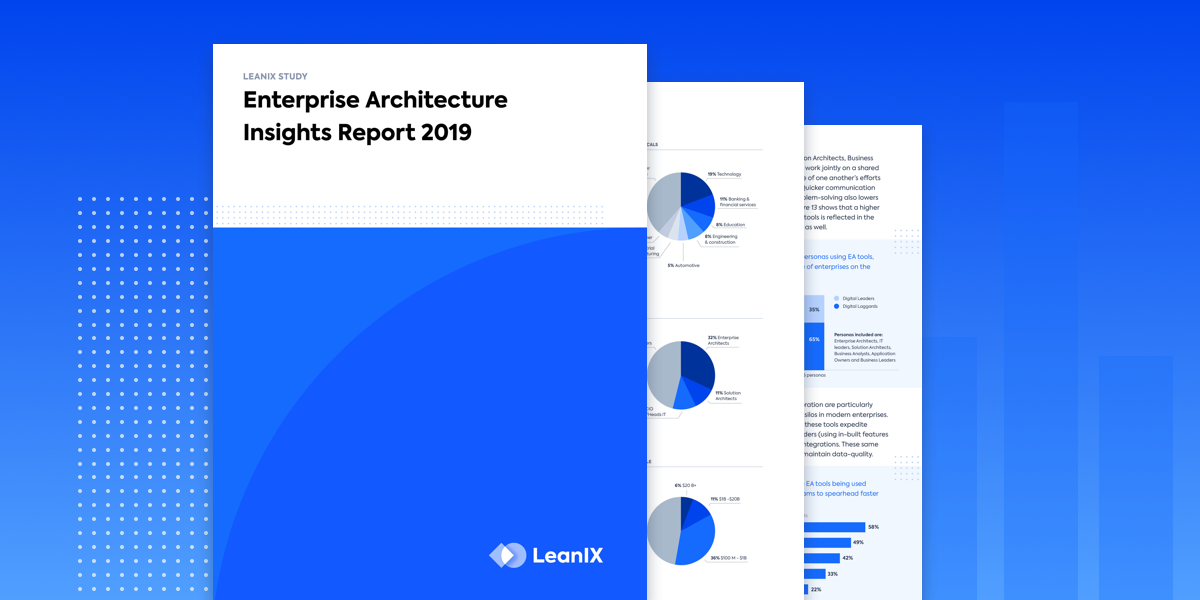 A new study from LeanIX on the current state of Enterprise Architecture—EA Insights 2019—is now available to download. Built from answers given by a diversity of senior IT managers and Enterprise Architects, Solution Architects and IT Architects, EA Insights 2019 is a review of the EA discipline and its role in accelerating digital transformation efforts within enterprises across 19 industries such as Automotive, Banking and Technology. In total, more than 1,800+ responses from throughout 21 countries and three regions were collected.
"EA Insights 2019 reveals how Enterprise Architecture is a key driver for Digital Transformation while also highlighting the economic risks of not modernizing IT landscapes," says André Christ, CEO of LeanIX.
Of note, the survey pinpoints the consequences, leading causes and solutions to one of the biggest hurdles of Digital Transformation: IT Complexity. IT Complexity, an especially well-known phenomenon in companies with a high number of applications, processes and technologies, is linked to higher IT costs (74%) and IT risks (76%) as well as a decreased pace of innovation (58%). It is experienced particularly often, the study shows, in enterprises with $1B+ in annual revenue.
Detailed within are the top emerging technologies contributing to IT Complexity plus the largest roadblocks to Digital Transformation.
Further, EA Insights 2019 expands on the value of "Digital Leadership" in the B2B industry and presents evidence for why such success depends on the strength of EA programs. In particular, though 9 out of 10 CIOs polled by LeanIX regard EA as a critical element of digitalization efforts due to its ability to record and monitor architectural changes in transparent manners, it is discovered that most enterprises nonetheless suffer from low EA Maturity—a quality measured by the effectiveness of the programs as based on strategic direction, automation levels and complexity of tasks. A cross-analysis of EA Maturity versus Digital Maturity presented within reveals that improvements towards EA Maturity directly influence Digital Maturity.
Also included in the study is a list of major hurdles facing EA management plus the changing nature of EA tools as reported by respondents.
In total, the objectives of the study are to provide a better understanding of:
Digital Transformation efforts across enterprises
The impact of IT Complexity on Digital Transformation
Enterprise Architecture's role in taming complexity and accelerating Digital Transformation
The scope of current EA practices and their perceived benefits
The maturity of EA practices across enterprises
The evolution of EA practices and the EA tools of the future
Take a moment to download a free copy of EA Insights 2019 here. As well, you can grab this report and talk about it with us in person at EA Connect Days in Bonn, Germany, on November 26 and 27.