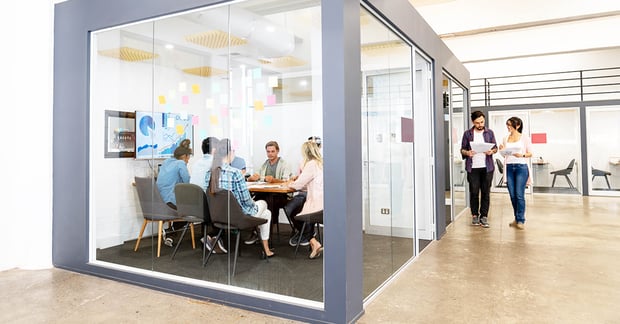 Today, with close to 400 employees and 500 customers, LeanIX uses its own products to internally manage its scaling IT landscape. Our portfolio of 250+ applications is stored in an internal workspace and qualified according to precise technological requirements. Enhanced visibility into the ownership, technical and functional fit, and overarching business context of these applications is how we streamline ISO certification processes. It's also how we rationalize the technology needs of our expanding workforce.

On this note, LeanIX's use of LeanIX is playing an especially key role in our migration to Workday's enterprise finance, HR, and planning system. This is our first ERP implementation, and as such, we're closely monitoring all aspects of the transformation to ensure a secure yet efficient transition. Key to this transformation is evaluating current and future capabilities while maintaining our versatile, best-of-breed approach to operations.
Here's some background into how we're implementing Workday with LeanIX.
Scenario planning: Workday or Netsuite
Finance, human capital, and operations departments in fast-growing companies know the pains of manual-based tasks. These labor-intensive processes become increasingly impractical as international workforces grow. To consolidate and bring more automation to such activities, LeanIX sought an ERP with multi-dimensional, interconnected features to increase productivity. Or, as explained by Dominik Soehnle, an IT consultant at LeanIX who headed the Workday transformation, a tool aligned to "LeanIX's true professionalism and technological maturity."
Initially a choice between Workday and Netsuite, a comparison of these two platforms — based on the long-term benefits and implementation requirements for each — was conducted with LeanIX's Business Transformation Management (BTM) product. BTM's scenario planning features made it possible to measure the tool's functional and technical offerings with our company's strategic objectives.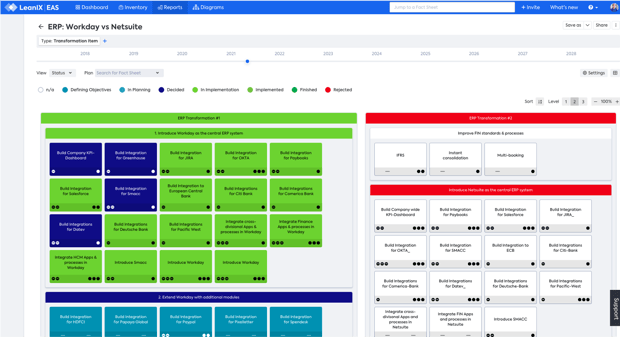 Image 1: Comparing Workday and Netsuite in LeanIX BTM. Scenario planning mechanisms in BTM allow users to concretely arrange the plans and underlying components of a strategic goal.
Capability-based planning: Best-of-breed versus platform
Our technological needs vary with each business capability, and in the end, we chose Workday to exclusively power our financial services yet manage only certain functions for people operations (e.g., Salary & Commissions, HR Analytics & reporting, etc.) and enterprise support (e.g., Reporting, Contract Management, etc.). Using capability-based views to utilize select offerings from expansive platforms like Workday — whether to avoid redundancy or maintain best-of-breed approaches — is what LeanIX offers its own clients. Reports in BTM, for instance, can aid this selection process by showing how business capabilities might mature or degrade as a result of an implementation.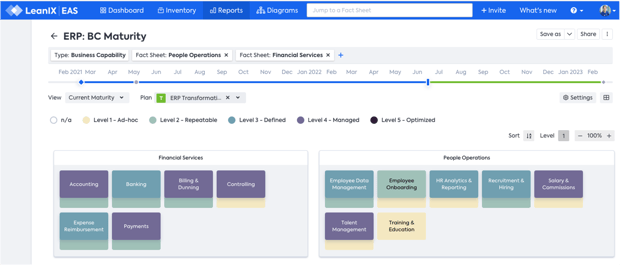 Images 2 and 3: Evaluating current and future states of business capabilities during a Workday implementation. Using the "Maturity" scores embedded to every LeanIX Business Capability Fact Sheet, the evolution of the wider business landscape can be tracked and traced with quantifiable metrics to address architectural gaps where needed.
Rationalizing application and project landscapes
The same data used to forecast these scenarios and maturity states helped LeanIX unlock a clearer view of its application and project landscape. As our Workday implementation progresses, we know which long-standing applications become redundant or still have business value. We can also better estimate the amount of resources required to set up Workday integrations and processes.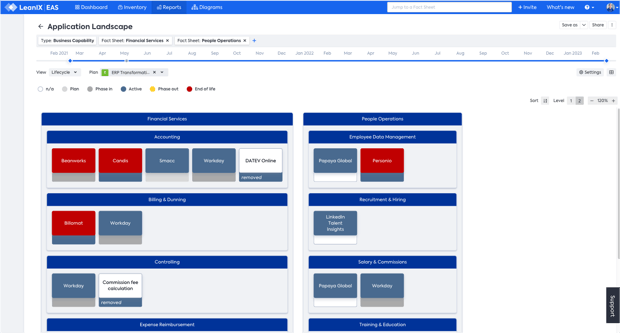 Image 4: Rationalizing applications in a Workday implementation. Impacts can be modeled in LeanIX BTM to show the expected results of an architectural plan and to rationalize how IT entities will be affected by an architectural change.
However, since these interconnected assets can't immediately be re-arranged within our technology network, we are following a logical order of activities based on the BTM Transformation Roadmap report. This overview helps us track conflicts and coordinate changes in line with other projects occurring at LeanIX. Since this isn't a waterfall implementation, it's crucial to proactively mitigate conflicts and keep an overview of our impact landscape.
Image 5: Navigating dependencies and setting priorities for Workday implementation. The progress of IT initiatives can be seen in time-based swim lanes and according to objectives, business capabilities, and other transformation items. Depending on planning, project timelines can be viewed in absolute terms or relative to other agenda items.
Recommendations on implementing Workday
We're learning many things as we implement Workday. From an architectural perspective, we can offer several pieces of advice to other fast-growing technology groups rolling out an ERP solution.

Get involved early in the project
EAs must be involved in transformation projects far in advance. The most important decisions take place at the start of a project, and after-the-fact documentation doesn't add value.
The choice between best-of-breed and platform requires EA input
Though platforms like Workday can do almost everything, companies are nonetheless at risk of over-stretching capabilities — even following customization. It is important to ensure whether ERP capabilities match the core priorities and vision of your business.
Be pragmatic about architecture planning
The longer the timespan of an ERP implementation, the higher the uncertainty. Avoid the temptation of granularity and focus instead on creating models which support key decisions.