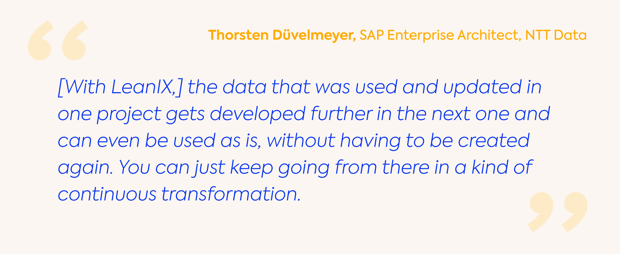 NTT DATA Business Solutions supports the LeanIX EAM to track their ERP transformations. Find out more about the power of SAP and LeanIX working together.
We recently spoke to Thorsten Düvelmeyer, SAP Enterprise Architect at NTT DATA Business Solutions about how his team believes the LeanIX EAM empowers enterprise resource planning (ERP) platform. You can watch the full video of our conversation in German with subtitles below, or read on for an English summary of how Thorsten uses SAP and LeanIX EAM together as the perfect partners in ERP transformation.
"SAP Was Historically A Highly Integrated ERP System"
In the past, the focus of SAP's enterprise resource planning (ERP) platform was automation. ERP involves a great many systems and processes, so reducing operational workload was a priority.
Some of the automation was hard-wired into the platform, but users worked with SAP to add a great deal of customized automation to suit their own needs. This made SAP an essential platform for any company.
Yet, as the modern market is becoming ever more volatile, the key to success is now the ability to take advantage of anything that happens as soon as it happens. This depends on two things:
being flexible enough to adapt to the changes as they happen
being resilient enough to meet any challenge
Thorsten calls this resilient flexibility "intelligent enterprise", and it means being ready for anything. SAP is still a fantastic tool for automation and reducing workload, but now it also supports intelligent enterprise.
"Resilience And Flexibility – That's... Intelligent Enterprise"
The evolved version of SAP is now built around a stable core, maybe for finance or logistics, to support resilience. Around that core are whatever number of intelligent, automated functionalities you need, which give you the flexibility to adapt to a changing environment.
"Now SAP is changing and moving steadily into the cloud, building much more around flexibility, around resilience. This means that the future will be a stable... Clean Core, which may also be in the cloud in 10 years' time... with a lot of third-party [and] SAP solutions... There's a lot being done."

Thorsten Düvelmeyer, SAP Enterprise Architect, NTT DATA Business Solutions
Through the use of micro-services, SAP has become less integrated and rigid. Rather than a single, monolithic tech stack, SAP is now moving towards becoming a composable enterprise resource planning (ERP) platform that allows you to quickly build whatever capability you need by assembling processes.
As Thorsten described it, you will soon almost "snap" modular processes together like Lego pieces. This will dramatically reduce your time to market.
"The data is somewhere, and you just have to import it"
The evolved version of SAP is an incredible tool for modern enterprise, but Thorsten admits this is making the platform more complex. It's easy to keep track of an unchanging monolith, but it's far harder to fully understand a constantly evolving, composable system that's adapting faster than you can document it.
This is where LeanIX comes in. LeanIX EAM comes with a huge number of out-of-the-box integrations that mine data from across your enterprise resource planning (ERP) platform.
"These integrations... allow you to start with the data, so you can build roadmaps, [making] it much easier to begin.. EAM (enterprise architecture management)."

Thorsten Düvelmeyer, SAP Enterprise Architect, NTT DATA Business Solutions
Our EAM will allow you to track and monitor your entire ERP landscape in real-time. However your micro-services grow and whatever composable services are constructed, you'll have a scalable, visual overview of your ecosystem.
"You Also Need An Overview Of The Entire System Landscape To Share With Stakeholders"
Since all your ERP information is stored in the LeanIX EAM, it can be analyzed however you need it to be. Intuitive dashboards and visualizations then allow you to adapt the data sets you're reporting to provide just the information your stakeholders need.
Providing easy to digest data to back up your decisions and illustrate your points that still comes from a single source of truth is the best way to win buy-in from busy stakeholders who don't have the time to view your whole data set.
Whether you're undergoing a full enterprise resource planning (ERP) transformation, or just running your day-to-day operations, this kind of stakeholder buy-in is key. Entering any conversation with the intelligence you need and a good way to share the relevant information will allow you to go about your work with confidence.
"When One Project Ends, The Next One Comes Along"
When a transformation is complete, all the information is usually lost. It's far too easy to put it on a drive somewhere you will never find it again.
Then, the next time you need to undergo an enterprise resource planning (ERP) transformation, you have to source all of that information again. It doesn't have to be that way.
The information stored in LeanIX EAM will be preserved and continually updated. This means you don't have to start from scratch every time you undergo an ERP transformation.
"The data that was used and updated in one project gets developed further in the next one and can even be used as is, without having to be created again. You can just keep going from there in a kind of continuous transformation."

Thorsten Düvelmeyer, SAP Enterprise Architect, NTT DATA Business Solutions
It's this state of continuous transformation that modern enterprise is asking IT teams to support. Using SAP and LeanIX EAM, you can continually support your transformation efforts.
How LeanIX Can Support Your SAP Transformation
To find out more about how the LeanIX EAM can support your enterprise resource planning (ERP) platform transformation initiatives, download our whitepaper: