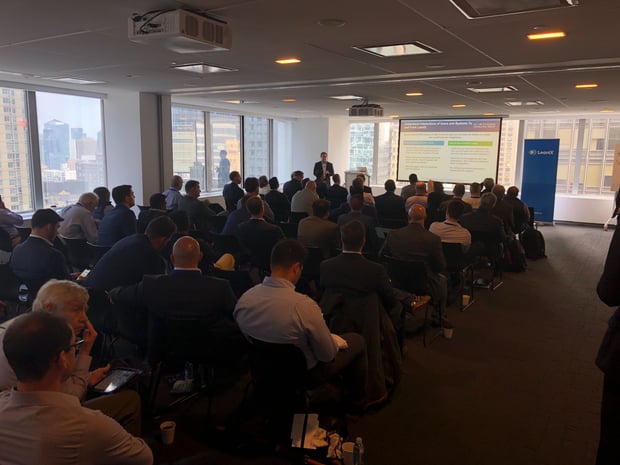 The 2019 LeanIX US EA Connect Day is over. Though a single-day event, we counted 60+ global attendees who joined eight varieties of sessions on using data-driven Enterprise Architecture to conduct digital business strategies. Of note, this conference served as an opportunity for LeanIX to formally introduce a number of our tool's new/improved features—each one of which is briefly described in this blog post.
As always, if you're curious about anything mentioned, we're happy to hear your questions or comments (just e-mail or submit them below). We can also speak directly at a time of your choosing during a customized product walkthrough.
LeanIX Update 1: "Better Quick Search"
Benefit for Enterprise Architects: Faster navigation and maintenance of the LeanIX inventory with search algorithms based on prefix matches. The LeanIX Quick Search allows Enterprise Architects to search within IT portfolios with case-insensitive, prefix-matching queries. No matter how large or complex the inventory, applications can be isolated using special symbols and spaces to receive exact results. Findings can be retrieved in either List (items will appear in a general, single order) or Group format (items will be ordered by their Fact Sheet-type).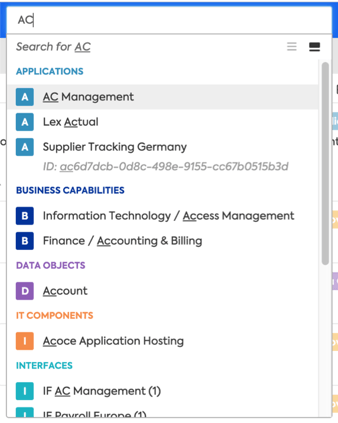 Grouping by Fact Sheet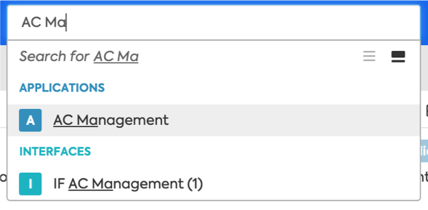 Precise results through pre-fix matching
LeanIX Update 2: Colored Visualizer Views
Benefit for Enterprise Architects: Enhanced customization of manually-drafted diagrams to offer specificity when modeling IT architectures. LeanIX Data Flow Visualizer diagrams can be color-coded (using a mechanism similar to the complementary LeanIX Free Draw Visualizer), and in addition to re-sizing these diagrams on either a vertical/horizontal axis, Enterprise Architects now have the freedom to illustrate models to contextualize IT relationships for stakeholders.
Color-based LeanIX Data Flow diagrams to contextualize Business-IT relationships
Benefit for Enterprise Architects: Simplified IT inventorying and data maintenance with Machine Learning-based recommendations for Business Capabilities. LeanIX now provides users with automated suggestions of which Business Capabilities match best with IT applications. These recommendations aim to minimize errors when manually inventorying data, and the accuracy of the suggestions improves based on the amount of information supplied by users.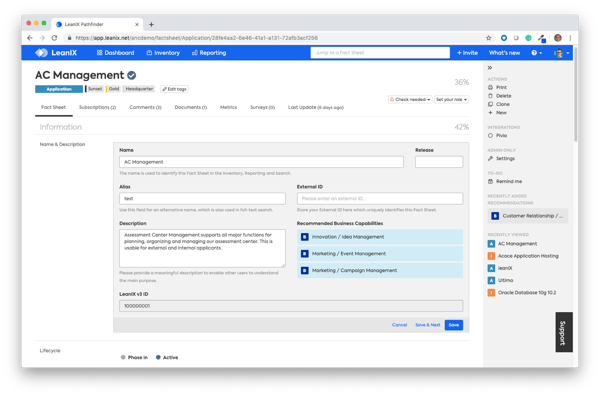 Accurate and easy data management with LeanIX Business Capability Recommendations
LeanIX Update 4: Virtual Workspaces
Benefits for Enterprise Architects: LeanIX admins now have the ability to decide which users can access Fact Sheets and to segment their workspaces according to enterprise brands and select focus areas—all while keeping a common Business Capability model intact. Virtual Workspaces make it possible for enterprises with numerous business entities to operate across a shared IT repository while nonetheless setting specific access rights to protect confidential data. The new feature is based on a flexible concept using Access Control Entities (ACEs) and Access Control Lists, and a group-view is available built-in to present centralized analyses.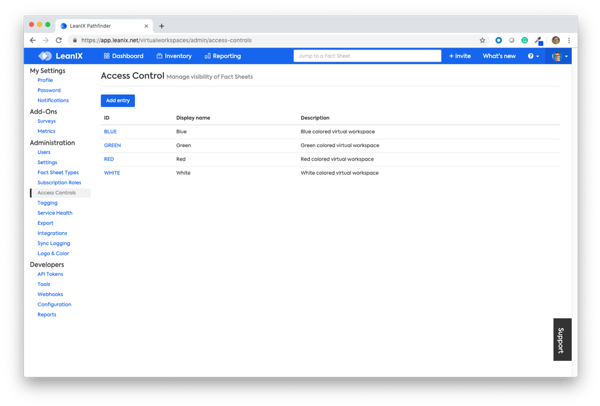 Set by the Admin in LeanIX, ACEs control the visibility of Fact Sheets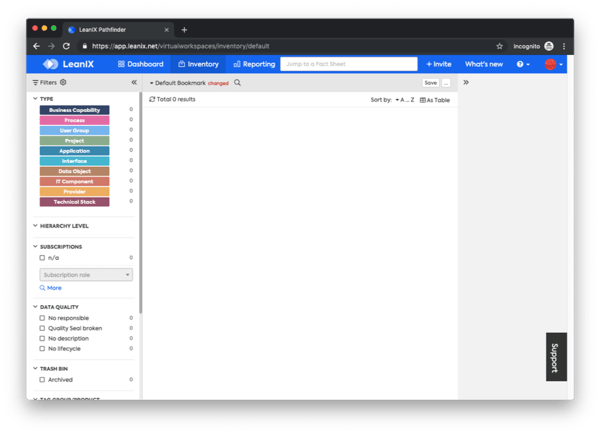 User Group 1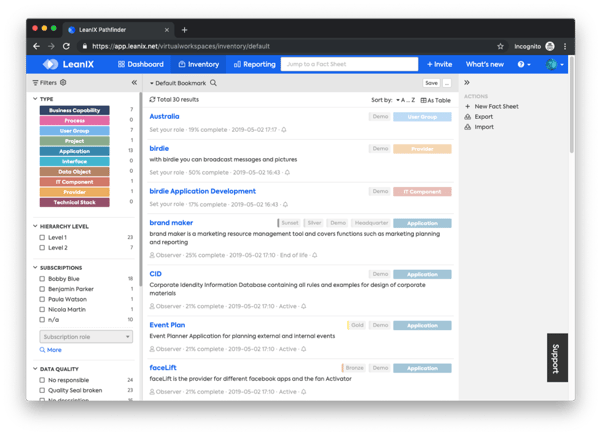 User Group 2
LeanIX Update 5: Confluence Smart Links
Benefit for Enterprise Architects: A richer integration between Confluence and LeanIX to let LeanIX users edit their Fact Sheets from within Confluence pages. A macro is now available to let LeanIX users connect and alter individual Fact Sheets directly inside Confluence pages. The Smart Link exchanges live data between LeanIX Fact Sheets and Confluence pages to extend versatility when performing collaborative architectural designs.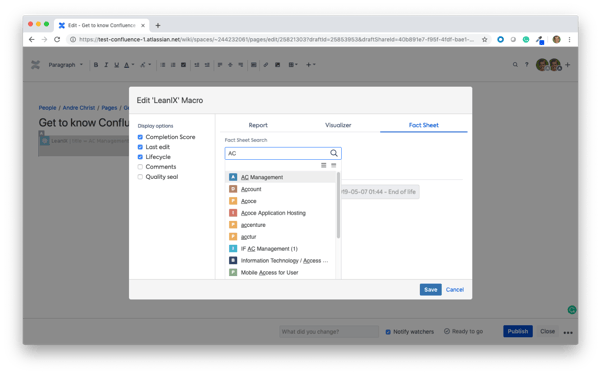 LeanIX Fact Sheets can be selected from Confluence
The LeanIX-Confluence Smart Link automatically creates a document in LeanIX and deletes it when needed
---
More information on these releases will follow in the upcoming weeks. In the meantime, make sure to subscribe to either this blog or our dedicated Changelog page (https://dev.leanix.net/page/changelog) for immediate updates on industry news and your Enterprise Architecture Management tool.